1000 miles to The Pacific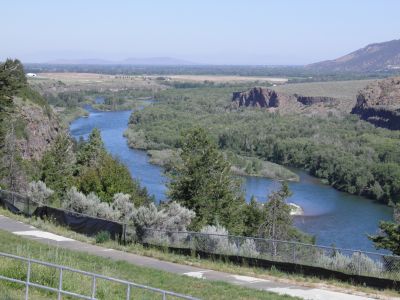 In two days we drove from Jackson, Wyoming and across Idaho and Oregon to Bandon at the Pacific Ocean. This article tells about this 1000 mile trip.

We left Jackson early. Our original plan had been to go through Afton and then further south and cross the Idaho border near Montpelier, but as we already visited Afton the day before, we chose another route. The first stretch down to Alpine being the same as the day before though. Only this time we were bothered by a few roadworks when we crossed the mountains. At Alpine we turned northwest in stead of continuing south. Along U.S. Route 26 we folllowed a lake, made up by damming three rivers, the Snake River, The Salt River and the Grey's River. The drive alongside the lake along the lake was quite pretty and when there was no more lake, Route 26 followed The Snake River, or vice versa all the way northwest to Idaho Falls. We did the same, however, interrupted by a couple of roadworks and a short stop to take some pictures. At Idaho Falls, we made a longer stay, where we called home again to hear news about Tina.

From home we had planned that todays goal should be Boise, Idaho, but now we changed our mind and decided to contniue as far as we could until we got too tired to drive any further. This meant, that from Idaho Falls, we took Interstate 15 south instead of taking some scenic byways. At Pocatello we changed to Interstate Highway 86 West, which is a very short section of freeway (approx. 60 miles) between Pocatello and Declo, Idaho.
Despite this short distance, we managed drive into a more than 25 miles long streth of roadworks, where speed was limited to 45 mph. When we got to Declo, terminus of Interstate 86 , we were therefore pleased to be able to switch unto I-84, which took us south of the Craters of the Moon, but without access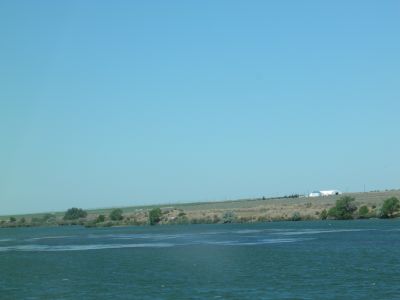 to the monument, so we went as fast as the speed limit allowed us, heading west and later northwest through Idaho.
We left the highway in the town of Eden, just before Twin Falls to get us some lunch. Here we found a place called Travellers Oasis to Garden of Eden. It was a gas station with a fairly large general store where you could get almost anything. Tim ended up with some satirical books - quite amusing. You could also get the usual gas station food, like hot dogs, sandwiches, burgers, etc. In this case however, there was a real cafe as well which we chose. After our visit, I've seen some reviews of the place online. Some are very enthusiastic, while others think that it was very a poor place. All reviewers agreed though that there were plenty of nice and clean toilets. Tim and I thought the food was OK, though not paradisic. Unfortunatley we can't comment on the toilets, as they were closed due to cleaning! The Garden of Eden itself proved to be a big cardboard tree in the middle of the general store, with a snake coiled around it. One of the reviews I read, which, incidentally, was not particularly flattering, told about the bags of gigantic pork rinds, which hung on a tripod just off the tree. I had also noticed those. They had a size so that up to twenty people could have shared one and still leave something.

After lunch we took the opportunity to fill up our car, and I got a cup of coffee for the onward journey. We then continued along the highway on it's way to Boise, which we reached around 4 in the afternoon. We agreed that we had plenty of energy to go on, so we did. All the way from Idaho Falls to the Oregon border, which we reached at the town of Ontario, we had been driving alongside The Snake River. I do not know how many times the interstate crossed the river, but it was often. Just after crossing the border into Oregon we changed to Route 26, and said good bye to Snake River.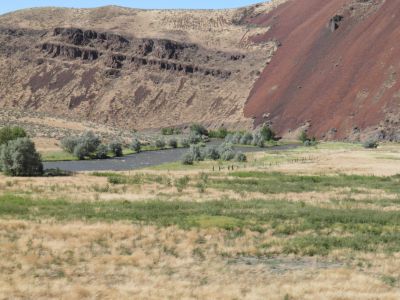 Immediately after the border we drove through farmland, but that changed quickly, and the surroundings became more and more and desert-like. Even if we left Snake River at the border, we were not without water. Shortly after the border we met with Malheur River near the town of Vale. Here we left Route 26, and continued on U.S. Route 20, alongside this new river. The road was pretty uninteresting, with fields interspersed with prairie for many miles. We were finally getting tired of driving and decided to stop for the night in the town of Burns-Hines. In fact, there are two towns Burns and Hines, who have grown together. Heading to this city, we crossed over some low mountains. On the map, they have no name but threy must be called something. The last 20 miles to the town the road was absolutely straight. Not a hill, not a turn - it was really impressive, but should be even better the next day.

Even the two towns put together is a relatively small town with about 5,000 inhabitants, but there are a lot of hotels and restaurants. The first hotel we tried, was occupied, but we got a room at a neighboring hotel. The hotel was located on the western outskirts of the town of Hines, so getting there we had passed a large part of both towns, and we had among other things, seen a restaurant that we thought looked interesting. When we got there after having unpacked, it was unfortunately closed, so we found another place called The Meat Hook. The foot here was good, especially their "home grown" beefs from their own prize-winning cattle, from their own cattle ranch outside town. After dinner we drove back to the hotel after a long day, and a night with not too much sleep.

The next day we should according to our original plan have driven from from Boise, Idaho to Bend, Oregon, but because of the marathon stage over 600 miles from Jackson to Burns-Hines, we were actually only approximately 70 miles from Bend, and therefore we decided once more to continue as far as we liked. We were not in a hurry, so we didn't leave the hotel until 8.30 AM and like most other days, we started by filing up our car and getting some ice for our cooler. While we sat in the car at the gas station, we studied the map to see where we should go. We agreed that we would continue on U. S. 20 to Bend and from there to Eugene at highway I-5. From here we would head towards the Pacific.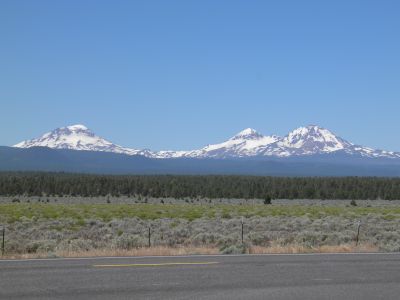 The day before, we had after all, seen some changes in the landscape through the mountains and along the river, but the road from Burns-Hines to Bend was very monotonous. U.S. Route 20 passes through Oregon's High Desert, on what is called the Columbia Plateau. The road was straight over long distances, after which it had a few turns and then went straight again. The longest stretch we drove, without turning the steering wheel was 25 miles. Then we turned maybe 10 degrees to the right and then we drove straight ahead for 20 more miles. The only thing exciting was the fact that we could see some snow capped mountains in the distance - but too far away to get decent pictures hem and we drove through a town called Brothers 4 miles before we entered Bend. It may not sound particularly exciting, and it was also mostly because of 20 miles on the other side of town was a another small town called Sisters. When we got to Bend, it turned out to be a city with over 80,000 inhabitants, but we drove through town without any significant problems.

We continued along Route 20, which just after Bend, turned northwest, towards the town of Sisters. On the way there was a overlook from which you could see the snowcapped mountains, we had previously seen, and here we stopped and took a few pictures. It turned out that the mountains were called Three Sisters, and they are all volcanoes. On the whole, the area from Bend and further west is very volcanic. The Three Sisters belong to something called the Cascades Volcanic Arc. The mountains are called respectively North Sister, Middle Sister and South Sister, but originally they had maiden names and were called Faith (North), Hope (Middle) and Charity (South). South Sister is the highest with 10,358 feet and is a socalled cone volcano, situated atop a former shield volcano! From the overlook we could see other mountains in the distance, and a sign post told us they were called Mount Washington (8,380 feet) and Mount Jefferson (10,495 feet). Also these mountains are volcanoes.

From Sisters, we took a very small road, Oregon Route 242, which lead through the Cascade Range, the mountain range that stretches along the coast all the way from Canada to northern California, and on this road we were amply compensated for the long, straight stretches before Bend. As we drove out of Sisters on Route 242 we passed a warning sign telling us, that 10 miles further down the road, it would be closed for vehicles that were more than 30 feet long.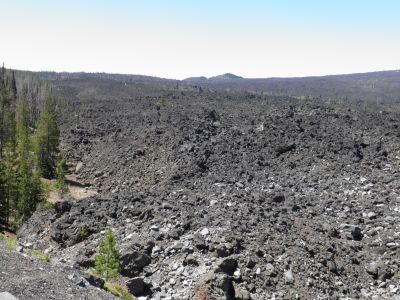 When we got there it was pretty clear why. The road narrowed to almost nothing (one lane only), and continued through a series of sharp hairpin bends. Gradually the trees disapeared, and we got a view of an old lava flow. At a pull-out we stopped to take picures. The road continued upwards, and finally there were no trees left. We reached the top at McKenzie Pass at an altitude of 5,330 feet. Here was built an "observatory". Not an astronomical observatory, but a volcano observatory. It was built entirely of lava rock, and there was an excellent view from the top. Here there were signs that pointed at the different volcanoes, you could see from there. The Observatory was built in 1935 by the workers who built the road across the mountains during the Depression, and they named the place after their foreman, Dee Wright and that is still the name. Among the volcanoes, visible from the observatory, were all the mountains, which we had seen from the overlook on Route 20, but we also enjoyed views of Black Butte, Black Crater and Belknap Crater. The latter is the volcano, that has produced the lava flow in an eruption between 1,300 and 1,500 years ago.

We stopped at the observatory and climbed to the top. After the visit we continued further west and the road got - if possible - even narrower and more twisted. After a while we entered a dense forest. Here I was reminded of my father-in-law, Carls remark from our 2002 vacation when we drove through the Sumter National Forest in South Carolina. He claimed that the forest was not "wild enough". I thought that this forest, Deschutes National Forest, had be wild enough even for him, so we got a couple of pictures to show him.

Eventually we came down from the mountains and at a place called McKenzie Bridge the small road met with a somewhat larger road, and then the driving fun was over vfro this time.

From Eugene, we took Interstate Highway 5 approximately 30 miles south through Cottage Grove, where Dorte and I stayed four years earlier. Tim and I however, continued to Curtin,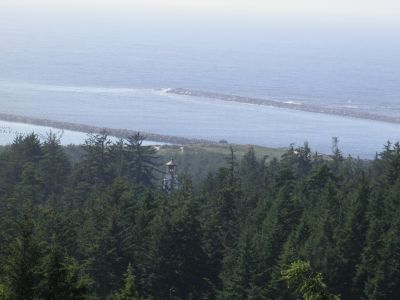 where we left the interstate again. Like Dorte and I four years earlier we took Oregon Route 38 through the low mountain range called the Pacific Coast Range. On the way we made a short stop at the Umpqua River, which followed the road most of the way and later we made another stop at an Elk Overlook. We didn't see any elks though, but only a lot of swallows and as Tim does not like birds, we continued after approx. 15 minutes. At Reedsport, we reached the ocean, and here too (or rather just outside the city) we stopped at an overlook atop a cliff and admired the view of the Pacific.

We continued south on U.S. Route 101, the only double-digit U.S. highway with a three digit number! We considered stopping for the night in Coos Bay, but agreed to continue to Bandon a little farther south. After our vacation in 2006 I discovered that Bandon is the center of the U.S. cranberry crop, but the city is also famous for its cheese. Although there is no longer a dairy in the city, you can still buy Bandon Cheese in stores. It just not produced in town any more. We found a hotel close to the sea. Unfortunately they had only one room available. It was with one queen size bed, and although we had shared a king size, this was going to be just too close. Tim was waiting in the car and the lady at the front desk had not seen him yet, but I told her, that I was with my son, not my wife. The lady then offered to upgrade us to a suite for only $ 249 (against the $ 139, that was the prize of the room). It was DKK 1,500 instead of DKK 850, so I must have looked a little thoughtful. She asked if we were members of a club whose name I have forgotten, but we were not. Then she mentioned a few other cards that we had not. I told her, that unfortunately I only had my FDM membership card, and that FDM was the Danish equivalent of Tripple A. The lady exclamed, "Close enough" and then she offered me the suite for $ 159 (approx. 950 DKK), and as we were tired and hungry, I said yes to this offer, which indeed was a nice discount.

When we had carried the luggage to the suite, we drove into town to look at Bandon - and to have dinner at a restaurant with a nice view of the harbor. The meal included a starter, and you could choose between salad bar and clam chowder. We chose the salad, but when we came back to the table, the waitress had put two largwe bowls of clam chowder on the table. She thought we had to taste it, even if we had chosen salad. Tim hard ordered salmon for the main course, and I had ordered a steak. While I was busy eating, the owner of the place came to table and said that she was very sorry, that I have got a wrong steak. I had ordered an 8 ounze steak but only gotten a 5 ounze. She had told the chef to prepare another one, and it would be served soon. I tried to tell her, that the one I got was all right, but five minutes later an 8 ounce steak arrived. Now I had two steaks, and I almost couldn't eat just the small one. Later I ordered coffee, and got a whole liter coffee press. When we later asked for the check the coffee wasn't included, and when I told the waitress, she just said, that I didn't have to pay, as this was compensation for the wrong steak I got. That kind of service I never recieved anywhere else.