Let's stay here tonight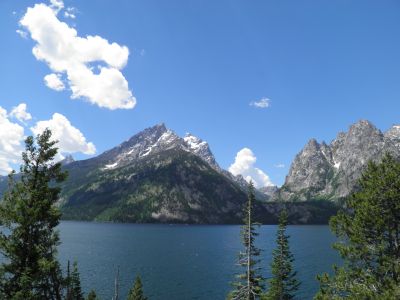 The day we left Yellowstone should have been the shortest stint of the vacation, and even if it still was short, it got a little longer than originally planned. The trip was scheduled to go from Gardiner, just north of Yellowstone NP to Jackson, just south of the Grand Teton National Park, a trip of only about 150 miles.

We took the route through the national park, and since we were not in a hurry, we didn't leave the hotel until 9.30. After entering the NP, we took the eastern branch of the Grand Loop Road and only made a few stops to take some pictures. As we drove through Hayden Valley, the herds of bisons, that had been gone the day before, had returned, so this was one of the places that we made a stop. At West Thumb Village we turned so south towards the southern exit from the park. On the way to the exit, we made a short stop at Lewis Falls to take some more pictures before we continued.

Soon after leaving the park, we left the highway again to get some lunch at Flagg Ranch. At that time it was around 1 PM, so despite the fact that we pretty much drove straight through the park, it had nevertheless taken 3½ hours. When we had eaten, we headed back to the highway and continued south to Grand Teton National Park. Here we stopped briefly a few places to take pictures, but otherwise continued to a parking lot at Jenny Lake, where Dorte and I also visited in 2006. In the area around the parking lot there were excellent views of both the lake and the mountains on the other side. When we visited in 2006, we were virtually alone, but this time it was Sunday, and we were certainly not alone this time. Actually, the parking lot was almost entirely filled up with cars, and although we found a space for our car, it was almost impossible to get to the overlook. We managed to get a few photos though. I had hoped for calm weather so I could get a picture of mountains mirrored in the lake, but I was not that lucky. Because of the many people we didn't stay long, but continued to Jackson, one of the places, where we had booked our room in advance.

At 2 pm we reached Jackson, where we easily found The Lodge, where we should stay. Before we entered the hotel, I called home. We had had no cell phone coverage since we left Gardiner in the morning, and as my daughter Tina had to undergo serious surgery the next morning, Danish time (at night with us), I had to hear how things were going. When we were done talking and we had our room it was only around 2.45, so we agreed that we would drive south to the small town of Afton south of Jackson, to delight Dorte. Last time we were here, she had developed a theory about how the city had received its name. Dorte was convinced that the city was named by a Swede named Svensson, who according to her had said: "Vi er trätte. Vi stannor here i afton", in English: "We are tired, we will stay here tonight" (Afton meaning Evening in Swedish). Even when I told her the real explanation, she found that her own was much better :-). Now she thought then that Tim would enjoy a visit to Afton as well.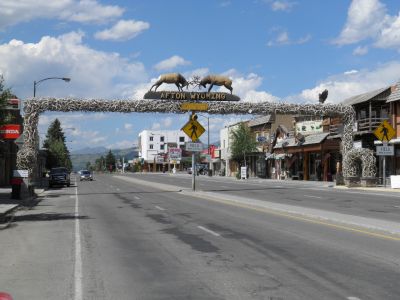 From Jackson there was about 70 miles to Jackson, and of course the same back, but what doesn't a son do to please his mother? We drove south along Route 89 to the town of Alpine, where the Snake River, Salt River and Grey's River meet. Here you enter the Salt River Valley, or as it is called The Star Valley. The road leads south through a relatively flat, grass covered valley with mountains on both sides and along the way south, you pass a lot of small towns. Etna has 123 inhabitants, Freedom, which is the oldest settlement in the valley has 471, Bedford has 169, Thayne has 341, Grover has 137 and Auburn has 276, so when you get to Afton, with its 1,818 inhabitants, it is almost like entering a metropolis. Afton is best known for its periodic spring that supplies the city with fresh water. This spring is one (the largest) of only three periodic springs in the world. The spring produces approx. 1,000 gallons of water per second and counts for most of the towns watersupply. Another of the attractions is the world's largest "bridge" made of elk antlers. The bridge spans Main Street. It is 75 feet long and consists of 3,011 antlers with a total weight of 15 tons. When there really was no more to see in town, we returned to Jackson.

Going to and from Afton, it became obvious to us, that the local elections in the U.S. were getting close. We saw all sorts of election posters for all sorts of positions. There were people who asked to be elected to the Senate, Congress, the state congress, councilor, district attorney, magistrate, coroner and much more. When we got back to Jackson, we drove to the city center and went for a walk here, but Tim found the town way too "touristy" for his taste, so we only stayed for about 15 minutes before we returned to the hotel. Here we parked the car and then we went out to get some food.

We had decided to eat at Gun Barrel, where Dorte and I ate four years earlier. It is situated right next to the hotel, and is held in western style with guns on the walls, strategically placed between the heads of bison, moose and other animals. Last time we were here, we had to wait over an hour to get seated, but this time we came a little earlier, and got a table without waiting, but even before we had gotten our food, all the tables were filled up, and there was some people waiting in line. I started the meal with a margarita, while Tim contented himself with Sprite. The restaurant is known for it's "game choice", with bison, antelope, deer, etc. We both chose hickory smoked bison carpaccio for starters, and the thin, cold slices of bison meat was "cooked" perfectly. Tim continued with bison prime rib served with wild rice, while I orderes another bison steak with mashed potatoes.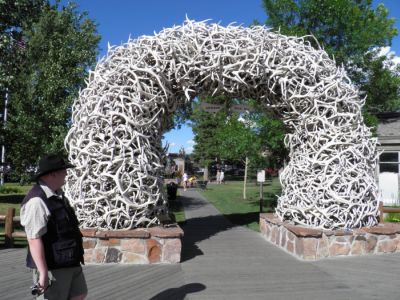 After dinner I ordered coffee and then we discovered that on the the drink card they offered Tim's favorite Scotch whisky, Laphroaig, so we had ordered two of those. It caused certain problems though. We ordered the whisky with the waitress who brought the order to the bar, but soon after she returned to the table. She would like to know if we wanted our drink with water or on the rocks. We explained to her that we wanted it straight, no water, no ice. Then she went back to the bar and it took some time while she apparently had a discission with the bartender. 10 minutes later, one of the bartenders came down to our table to ask if we wanted have our drink wiith water or "on the rocks". He apparently didn't trust the young lady. So we once more had to explain what we wanted, and finally we succeeded in getting through with our message :-)
After dinner we went back to the hotel where I went to bed early, since I figured that I would be awakened sometime during the night, but I speculated so much on Tina's surgery, that it was past two AM, before I finally fell asleep. At half past three Dorte called and told me that Tina had come out from surgery, minus one kidney, and that everything had gone well, which of course was a great relief. At half past five she called once more, to tell that the patient was now awake, and that she felt good. This was an even greater relief. After the last call I could finally sleep through to half past six, when the alarm sounded in order for us, to hit the road in good time, as we had a long drive in front of us.