After the 4th of
July festivities in St. Augustine, Florida, it was time to go north again. Dorte
and Carl would like to revisit Savannah, Georgia, which they had both thought was very beautiful when they were here four years earlier. So we found the freeway and drove north to
Georgia.
At the state borderwe of course visited the Welcome Center and then fast onward. Just before we got to Brunswick, we left the Interstate and drove toward the coast and St. Simons Sound. Here we crossed a toll bridge (prize: amazing 35 cent), to get
to St. Simons Island. On our way we passed through a large
marshy area. On this route we observed a sign telling us:
"Beware! Turtles crossing". I can just imagine the waiting time should you encounter a herd of turtles crossing the main road. The only turtle we saw though, lay dead in the road side. So p
erhaps it would be better to put up a sign in turtle language warning turtles againstg cars :-). We continued and came to another bridge.
This time there was no toll, but the bridge was open.
We waited around
15 minutes before we even saw the ship that were about to pass, so there was plenty of time to get out of the car and look at the surroundings, including the building that lay beside the road. It looked like a railway station, just without any rails, and we never found out what the building actually was.
Finally the ship passes and so could we.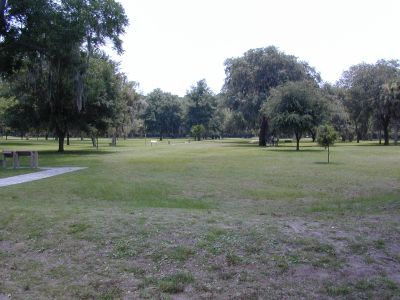 Now we were at St. Simons Island, which seems to be a typical holiday resort.
The smart reader may now ask themselves, what we were doing there? The answer is simple: The island is one of Georgia's so-called "golden islansd", as holiday resorts for some of America's richest.
Our plan was to look poor, hoping that some of the riches would fall on us poor Danes.
No, the real reason was that we would visit Fort Frederica. This fort was the southernmost English fort in what is now the U.S., built shortly after the colony of Georgia was founded and soldiers from the fort fought some tough battles with the Spanish colonists in northern Florida.

We quickly found the fort, which today consists of only scattered ruins and some of the old guns, but the area was very beatiful with orange and pech trees. We took a strroll down what had previously been the city's main street and we looked at the
sign post, telling the story of the ruin. The area also have a few graves which are built of brick.When we had seen enough, we left the island, and drove back to the freeway, where we continued to Savannah. It was one of the places where we had booked our hotel back in Denmark. It turned out to be at the edge of town, and we found it without difficulty, and were soon accommodated.

After accommodation we drove into Savannah center. The trip through Savannah city, we made along some small roads that were very exciting because they are constantly interrupted by small squares. We parked the car near the river, and went for a walk along the "port" which is very interesting because the streets down here is in two levels.
Next to the river is River Street, and here there was plenty of life in the cobbled street with street musicians and other acts.
Unfortunately, Else hurt her a couple of days earlier and after the walk in Fort Frederica it hurty quite a bit, so we completed our walk and went back to the car. We drovbe to a restaurant close to the hotel and ate dinnere before returning to our rooms.


Next day we went so continued our trip north to Charleston, South Carolina, that specifically I was looking forward to visit again.
This time I wanted to visit Fort Sumter in the Charleston harbor, as I didn't get to go there on our first visit.

Again we took the interstate north, but left it again just after the state border and the mandatory visit to a welcome center. We took South Carolina State Route 170 and later U.S. Route 17 to Charleston city. It was the fastest way, but that was not the only reason. Last time we were in the area, specifically when we were out at Boone Hall Plantation, Dorte had seen some baskets, woven of sweet grass. Many years ago (in 1962), Carl had brought home such a basket to Else, and now Dorte would also like to have one. But in 2000 we thought, that they were to expensive
. This time she was decided to get one though. And this is where Carl got in the picture.
He remembered that when he was in the area 40 years earlier, he had observed a loft of stands at the road side, where women braided and sold these baskets. He therefore thought that if we took the small roads we would certainly meet those basket-weaving women, and he was convinced, that baskets out here in the country side would be far cheaper than they would in a shop in town. Unfortunately, it appeared that all the women had sold their baskets and gone home since Carl's visit 40 years earlier.


We therefore gave up on the the basket hunt and droveto Charleston and found our hotel hotel, which once again was pre-booked. It was situated on the Ashley River a little outside vtown. Unfortunately we were too early so the rooms were not ready. We therefore decided to go into town while we waited. We therefore drove to the parking lot, that Dorte and I had previously used, near the city's visitor center. Last time we were here, Else and Car4l went on a sigfhtseeing bus, and now the four of us wanted to repeat that. We went to the tivcket office, and what di we see there?
A lady selling sweet grass basket!. Unfortunately, she charged $ 250 for a basket in the size Dorte wanted, and in our opinon it still was a little more, trhan we wanteed to pay. Carl began a conversation with the lady and told her, among other things, about his own basket, purchased 40 years ago and still working. The only effect it had, however, was that lady now used Carl as a sales argument to some other customers who were told that thesebaskets were very durable, for example, had the gentleman, here she pointed at Carl, had one in 40
years.
So we skipped the basket once again and bought tickets for our bus ride.
For Dorte and I it was the first time that we would see the city with guide.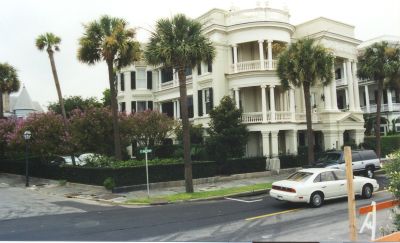 The tour was, as most of such tours, very exciting, and with a good narrator, who seemed genuinely engaged in his tgown.
We saw several antebellum houses and at The Battery, we were told the story of the specia "women's balconies". These balconies are wider at the bottom than the other balconies, so the ladies big dresses would not be pushed together and slide up, exposing any length og leg. As in New Orleans here a man had to marry a woman if he happened to see her ankle, or be challenged to a duel.


We also saw a lot of churches. Charleston is called "The Holy City" because of the many churches in town. One at the most famous churches is St. Philips Church.
At this church cemetery several celebrities are buried, including Edward Rutledge, one of the signatories of the Declaration of Independence, Charles Pinckney, who was a signatory to the U.S. Constitution and John C. Calhoun, secretary og war and later vice president to two different presidents.
St. Philips Church has cemetery on three sides of the church. Alsdo there are some graves on the other side of the street.
To be buried in the cemetery on the same side as the church, one should be born in Charleston.
Calhoun was born in the city of Clemson, so he was buried in the "cheap side", while his wife, who was born in Charleston was buried in the right side, next tob the church.

We also passed Four Corners of the Law.
Four Corners of the Law is the intersection between Meeting Street and Broad Street.
At the four corners are different buildings housing offices of four legislative powers.
The four buildings are City Hall (City law),Courthouse (State Law), Post Office (Union Law) and St. Michael's Episcopal Church (God's law).

Charleston College and the Old Customs and Exchange Building from around 1770, were among othert buildings we passed. In the jail under the
Customs Building, Gentleman Pirate Stede Bonnet was held prisoner until he was hung on a sand bank outside town.
Just before we drove back toward the visitor center, we saw a copy of the submarine Hunley, which was the first submarine to sink an enemy ship in 1864.
Unfortunately the submarine sank as well, and was not recovered until 2000.
The real submarine is still under preservation and will probably be exhibited some day. When we got back to the starting point we had a short conversation with the driver, and when we mentioned our basket problem, he told us that we would buy those baskets on the market on Market Street.
Particularly, there was one dealer he wanted us to visit, and if we told him that we came from his cousin, the bus driver, we would get the basket with a generous discount.

We therefore took a tram down to Market Street and indeed a lot of baskets were for sold there, but unfortunately not cheap enough for us, and gthose that were, were probably no quite were authentic handmade sweet grass baskets
. And we never located the driver's cousin.
Instead, we ate lunch at the same Wild Wings, where Dorte, the kids and I had eaten two years earlier.
Then we drove back to the hotel where our rooms werenow ready so we could be accommodated.
So once again we went for a swim in the hotel pool, and latger we went for a walk along the Ashley River.