A lot of empty beach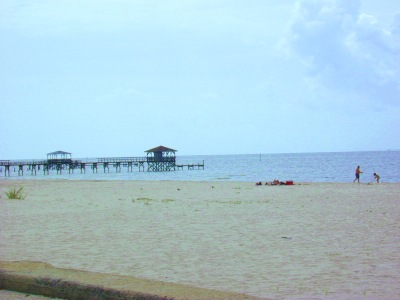 It was to time to go east again, in direction of Florida as we were to meet Else and Carl two days later in Florida. We left New Orleans early, and went east on I-10 across to The mississippi border. After a visit at the traditional Welcome Center, we left I-10 and took the old U. S. Route 90 further east. Route 90 runs just next to the beaches of the Mexican Gulf for most of the stretch trough Mississippi. Even though it was 2nd of July, and the sun shone from a vclear blue sky, temperature reaching 88o the beaches were allmost deserted. In Denmark, you wouldn't have been able to see the sand due to the people crowding on the beaches, but we only came across a sporadic group here and there. At one time we stopped and went top the waters edge. We took of our shoes and dabbles in the Gulf for a while. Then we could tell everybody at home, that we had our feet in the Mexican Gulf.
Just before the Alabama border we left US 90 and returned to i-10. Guess why? Right another Welcome Center visit. We didn't stop in Alabama but stayed on the I-10 to the Florida border. It was now in the middle of the afternoon, and we decided to get something to eat, so we left the freeway in Pensacloa, and visited the first place we came across. It turned out to be another of the many chain restaurants in the US. This time a Ruby Tuesday. We got a nice meal, and the we continued to Tallahassee, where we intended to spend the night. We found a motel and got a room, but we didn't feel like going into the city, so we just stayed in our room until dinner time. As our lucnh had been quite big, we just drove to the neares hamburger grill and got a burger and something to drink and the then returned to hotel. The room was euipped with a pc and free internet access, so we checked our mail and send a few as well.
Next day we were going to meet Else and Carl in St. Augustine. We had arranged to meet at out hotel around 3 pm, and as St. Augustine was not that far from Tallahassee, we slept late, and only left the hotel a little after 9 am. Again we took I-10 east and drove through to Jacksonville. Here we left trhe freway once again, and took the small "Old S. Augustine Road south until we met U. S. Route 1. As I our hoel was actually on route 1, we took that the remaining few miles to St. Augustine.
Even if we left the hotel late, and didn't drive to fast, it was only one o'clock, when we got to the hotel. Just outside town, we had passes an outlet mall, and Dorte decided, that we should go there and spend the time until her parents got to town. The mall had 95 outlet stores so Dorte had sometihing to look at - and we even did a little shopping. 15 minutes to 3 we left for the hotel, and got there exactly at 3, just as Else and Carl pulled in. What's that for timin :-).
When we all got our rooms, Dorte, Carl and I went to the local airport, for Carl to return his rented car, as they were going in our car for the rest of the trip. When we had emptied their car, and I had seen the amount of luggage, I got a little worried, that it would not fit in the luggage compatment, together with our luggage, so I brought all the suitcass to the car, and tried to get everything inside. I managed to get everything inside, but then there was not room for even a small hand bag. Later I got better at storing, and we actually ended up have free space. Anyway we took Carls car to the airport, and when we got back to the hotel, Dorte and I took a dip in the pool, while Else and Carl were resting.
In the evening we found a restaurant and got something to eat. Then we drove around and looked at St. Augustine until it got to dark to see anything, before we returnes to the hotel for the night.

- Return to Anniversary tour -
- Return to Travel Stories -