A source of eternal youth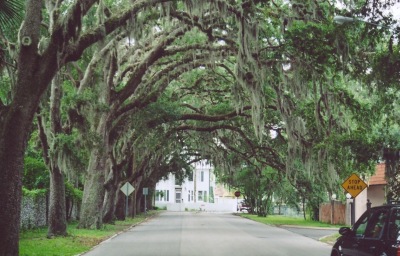 St. Augustine is one of America's oldest cities, maybe THE oldest. Anyway the town IS old after American standard; founded in 1565 by the Spanish admiral Pedro MenÚndez de AvilÚs, and the spot were the towns is siutated was maby already visited in 1513 by Florida discoverer, Juan Ponce de Leon. Here, in this old town, we should celbrate the 4'th of July together with the locals. But that was not until evening, so we decided to see more of St. Augustine. The day before we had notives some small hop on hop off trollies, that drove around town, and we decided to get tickets for one of those. There are several companies that operate these trolleys, but we found the starting point for for one of them, bought four tickets and boarded the first trolley that came by.
The first place go off the trolley was at Old St. Augustine Village, a sort of outdoor museum, also know as The Dow Museum of Historic Homes. The difference between this and other open-air museums are that houses are not moved here from other places, but have always been here (one house is moved from from the next street though). The houses were built between 1790 and 1910 and most were originally owned by the Canova family. The oldest house is called Murat House as it was once rented from the Caonovas by Achilles Murat, Napoleons nephew. Inside the "village" we saw the foundations of a bridge. This bridge originally crossed a small stream, where now the street is. The bridge was a wooden bridge and the first that was built in the current U.S.. We walked around the village and watched the beautifil gardens and also looked inside a few of the 9 houses in the area, but eventually we had seen enough and decided to go on. While we waited for the bus, we watched the many lizards that rippled around between plants and stones.

We continued the trip with the trolley around town and saw the city's oldest house, the city's first jail, City Hall, Flagler College and several churches. Both City Hall and Flagler College are originally built as hotels by Henry Flagler. Together with John D. Rockefeller he founded the Standard Oil (Esso), and in 1885 he came to St. Augustine, where he has put an indelible imprint on the town. He believed that St. Augustine would be the ideal winter vacation place for rich North Americans, so he built the luxurious Hotel Alcazar, and the even more luxurious Hotel Ponce de Leon. He then built a railroad from New York to St Augustine to bring tourists to his hotels. In order for the guest to be recieved properly, he built a two storey railway station, and arranged bus transportation from the station to the hotels. Later he also built a hospital, the former town hall and several churches. Hotel Alcazar is today St. Augustin City Hall (formerly, it has also been used as a militay academy for a whilel) and there is a Lightner Museum at one end of the building. Hotel Ponce de Leon is now home of Flagler College.
A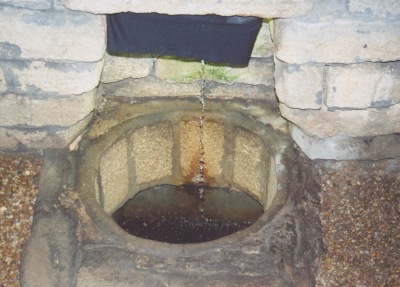 fter the visit to the center of town, the trolley took us noth to the spot, where legend has that Juan Ponce de Leon as the first European since the vikings, set foot on North American soil. Accordin to legend Ponce de Leon was looking for the Fountain of Youth. In reality he was looking for land, and gold though. In 1512 he was governor of the current Puerto Rico, then Spanish colony Borinquin. He euipped a small ship and sailed north. He went ashore in several places. Eventually he spotted a new island (or so he thougt) on the morning of easter day, the 27th of March 1513. On the 2nd of April he landed on the "island" and declared it as possession of the Spanish king. He called the" island" The Flowering Easter" or "Pasqua Florida," in Spanish. So much for history, now back to legend. On April 3rd he discovered a spring which he believed was the fountain of youth. He described thewater as a wonderfully fresh, which shows how the water in the ships water barrels must have tasted. Anyone who has tasted ther water from the alleged fountain of Youth will tell you, that it definately do not taste anywhere close to fresh. I can confirm this, because I personally have been drinking two full glasses of it - without getting any younger, sorry to say.

Today there is a Mission station, Mission de Nombre de Dios, where de Leon first landed and where the spring is located, is a n archeological Park park. We walked around the park for some time, looking af the Timucua Village excavations and the peacocks. We then watched a movie in the local planeratium, about how the Spaniards navigated from Europe to Florida. Actually its pretty easy. Go from Spain down to the Canary Islands, take the first right. Then straigt ahead until you see land again. That will be Florida. If it is not, you have made a mistake somewhere and now you are lost. After the movie we visited a small exhibition where a stone cross was laid out. 15 stones long and 13 stones wide, symbolising the year where Spaniard first came to the area. Finally, after seeing everyting else, were admitted to the Fountian of Youth itself and was allowed to taste the water, which was very sulphurous, and smelled like s.... I can actually smell it still as I write this. To be fair, the taste was not nearly as bad as the smell, so I drank two glasses to be sure. You never know if it actually works (hasn't so far though). Dorte, Else, Carl was content with a glass each. They did not want to be quite as young as I do.

While we sat and waited for the trolley that would get us back to town, we admired the many trees covered with Spanish moss, which was found in- and outside the park. The tour was now coming to an end and along the way back to town, we saw a number of buildings including the Spanish fort Castillo de San Marcos, all of which were built of coquina. Coquina is a special "stone", which consists of shells of Coquina mussels, which over many years is has been compressed to hard calcium carbonate. Originally it was an ordinary building material but eventually it became rare and thus expensive, and they stopped building ordinary houses of coquina. In stead they used tabby, a material composed of burnt oyster-shells, called "Poor Man's Coquina."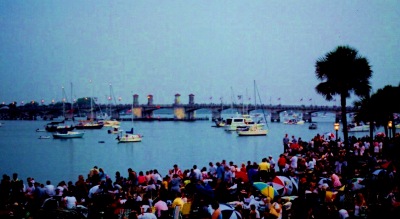 When we got back to the terminal, we took a walk for a walk in town. We went through the city gate. St. Augustine is one of only two U.S. cities that have been surround by walls. . The other is in New Orleans, where originally there were walls around the French Quarter, the street name Rampart Street in New Orleans is a reminiscent of the time. We walked down St. George Street, where we among other things saw some ancient wooden buildings, one of which housed America's oldest wooden schoolhouse, one an old pharmacy, now a pharmacy museum. Furthermore, we saw many other old buildings, including an old water mill. When we couldn't stand looking at any more old houses, we drove back to the hotel, where Dorte and I as usual took a dip in the pool. Later we went for an early dinner.

At 8 pm Carl, Dorte and I walked down to the Castillo de San Marcos at Mantanzas River, where there would be 4th of July fireworks. Else decided not to go as she had a bad knee so she spent the evening at the hotel. As we got closer to the habor more and more people gathered on the banks of Mantanzas River. When the fireworks started at about 9 pm we guessed that knowledge a least 20,000 people were gathered. Not bad in a town with around 11,000 inhabitants. The firweworks was accompaned by sentimental Amrican hymns and thing like that. This was a bit much to our Danish taste but the fireworks were really nice, and al in all it was a great evening. When it was over we went back to the hotel and had a cup of coffee before we went to bed.
- Return to Anniversary tour -
- Return to Travel Stories -