A suitcase filled with food
This time we flew directly from Copenhagen to Washington DC without any stopovers. The advantage of this is of course comfort, but also in our case it menat that we didn't have to leave home at four in the morning, but only had to be at the airport at 10 am. As usual there is not much to say about the flight. Boring and thanks for that :-).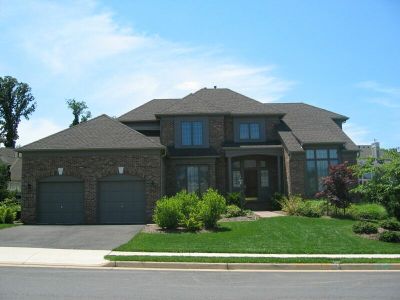 When we got to Dulles we got through immigration without delay. When we got our suitcases Jens and Annette were waiting for us outside the arrival hall. Their car was parked right outside, so we stowed the suitcases in the trunk of the car, a nice Mercedes. Cars cost somewhat less in the US than in Denmark. You can get a 2011 Mercedes C350 for around $46,000 in the US while the same car would cost you around $166,000 in Denmark and the price difference is even larger if you buy an American Car in stead of a European. With our luggage safe in the trumk, we drove by Dulles' Toll Road toward Vienna. It was very easy to find Jens' and Annette's house. We left Dulles Toll Road where it was crossed by Virginia Route 7 also called Leesburg Pike, the old highway connecting Alexandria and Leesburg in northern Virginia. We had to turn left on Seven, then take the first road to the left and we would be there - and so we were. Their residence appeared to be a "modest", rented house at around 375 m2 (about 4,000 square feet). Here we got our room, one of their guest rooms, with a walk-in closet and our own shower and toilet.
The first thing we did was to open our big suitcase, and let out our two cats (Danish joke). Well actually not cats but food and sweets. We had brought some Danish necessities that are either difficult or impossible to obtain in the U.S. and who can endure transport and are legal to import into USA. It was our gift to Jens and Annette, as we had no idea what else to give them. Among the delights were true rye-bread that Americans apparently can only produce in one or another sweet pumpernickel-like flavor, canned liver pate, mackerel in tomatosauce (simply not to be found in the U.S.), Danish cheese, Danish caviar (not the genuine sturgeon roe, but made from lumpfish roe), and finally but not least, several bags of licorice and winegum that Americans can not even figure out how to make properly :)
At the house we were greeted by Britt, Jens and Annette's youngest daughter and one of her friends from school in Denmark who was visiting. Louise as the friend was called had to return to Denmark the next day. Dorte and I were a little tired, so we did not want to do very much. We decided however to take a game 6-man battle ludo (boardgame). If anyone has not tried playing battle ludo, they have something to look forward to. I do not know who invented this different version of the otherwise quite well-known children's game, but we played it much in the Navy, and this version is definitely not for small children or the faint-hearted :-). Firstly, it differs from ordinary ludo, by being a partner game, where each player has a partner. It is played on a six person ludo board. Each player has his own pieces, but you can move your partners pieces as well as your own. Second, you have to strike out your opponenents pieces, if at all possible evenb if it cost yourself an advance and even if you miss the chance to go to the house with your own piece. If not you strike when you can, your own piece will have to start all over. Last but not least, you even have to chase an opponent who is heading up the path to his "home" if you in this way can strike his piece. A piece has absolutely no peace before it is completely at home and out of the board. These rules means that a game can last a very long time, and simultaneously be highly entertaining. Jens and I played together against Dorte and Annette and Britt and Louise. Maybe it was our common experience of Navy service who did it, but certainly Jens and I had no problems winning the game.

When we had finished the game Jens and Annette invited us for dinner. It was a tradition they had established when they had guests from Denmark, that they always invited the guest to "Thank God It's Friday" (or just Friday) in Vienna city on the first evening of their stay. After dinner we drove back to Jens and Annette, where we chatted on the patio (and drank some wine) until around 9.30 PM local time. As it corresponded to 2.30 AM for us, we decided to call it a day and went to bed.