Tourist around Moab
Sunday! And yet we had to get up early. Tina was going horseback-riding, and she had to be at the corral no later than 8.30 am, and as she wanted to have breakfast before her ride, we had set the alarm clock to 6.30. When she and I were ready, we walked to the hotel restaurant, where you had to choose between Sunday brunch and Sunday brunch. So we chose Sunday brunch, and it turned out to be very delicious with various hot dishes, such as eggs in several varieties, bacon, sausages, roasted ham, various potatoes etc. In addition, of course, pancakes, bread and cold cuts. Furthermore, there was a very large selection of fruits, both whole and cut, so it was really fine. There was, moreover, a large variety of the usual American breakfast cereals, such as cornflakes and other similar grains and corn things that neither Tina nor I wanted any of. But there were also baked beans, which I like very much for breakfast - and also for other meals. Coffee, tea and juice were also included in the feast.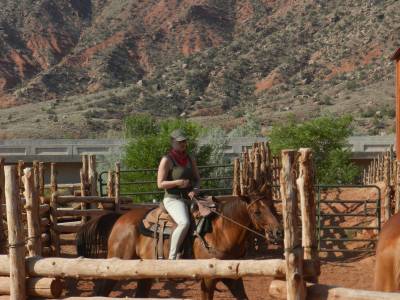 After breakfast we went over to the corral. Here we met the two wranglers that should guide the trip, but we did not know that at the time, as there were several other women/girls who walked around, leading horses. Before the ride Tina had to sign a paper saying that she rode out on her own responsibility and that she could not sue anyone if something went wrong and she broke her neck. At that time more people had arrived, all going for the ride, except me. I was only going to take pictures of Tina. One of the wranglers brought a four-legged animal with as addle, while another handed out bandanas. The wrangler with animal parked it the front of the porch, where all participants waited and presented it with the words: "This is a horse." Even novices could have joined here. She also explained that this particular animal was called Thunder, because he was definitely no lightning, and then she explained how to manage a western horse. Tina later told me that the "most difficult part" was, that you had to ride with loose reins as opposed to what she was used to in Denmark, where you learn to keep the reins tight at all times, but western horses are trained to stop when the reins are tightened, so if you hold the reins too tight, the ride is not going to be long - as the horse will simply stay still. Gradually everyone, including Tina, got their own horse (I have forgotten what Tina's horse was called, but it was something with "star" - Daystar, Morningstar, Rock Star or something like that). As the riders mounted their horses they rode into the paddock, where they had to ride around a bit before the tour started. I took my pictures, and then I walked back to the room, leaving Tina on her own

When I got back, Tim was ready and we left the hotel immediately. Our plan was to visit Canyonlands National Park, or at least the area of the park, called Island in the Sky. We drove the 14 miles into Moab and then some 10 miles to the north. Here we found Utah Route 313, which leads towards this part of the national park. At one point the road splits and 313 leads out to Dead Horse Point State Park, which we did not visit on this occasion. At the fork you must remember NOT to stay on 313, but keep to the right on the Island in the Sky Road, which leads the rest of the way. From the main road there are about 20 miles to the park's entrance. From here there is 1.5 mile to the site's Visitor Center and yet another 12 miles to Grand View Point, which is the furthest you can get. Here we enjoyed the view of the Canyons, that the two rivers Colorado River and Green River has created. The confluence of the two rivers is found 10 miles south of the Island in the Sky, but unfortunately you can not see it from the overlook. About 30 miles further west in the rugged landscape, is an area that is known as Robber 's Roost. It is in some side canyons of the Colorado River tributary, Dirty Devil River. Here in Robber's Roost outlaws Butch Cassidy and Elzy Lay had one of their main strongholds, and here they formed The Wild Bunch, who also used the place as a hangout between heists. Despite the inaccessibility and warm and dry desert climate, there were actually some ranches in this wild area, and the people of these ranches who may not themselves have been pure and law abiding, helped the outlaws with, among other food. We couldn't see Robbers Roost either from the Island in the Sky, as everything in that direction was covered in haze. But we saw a fine fossilized imprint of a leaf in a rock tile. When we had seen enough, we returned to the car. 6 miles from Grandview Point a side road that led to a couple of other viewpoints, so we went that way. It was approx. 4 miles each way, but there wasn't really much new to see - just more canyons, or the same canyons from new angles. Further back towards the Visitor Center another side road lead off towards another viewpoint, this time a place called Upheaval Dome, which most geologists believes to be a meteor crater. We skipped that though and returned to Moab.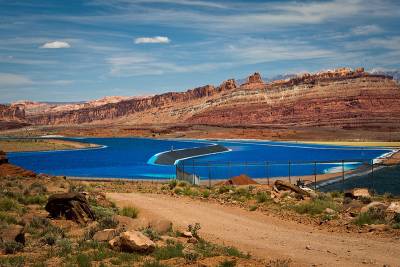 Back in Moab we visited a gas station to fill up the car, and then we took off again. This time we only drove two miles north to Utah Road 279, which meanders west along the Colorado River. Where this road leaves the main road is the remains of one of America's largest uranium mill tailings piles. Removal is underway because the authorities are afraid that radioactive water will seep into and pollute the river. The waste will be dug up and taken by car and train 25 miles into the desert, where they have isolated a deep hole, so nothing can escape, and here the waste will be kept. On the way back we took a few pictures of both the area and a warning sign on the fence around it. About 6 miles along Ut 279 there is an area where you can see fossilized dinosaur tracks, and also some petroglyphs, and here we stopped and climbed up the cliff to the dinosaur tracks. You don't have to climb far, but the temperature was around 105, so we both got a little swat. After having seen and duly photographed the footprints we continued about 17 miles further down the road. Here in the mountains is a factory producing potash. The factory was OK but what I really would have liked, was to see the potash evaporation ponds which has a nice blue color, but they were in the hills above the factory itself, and we were not sure that our car could manage the dirt road up there. Later I found out, that it would have been all right, but at that time it was to late. The above picture I have therefore borrowed from Wikipedia. If you have a high clearance vehicle you can continue on the road as a wheel track across slick rock cliffs and through narrow gorges, round serpentine loops and you can actually go on, right up to Dead Horse Point and Route 313, but the route is not well kept.

We turned around and headed back to the hotel where we arrived at 3 pm. After visiting their winery and tasted some of the products, we went back to the room. Here we found Tina, who had come home from the ride around noon and had been spending two - three hours by the pool. Now we relaxed until we again headed into town to get on our sunset cruise in a Hummer. We had to be at the Moab Adventure Center's office at six, and so we were. When we arrived a Hummer was ready outside. We had already submitted our waiver of the right to sue in case of accidents, so we were ready to go. Our driver/guide was called Molly, and she claimed that she was the only female Hummer driver that was employed by the Adventure Center. But she had been running tours and guided hikes etc. for 27 years, so she had some experience. We were going to share the car with a family with two adults and two children. They took the back seat (hard to the kidneys) while the three of us sat inside the car. Later we changed places a few times.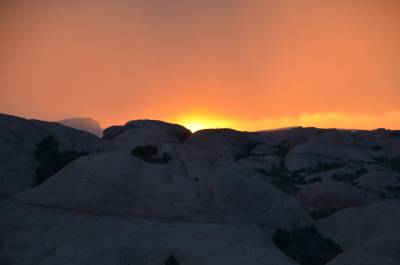 Molly took us to the area known as Hell's Revenge. From the entrance we drove up the same fin as in 2010,"Devils Fin" or "Chicken Fin" as it is called, but from there the trip was somewhat different from last time, when we used another tour company. The trip in 2010 was probably more fun and a little more breakneck, but in return this year's trip was more interesting because Molly not only acted as driver but as a guide as well and told us much more about what we saw. We made a stop to admire some dinosaur footprints, and to change seats. Tim and I took the back seat with the son from the other family. Mother, father and daughter got into the car, where Tina stayed. She didn't like it, when we got to close to the edge, and preferred to stay inside. We continued the trip to a place where we walked to the edge of the rocks from where we could see down to the Colorado River. There we enjoyed the view for a while, but as a thunderstorm was approaching from La Sal Mountains south of us, we took off again. Molly didn't think it was particularly wise to stand on top of a bare cliff during a thunderstorm, so we headed back in direction of the exit, after having changed seats once more.
Fortunately the thunderstorm decided to bypass us and we only got a few drops of rain, and the sun slowly shone through the clouds. It was fortunate enough for us, because we were on the sunset cruise and it is not very fun if you can't see the sun. Molly, however, was not so happy. Moab usually gets about 8 inches of rain per year, of which 4 inches falls in the spring, but this year they had to the end of June only received 0.3 inch! Molly stopped the car on a hill from where we enjoyed the sun's last rays on La Sal Mountains, and we also watched it go down behind the slickrocks. When the sun was down, we drove around the rocks for another half an hour before we headed back to town where we were around 10.30. After saying "thanks for the ride" to Molly, we found our own car and drove to a nearby Denny's to get some dinner. Denny's is open 24 hours a day, and it was pretty much the only place that was open at the time - and it was also where Tim and I had eaten after our previous Hummer tour. After dinner we drove back to the hotel where we were around 11.45 after a long, and for all of us eventful day.