A visit to Calico Ghost Town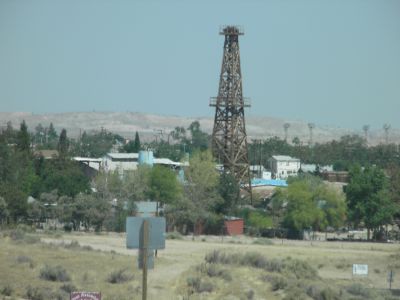 After eating breakfast we filled up the car for the first time on the trip and we got something of a surprise when it turned out that gasoline cost $ 3.36 per gallon. Later we would see prices much lower, but also prices that were higher). We also had to adjust to how to tank. First, the octane numbers are far lower than in Denmark. Why I do not know, but the Camaro was running on 87 octane, and tyhw lowest you can get in Denmark is 92 octane. Our own Renault Laguna runs on 95 octane. The hardest thing now was to get used to that when we in Denmark have green hoses for gasoline and black for diesel, it's just the opposite in the U.S..

Well, we got the gasoline, and then we drove into the hills behind the town. Our first goal was the Carrizo Plain National Monument, where we had read that the San Andreas Fault would be very visible. We took a little twisted, but very pretty mountain road, that went south and east of the monument and we passed a lot of windmills, but a driveway to the monument we didn't locate. So when we reached the tiny town of Maricopa, we decided that we would only proceed to the next town, Taft. Had we found not the entrance by then, we would continue to Bakersfield, which should be the next step on the road to today's goal in Barstow. We didn't locate the entrance, so we did never see the fault, but instead Taft (6400 inhabitants) was a rather exciting city.
The whole town lived on petroleum and absolutely nothing else. Around the city, especially in the mountains west of town stood drilling towers and oil pumps and the city itself, was clearly solely dependent of the oil industry. On the tour around the town we saw more oil pumps than I've seen in the rest of my life. On the way from Santa Maria to Taft, we passed a wind farm with thousands of windmills. It was in our opinion not pretty and the pictures we took could be used as a scare off for those who believe that wind power can solve all our energy problems.

From Taft, we continued northwest along even smaller roads, and here we passed a lot of citrus fruit and apple orchards. They were all irrigated and we were obviously on ourway out of to desert. Shortly before Bakersfield we reached a freeway and we went 5-7 miles km to the north, before we again left it to go west toward Barstow. In the town of Arvin we stopped. Partly to switch drivers, but also so I could get a cup of coffee. From here we continued to Barstow through more and more desert-like landscapes. On this stretch we saw a lot of strange looking trees, called Joshua trees, which further south in California have their own national park. Here they stood just in the desert along the road.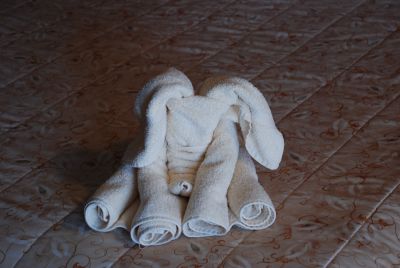 When we got to Barstow, we found where we got our room. For the first time on the trip, we had direct access to the parking lot so we did not have to carry our luggage up. We took the luggage into the room and noticed that all towels, washcloths, etc. were folded to look like elephants, so there was a lot of elephants in the room.

When we had settled we left the hotel again. We took Interstate Highway 15 to the ghost town of Calico, that Dorte and I had visited four years earlier, and as Tim also wanted to see. Here we went for a ride through town and we took a tour with a small train. On the trip we were told the story of the town's heyday, when there were 30 silver mines. 1,200 people were in town when the population peaked. It had a red light district "of three brothels and 23 saloons, and it even had its own Chinatown. Today there are not many original buildings left, but there are some, including Lane's General Store and a few other. Of Chinatown, only the foundations remain, and some buildings in town are restored.

When we got back to the car park we enjoyed the views of the city Yermo, and we were both photographed at the car, so we had proof that we had actually driven in a red Camaro. When we got back to the hotel, we relaxed for an hour and then we drove out to get some dinner. Here we ran into the same problem as Dorte and I did 4 years earlier in the compound in Utah. Because of the 4th of July celebrations, almost all the restaurants were closed. We managed to find a local burger restaurant where we had our dinner.