Where the Chrokees ruled
We had saved a day in Charleston, and had already agreed that we woul be spend it in eastern Tennessee and now we agreed that Gatlinburg north of Great Smoky Mountains National Park would be the place, where we would spend the night. There are several ways to get from Santee to Gatlinburg, but we decided to drive all the way around the national park, using mostly interstates. I had another ulterior motive to go to Gatlinburg, than just to visit a city where we twelve years earlier had eaten pancakes, but more on that below.

We took I-95 a bit south from Santee to reach I-26 that heads northwest to Columbia and Spartanburg in South Carolina and later Asheville, North Carolina. Between Columbia and Spartanburg we passed Sumter National Forest, where my father-in-law in 2002 didn't find that the forest was wild enough . I26 passes Spartanburg, but doesn't enter town, so neither did we. Instead we continued north.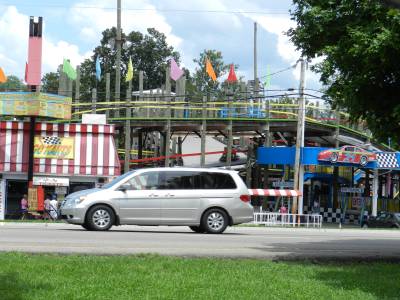 Along the way we stopped a few times to change driver, buy coffee and other "interesting" pastimes. When we reached the town of Hendersonville, we left the interstate for a short while, because Tim wanted to see the hotel, where we had stayed in 2000, and he again in 2005. Also the Denny's where he ate his first American breakfast with pancakes, bacon and jam were to be visisted, and so we did. When we got to Asheville, I asked him if he was interestet in visitingo the Biltmore Estate, America's largest private home with 250 rooms, but he was not, so we made do with changing interstate - with some difficulty - to I-40 West. To us I-40 is an interesting interstate, as we have driven shorter or longer distances it on all our holidays in the U.S. and we will do it again in 2013. Only in 2008, when we were only visiting New England and New York, we did not. We have driven on I-40 in North Carolina (2000 and 2012), Tennessee (2002 and 2012), Arkansas (2004) and Arizona (2006 and 2010). This time we followed the interstste on the east and north-east side of the Great Smoky Mountains National Park and into Tennessee. Soon after the Tennessee border we left the interstate to go west on U.S. 411 to Sevierville. This was the town where country star Dolly Parton was born in 1946, and although she is alive and kicking, she already has a street named after her - namely Dolly Parton Parkway which is actually a stretch of U.S. 411. In Denmark nobody gets a street named after them until well after they are dead - when they don't care at all anymore. In Sevierville we turned south on U.S. 441, to the small town of Pigeon Forge, that we actually had aimed for in 2000, but without hitting it because a navigational mistake led us into the Great Smoky Mountains National Park instead of around it.

It turned out that Sevierville and Pigeon's Fork are two pieces of the same cake, and what connected them, were different tourist "attractions", which didn't exactly attract us. There was music venues, museums, souvenir shops, amusement parks, theme parks, amusement parks, casinos, music venues, etc. Even the smallest motels had rollercoasters and carousels outside. At the southern end of Pigeon Forge you find the theme park Dollywood, and we would like to see that - from the outside. We had to settle though for taking a picture of a sign, and then just turn around after having been about to be sentenced an $ 8 fee to enter the parking lot. We couldn't turn the car around, because the road was one-way, but we were graciously allowed to enter the parking lot and the leave by the exit immediately after. After this experience we proceeded quickly to the south along 441 to Gatlinburg, today's new goal. In 2000 we got the initial shock of the vacation here in Gatlinburg, when we had to pay $ 8 each to get tothe top of Crockett Mountain. We have learned a lot about tourist prices in the U.S. since then. This time we didn't go up the mountain, but found a hotel in the city's southern outskirts, which suited us fine as we were going south the next day.

It was not late yet so this was when I sprung my previously mentioned ulterior motive on Tim. Almost 60 miles west of Gatlinburg is the town of Vonore. The area around and primarily south of town along the Little Tennessee and Tellico Rivers, was previously Over Hill Cherokee land, and many of the important Cherokee villages was situated in this area. Although they now had disappeared, I would like to see the places where they have been. The Cherokee history is one of my many strange interests :-). Tim was OK with the idea, so we drove west through the Great Smoky Mountains National Park and continued along the small Tennessee Road 321 to the town of Marysville south of Knoxville, where we again hit 411, which we followed to Vonore. Among the Cherokee villages, which used to be near Vonore, was Chota, Tanasi and Great Tellico. The latter was, however, too far away for a visit, but the other two were within reach. All three cities had been "capitals" of the Cherokee tribe in the course of their history. Also Citico, which was the tribe's largest city with more than 1,000 inhabitants, were south of Vonore along with 18 other villages. Apart from Tellico, they all are all inundated by Tellico Lake, which occurred when Tellico River and the Little Tennessee River were dammed in 1979. Before that, excavations were carried out at the various sites, and at Chota and Tanasi are raised monuments of the villages. It was these two places that I wanted to see.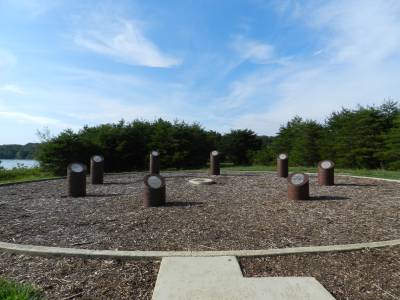 We drove south from Vonore and passed a museum of Seqouia, the Cherokee who, without being able to read or write in any language himself, created the Cherokee syllabary around 1821 and taught tribal members to read in their own language. We didn't make a stop here at that time, but continued until we met a very small road that led up to the monument of Tanasi. This village, which was the tribe's capital from 1721 to 1730, has given its name to the state of Tennessee. We found the monument easily, and it was photographed, and then we continued along the road to get to Chota. As the road went no further, there was a parking lot, but nothing monumental. However, there was a path, and I went down that, while Tim stayed in the car. After about 1,000 feet I turned around and went back to the car and we drove around in the area before we returned to Tanasi. Here, we agreed that Chota had to be at the car park as there should only be a very short distance (500 yards) between the two villages, so we returned to the parking lot once more. This time we both walked along the path, and didn't gave up as soon as I had earlier, and 1,600 feet down the path, we reached the monument. Chota was the tribe's capital from 1741 to 1788, and next to the monument is the grave of the principal chief , Oconastota. He was the chief of the Cherokee tribe from 1775 to 1781 and had previously been a war chief, while his cousin and son-in-law, Attakullakulla, was the principal chief from 1761 to 1775. Both the monument and the tombstone were photographed, and then we walked back to the car and returned to the Sequoia museum that was closed at that time, but down at the foot of a hill near the river, was built a grave monument for the 191 that corpses were found during the excavations of Chota, and I went down to look at the monument while Tim stayed in the car.

It was by now around 18.30, so after the visit at the museum site, we agreed to drive back to Gatlinburg. We took the same route as on the way out, but in the opposite direction. When we reached the national park again, we made one stop to photograph Little River and take some pictures of it. At the same time, I also took pictures of some kudzu plants, as we had seen many of on our previous visits, but now - thankfully - seems to be in decline. Kudzu is an invasive plant that "strangles" the local fauna, but hopefully it can be stopped - even if it is nice looking and makes interesting "sculptures".
- Return to Cross Country Tour -
- Return to Travel stories -