Finally, Dorte got a basket!
The day after our failure in getting a basket, we were going to visit Fort Sumter. In a brochure, we found at the hotel, we saw that a boat departed from the port at 10.30AM, and I thought it might be a good idea to be at the ferry in goodt time, to get among the first in line. Since we didn't know about traffinc conditions in Charleston on a Sunday morning, we left the hotel in very good time - and as it turned out there was no traffic, we were at the ferry at 9.30. We found a place to park the car nearby, and went to the ticket office - which turned out to be closed! The brochure said that you should be there at 10.00 to get on the boat at 10.30, so we thought we were simply too early. But when the clock turned 10 there was still not a single soul in sight. We could see the boat lying at a pier, so we decided to to go there and find out if tickets were sold on board. On the way out along the pier we met a couple, going in the opposite direction, and just as we had passed them, the man asked us ifwe were from Denmark. He asked in Danish, which surprised us somewhat, but it turned out that he himself was from Denmark, but had moved to the U.S. with his parents 60 earlier when he was four years old. He also told us that he had cousins in Jutland, which he frequently visited, which probably explained that he still spoke Danish fluently. We chatted for some time with him (in Danish) and his wife (in English), and during the conversation he toldf us that all ferries to and from Fort Sumnter was canceled because of heavy winds in the harbor.

We therefore decided that once again visit Boone Hall Plantation, but in one of our now numerous brochures we read, that they didn't open until 1 PM on Sunday, and it was 10.45, so we decided for a small detour. We crossed the river to the Mount Pleasant peninsula, where Boone Hall is situated but instead of going straight to the plantation, we turned east to Patriots Point, where there is a kind of marine museum. Here are a number of warships from the Second World War moored, among other the aircraft carrier USS Yorktown, the destroyer USS Laffey, a Coast Guard vessel and the submarine USS Ingham Clamagore. We did not go aboard any of the vessels, but chose to look at them from the shore. When we had seen enough, we continued east to Sullivan's Island. At this tiny island about 40% of the slaves who came to the English colonies in America were landed. Between 4 and 8 million slaves arrived in America via the island. That was not thne reason we went there though. Th idea was to visit Fort Moultrie - a ckind of compensation for missing Fort Smuter.

When go to the fort, it turned out that - I would almost say, like anywhere else - it had a visitor center. Here you could see various exhibits about the fort's role in the different periods of American history. We bought a ticket and crossed the street to the fort. Here we walked around the ramparts, visited the control bunker from World War II and saw the U.S. flag anno 1809, which flies above the fort. 15 stripes and 15 stars had it then, representing the 15 states that were in the union when the flag was designed in 1795. This flag was used until 1818 when it was changed to 20 stars and 13 stripes, and since then it has changed many times, most recently in 1969 when the number of stars was increased from 49 to 50 after admission of Hawaii to statehood. Besides the flag we looked at the various guns. Not least, the 25-ton Rodman guns from around 1870, was impressive. They could shoot a 500 pound grenade around 4 miles out to sea. After our visit to the fort, we continued further out on Sullivans Island, past the island's unique, triangular lighthouse. We continued on to the next island, the Isle of Palms. The waters between Sullivan's Island and Isle of Palms is called Breach Inlet, and it was from here the submarine Hunley sailed off on his first and only mission during The Civil War. From Isle of Palms, we drove back to the mainland. The road leads across Little Goat Island, and through a marshy area before it reaches solid ground.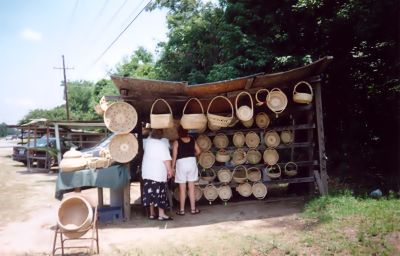 When we got back to the main road (U.S. 17) we turned right and drove north, and hardly had we reached the road the road before our doubts in Carl Jørns words the day before were proved wrong. By the roadside there was a little stall and in it sat two women woving sweetgrass baskets! I threw the car into the side, and everubody but me got out. I stayed in the car when the terrain was "slightly" tilted, and I didn't want the car to roll over. But with the window down, I could hear what was happening. First Dorte found the basket she wanted, and then she and her father started to haggle. The starting point for negotiations was $ 125 (around DKK 1,000), representing approximately half of what a similar basket would cost in the Charleston market. But Dorte's telling a touching story about our upcoming silver anniversary, which made at least one woman soft (she was having a silver anniversary a few ,month later), the price was negotiated down, and they gave handshake at $ 80. 640 DKK! A a nice price for a bread basket which can be obtained in any supermarket for F
DKK 30 on a good day :-( We have to keep it locked up in a safe, and it is only removed on solemn occasions, and only in the presence of armed guards with submachine guns and dogs - or something like that. Sweetgrass is a rare aquatic plant and this together wirh the fact that they hand woven, obviously make them very expensive. In our version, there is a woven dark pattern. It is made by plaiting needles from a special species of pine, whose name I forgot, along with sweetgrass. The custom of weaving baskets of sweet grass came to America with slaves from West Africa, and perhaps also the first Sweetgrass arrived the same way, and it is one of the few African customs that are still maintained among the descendants of the slaves in the South.


- Return to Anniversary tour -
- Return to Travel Stories -