Eaten by mosquitos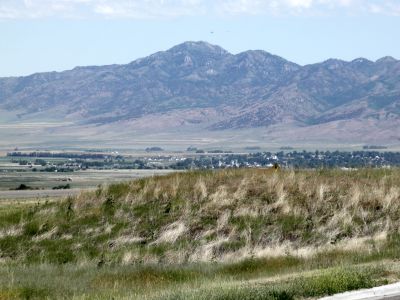 Next day we continued further north. We were going through the northern part of Utah the southeastern part of Idaho and northwestern part of Wyoming to Gardiner, Montana.

Some might wonder how come we visited Salt Lake City without going to Great Salt Lake or the Salt Desert, but Tim was not particularly interested in the lake, and felt, that he has seen enough desert for one vacation, and since I had seen it before, I didn't insist. But on our way north on I-15 we could see the lake in the distance from several spots.

We continued along I-15 through Idaho. Dorte and I drove through this state twice in 2006, both in the southeast corner and through the northern panhandle. Back then we made a single stop in a small town, Montpelier, in south-east corner of the state, where we ate lunch. Here I had also took my only picture from that state. It depicts Dorte outside the restaurant. I would do a little better this time. For the first - and, indeed, only time on the trip, we crossed a state border on an Interstate, and to show that I hadn't become a fanatic, we visited the local Welcome Center. Tim thought that maybe I had been cured of the brochuritis which both he and Tina previously believed that Dorte and I were suffering from after our trip in 2000.

Unlike in 2006, we drove a longer stretch on our first trip through Idaho, and I actually succeeded in getting some pictures of the landscape. Our path led through the city of Pocatello, and from there through the Fort Hall Indian Reservation, where members of the Bannock and Shoshone tribes reside. We thought at first that it was a reservation for the Blackfoot tribe, as the city Blackfoot is located just outside the reserve. I was a little confused, because I knew that the Blackfoots has their reservation up in northern Montana, and it turned out later that the name originated from a group of trappers that came to the area in 1818. In 1812, there had been a forest fire, and the natives who lived here had to move around in the burned areas. This dyed their moccasins black, which was the reason for the name.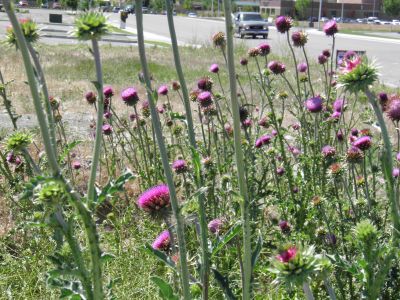 Shortly after Idaho Falls, we left the Interstate and and took U.S. Route 20 to the northeast. In the small town of Rigby, we stopped and ate lunch. Here Tim finally got his way and we ate at a Wendy's. This was a bad idea, but we didn't know that then. Tim had a chicken burger and I had salad with fried chicken, and my guess is that the chicken may not have been totally fresh. Again, I got a couple of Idaho pictures before we continued north along U.S. 20 that would lead us all the way to West Yellowstone and the west entrance to Yellowstone National Park, whose northwest corner we would cross on our way to Gardiner. The road through that part of Idaho was quite pretty and to the east we had a distant view of the Teton Range, which we would later see from the east side and which are regarded as one of America's most beautiful mountain ranges. Later the landscape changed and we began to see more and more conifers and in several places we saw fire warning signs which said that the fire risk was "Extreme". Earlier we had seen the risks of "High" and "Very High" down in Arizona, but this was the first time it was so high, and actually everything looked very dry.

Because of Wendy's chicken, we had to make quite a long stay when we came to the small, very small town, Island Park. The village has only 215 inhabitants, and they live right scattered, but the village had a gas station and a shop with a rest room. The store was obviously meant for tourists, and while waiting for Tim I bought a bottle of wine,grown and produced in Idaho and I managed to bring it all the way back to Denmark. When we drank it at home, it was drinkable, but is was not a great wine. Then I went outside to take some pictures of the store, which also functioned as "town hall". A branch of the Snake River, called the Henry's Fork ran just on the other side of the road, so I also took some photos of that. The whole village is only 150 meters wide at the widest point. On the other hand the locals claims that the city has the world's longest main street (33 miles).

When we had done, what we needed to do, we continued northeast and shortly before West Yellowstone, we entered Montana. We entered Yellowstone National Park by the western entrance, which actually is in West Yellowstone. Cutting the corner through the park was the quickest way to Gardiner. Shortly after passing the entrance, we left Montana again and entered Wyoming. It was the first and only time on the trip, we visited four states on the same day. The road follows Madison River (one of the three rivers that form the Missouri River), a long while. At Madison Junction the road from West Yellowstone, meets the 8-figure road through the national park. This road is called Grand Loop Road. Here we headed along the northwestern arc of the loop, to get to Gardiner. And voila - as soon as we turned northwest, we drove into roadworks, where we had to stop and wait for 20 minutes before we could continue. When the pilot car finally came back to pick us up and lead us through a long queue had formed. It turned out that the pavement had been removed, leaving only the gravel. Just behind the pilot car, a water truck was busy watering the gravel, so when we finally had passed this stretch of dirt road, our car that had long been dusty, especially from the dirt road in Canyonlands, was now completely muddy and more grayish brown than the original red color.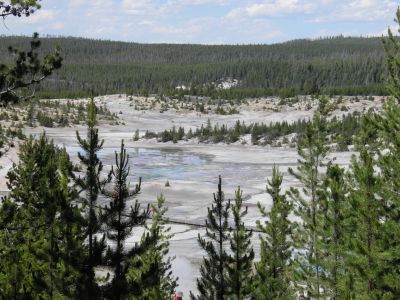 When we arrived at Norris Geyser Basin, Tim needed another break. The chicken had hit him harder than me. We therefore drove into the parking lot, where I in 2006 was "chased" by a large bison bull. You will get that story another time. When Tim was finally able, we decided to take a walk in through the 'Back Basin' part of Norris Geyser Basin. Here we saw the world's tallest geyser, Steamboat Geyser, and while it was bubbling nicely, it didn't erupt. It is very erratic and have not had any major eruptions since 2005. We also passed a lot of other geysers, including the red-green Echinus Geyser, the world's largest geyser with acidic water, Minute Geyser, which once erupted every minute but was destroyed by tourists, who threw stones into the vent, Puff'n Stuff Geyser , Pork Chop Geyser and many more. Unfortunately, none of those who we visited, erupted while we were there, but this is often the case when you only have a short time at a geyser. Many of them erupts hours, days or months apart. Steamboat Geyser, mentioned above, have once taken a break of 50 years between the two eruptions. In return, we saw some hot springs that seethed and bubbled and smelled foul; among others Crater Spring and Mystic Spring. As we approached the parking lot again, we enjoyed the view over the lower part of Norris Geyser Basin, called Porcelain Basin because of the colors. We didn't went down there but I went a bit down the path to look at some fumaroles. Fumaroles are hot springs, where there is so little water and so high temperatures that they never erupts, because all the water evaporates before it reaches the surface.

We continued further along the northwestern branch of Grand Loop Road and passed Obsidan Cliff, and onwards to Mammoth Hot Springs. Again we went for a short walk, and and then drove the car around what is called the Upper Loop. Mammoth Hot Springs is completely different from anywhere else in the park. Here percolating calcareous water sprinkles out of the ground. The water has formed some very nice terraces and other formations. The limestone dissolves in the water on its way up through the rock to the surface, and then is deposited again on the surface, so you can say that the earth is turning inside out.

Below the Mammoth Hot Springs is one of the national park "villages", Mammoth Hot Springs Village, where there are hotels and much more. Here you find the park rangers' headquarters and here is Fort Yellowstone, a fortress from the days when the national park was established in the late 1800's. It was the world's first national park, and then there was nothing called the National Park Service. The protection and surveillance of the park was therefore left to the army, who built the fort. The barracks are currently used as housing for those working in the park. We continued to the park's northern entrance/exit and the city of Gardiner (at this time we were back in Montana), where we easily found our hotel which was the same one where Dorte and I had stayed four years earlier.

After our accommodation we had dinner at the restaurant, located right next to the hotel, Yellowstone Mine Restaurant. Tim got his first taste of bison meat, when he ordered a bisonburger while I simply satisfied myself with barbecue baby back ribs. The first of the kind I had on this trip.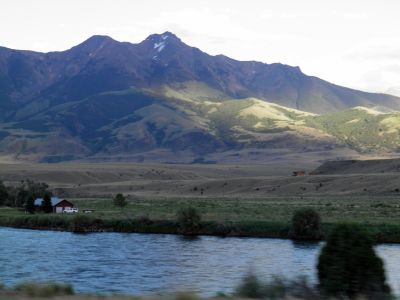 When we were done eating, I suggested that we should go little further north along U.S. Route 89 so I could get some pictures from Montana. I didn't have a single photo from that state from our first visit. We drove north to the town of Livingston, where we turned around and drove back. On this trip we drove past Mount Cowen, which is 11,000 feet high. The mountain however do not look particularly tall because you already are more than 6,500 feet above sea level. Near the town of Play (Route 89 bypasses the towns on this route), we found a gas station where we decided to fill up the car before we drove back to the hotel so it was ready for the big tour of the national park, the next day. However, it was a very bad decision in a valley stretching along the Yellowstone River. Play was in the middle of a rather damp meadowland. So when I began filling gas on the car, we were both assaulted by roughly 3 billion mosquitoes, and when with the fuel hose in the filler neck and being busy filling up it is very difficult to escape. Tim ran into the store so he got off a little cheaper than me, but my face and neck and my arms and legs had mosquito bites enough for both of us. I almost had to have have a blood transfusion when they were through. Actually, I spent much of the rest of our vacation not locating a pharmacy, where they sold anti-itch agent, and when I finally found it, the itching had stopped. At the time I had not yet heard that Atamon is good against itching from mosquito bites. It is, believe me! I have used it several times after returning to Denmark and it works. I also do not know whether you can buy Atamon in the U.S (it is actually a preservative based on sodium benzoate and used for preserving pickled vegetables and marmelade and stuff like that). But now I do know and next time I think I will bring a bottle Atamon with me in my a suitcase. And as it preserve, it might preserve me too, so I will never look any older. Just an added value :-).

When we got back to the hotel with mosquito bites and all, we just checked whether the Internet was still there and it was. And the world had not gone astray any more than usual while we had turned our backs to it.

- Return to Father and Son tour -
- Return to Travel stories -