A little wine tasting and then back to Denmark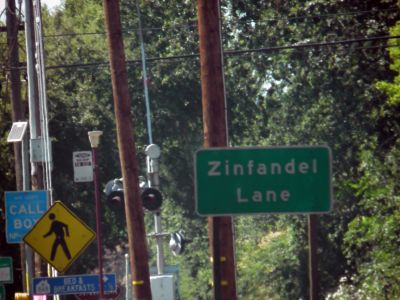 The vacation 2010 was getting close to it's completion, but before returning to Denmark, we just wanted to visit Napa Valley and do a little wine tasting.

We left our hotel in Santa Rosa about 9.30 AM, and drove north on U.S. Route 101 to Healdsburg. Here we took California Route 128 further north to Geyserville, which is actually named after some geysers that were found in the area in 1847. As we had seen enough geysers in Yellowstone, we skipped a visit here and continued southeast through Alexander Valley, one of Sonoma County's renowned wine regions. In the valley are numerous vineyards and wineries, including Alexander Valley Winery, where Dorte and I enjoyed a wine tasting in 2006.This time it was only about 10 o'clock so I thought it was too early to begin "drinking", so we continued south to Calistoga.

Calistoga, which also has a geyser (Old Faithful of California) - and a petrified tree - is the northernmost town in Napa Valley. Just south of town CA-128 joins CA-29, and leads down through the Napa Valley. We drove south through vineyards and past the various wineries in Rutherford. Here we drove up to the slopes of the mountains for a visit at Rutherford Hill Winery. I had been there with Dorte in 2006 and on that occasion we attended a tour of the production area and the caves in the mountains, where they store the wines. Unfortunately, Tim and I arrived soon after a tour had started, so we skipped it this time, as the next wouldn't start in another two or three hours. Instead, I bought a tasting. Tim were driving the car, and didn't want any. Their Cabernet Franc, which we bought the last time we were here, were still excellent, and I tasted a wine made from pure Petit Verdot, which was also good although nothing really special. I did noy buy anything this time as there are a limit, to what you can bring on the plane :-)

After the wine tasting we drove north to the town of St. Helena, where we found a place to eat. St. Helena is a city that obviously makes a living from the "wine tourists". It was evident from the somewhat inflated prices at almost all restaurants. We found a place on the main street, called AKA Bistro where the prices were reasonable. The place was recommended by the Michelin Guide, although it had no stars. Despite this, prices were actually reasonable. Today the place is closed because of declining revenue, so maybe the prices have still been in the top edge.
A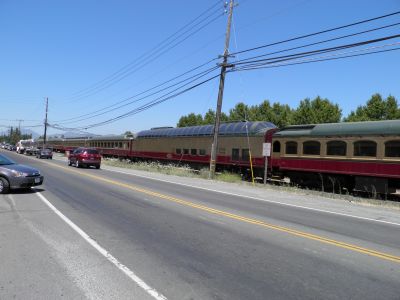 fter lunch we drove south to the outskirts of town. Here we paid a visit to Sutter Home Winery, one of America's largest family-owned wineries. Sutter Home wines can often be bought in Denmark, eg in supermarkets and grocery stores, and the wines I've tasted backhome have been OK. Here they offered a complimentary wine tasting. You had to pick four wines from a selection of seven. Sutter Home is well known for their white Zinfandel, but it was not on the list, which consisted of five other white wines, a dry red wine and a sweet ditto. We chose two whites, a Pinot Grigio and a Chenin Blanc. The Pinot ​​was OK, while the Chenin Blanc couldn't decide whether it would be semi-dry or semisweet and therefore ended up as nothing at all. The dry red was a Zinfandel, and even if I otherwise enjoy wine made from this grape, this one tasted of neither fowl nor fish. Tim enjoyed the sweet, red, but unfortunately I couldn't help but comparing it with an Italian Recioto and that was probaly not fair to the Californian wine as I consider the Recioto as probably the best sweet red in the world.. All in all the tasting was very disappointing in my view, though others might have enjoyed the wines.

We continued south to Napa City where we would stay overnight, but after visiting three hotels, all of which were fully booked, we decided to drive back to Santa Rosa. We drove back north to Calistoga, where we took the tiny California Route 12 through the mountains back to Peanut Town. Here we found a new hotel, got a room and went to a nearby Applebee's to dine. Back at the hotel we emptied the car for everything loose and stowed it in our bags, as it would the last possiblity to do this, before returning to Denmark. The actual repackaging we would do in San Francisco, but we took the opportunity to clean up the mess in the car so that - at least inside - like the one we had rented three weeks earlier. Outside it was even more grey that before, not red as it used to be. The room was equipped with a refrigerator, so here we placed our remaining stock of bottled water, and then we said goodbye to the ice cooler, which had served us excellent throughout the trip, and then for only $ 15.65.
---
The next day, we returned to Napa Valley for a final wine tasting before going to San Francisco. Once again we took CA-12but this time, however, in a southerly direction. Near the town of Glen Ellen, we left CA-12 and drove onto an even smaller road. In fact it was so small that it had no number, just a name, or rather more names as the name changed every few miles from Trinity Road to Dry Creek Road and finally to Oakville Grade Road. It led out to CA-29 in Napa Valley near the town of Oakville. From there we drove south to the northern edge of Napa, where we drove east, up the hills. Again it was on small roads without numbers. The aim was to get out on the Silverado Trail, where there is some wineries. Here we found one that looked exciting, Pine Ridge Winery, in the local AVA, that is called Stag Leap and is part of Napa AVA.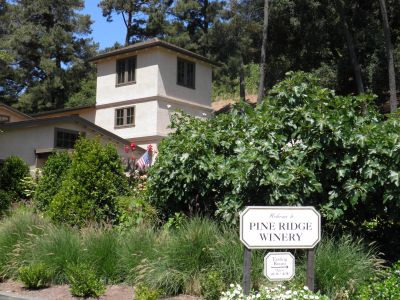 It turned out that the service were several classes above Sutter Home. Although there were even more people here it did not feel this way, and we were served immediately. An nice young lady led us to a desk, and presented us with a "wine list". Here we could choose between two different tastings. One was a sauvignon tasting and the other was "mixed." I chose the mixed tasting, which included five wines. Before we started the "menu", the young lady, however suggested that I should start with a white wine that was not part of the package. It was a blend of Chenin Blanc and Viognier and it was excellent, crisp and tart. Then we started with "the menu", which consisted of a Chardonnay, a Malbec and a Merlot all from 2007 and a Cabernet Franc and a blend, both from 2006. All the wines were good, not least the Merlot ​​and my favorite Cabernet Franc, but unfortunately there were limits to what we could fit in out luggage. I therefore just bought the white wine, which we had started with. During the tasting we had spoken to the girl about where we came from and so on, so she thought that she would wrap the bottle in a shockproof wrap, so she did. At that time I had not yet asked for the price. It turned out that it was the cheapest wine in the tasting at only $13.50. Many of the others were considerably more expensive. For example the Cabernet Franc cost $ 42, the Malbec, $ 60, and the blend $110 After visiting the tasting room, we walked outside. Just outside the building was planted a beautiful rose bed, and also some "demonstration rows", short rows of different grape varieties and a sign that told about the variety. The visit was very exciting and if I ever come to Napa again, it's certainly one of the wineries, I would like to revisit.

From the winery, we continued a little north along the Silverado Trail before we again drove east to Rutherford. From there we drove south through Napa's outskirts, where we again turned west to Petaluma, where Snoopy could not enter the world championships in arm wrestling because he had no thumb! Petaluma was actually hosting the annual world championships in arm wrestling between 1952 and 2003. Every summer the city is also host to the competition for "The World's Ugliest dog." We did not stop in town, but took to the U.S. Route 101 south. Outside of Sausalito, near the Golden Gate Bridge, we stopped to get us some lunch. After lunch we crossed the Golden Gate Bridge, and unlike the first time we were here it was now - quite traditional - covered by fog. We went directly to the hotel where a valet drove the car away while we checked into our room. We stayed in the room a few hours where we repacked our luggage, so there was room for everything, including my four bottles of wine and several books, besides the gifts I had bought. Then we relaxed with a book until we were hungry again. After dinner at a restaurant on Fisherman's Wharf, we walked along the Embarcadero and enjoyed the street life before we returned to the hotel.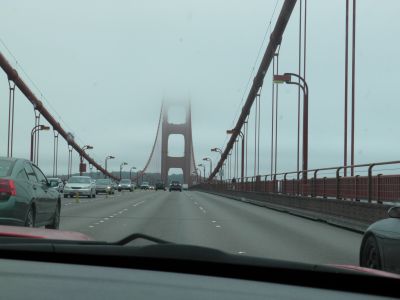 The day after we had to check out before 11.00 AM, but our plane didn't leave until 6.50 pm with check in 4.50, so we had almost all day. We decided to use the time to see a few more things in San Francisco before we were driving to the airport. Around 10 o'clock we left the hotel, and after being handed the car we drove downtown. We wanted to see Mission Dolores, the oldest building in San Francisco from 1776. Unfortunately all the streets around it was closed because of some kind of running event and virtually no matter what road we tried to go, we had to turn back. The closest we got was a block away from the mission where we could only see (and photograph) the basilica, located right next to the mission station, but although it's nice, is it from 1918 and not nearly as interesting as the actual mission station. Instead we decided that we would drive to Golden Gate Park to visit the Japanese Tea Garden which we had skipped at our fist visit.

Unfortunately, our combined memory on how to get there had failed, because when we thought we ought to be there, we were not even near the park. We then drove around a bit at large and small streets where we among other things saw more Victorian houses, lots of electrical wires, churches and much more. Among others we passed Temple Emanu-El, which is a fairly large building and the synagogue of the Reformed Jewish congregation in the Bay Area. At last we found Fulton Street, running parallel to the park north of this and with several entrances to the park. Unfortunately we were driving in a westerly direction which meant that we had the park on our left hand, and it soon became apparent that left turns were prohibited at all entrances. We had to go down a side road to the right in an attempt to get around and back to Fulton Street in the eastbound direction, but on this side road, unfortunately left turns were prohibited at all side roads - and there were only side roads on our left hand side! Eventually we managed however to make a U-turn and and finally return to Fulton Street in the right direction and then we could enter the park with no more trouble. We could obviously have made it easier, by turning on our gps - but decided not to.

Now the park was relatively large, with some roads, and neither Tim nor I could remember exactly what route the bus had been driving, so we navigated around at random - and soon we had left the park again, this time on the south side. Here we however, relatively quick turned around and then we entered the park again, and found the side road that led down to the Tea Garden! This time it went perfectly fine to make it to the De Young Museum and Tea Garden, but what we had not considered was that it was Sunday. This meant that almost everyone in San Francisco was visiting the park as well and there was not a single parking lot to be found. At this time we decided to also give up this visit. Instead, we would quietly ride to the airport and along the way find a place to eat lunch.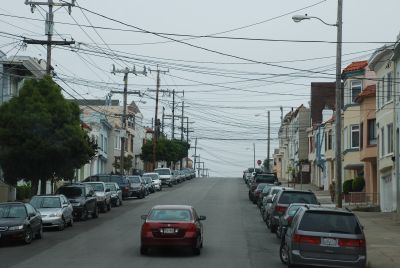 We were probably not taking the shortest route through town, but took the opportunity to just drive around. We drove out of one of the southern exits from the park and drove east and then north to the park's north side again. We drove, however, away from the park and into the neighborhood known as Haight-Ashbury. It was here in the district the hippie movement began in the mid 60s and it was in this area that "Summer of Love" in 1967, had its "spiritual" center. We continued on Hayes to Van Ness, as we went south out of town. Van Ness, who here is also U.S. Route 101, became freeway just after we had started to go south, and so it went at a brisk pace towards the airport.

Here we found an exit with a sign for "return of rental cars," but there was just a few things we should have done first. First, we should have refilled the car with gas, and secondly we should refill ourselves with some lunch. We therefore made a stop at San Bruno Town Center, outside at mall called "Shops at Tanforan". Here we found a Hooters and such we had not visited on this trip - and I actually not since New Orleans in 2004, Tim in 2005. We thought it would be a nice way to complete our vacation. After lunch there was still plenty of time to get to the airport, so even though we didn't want to buy more books, we went anyway into the Barnes and Noble, which was right next to Hooters. Here we walked around for 40-45 minutes and it actually ended up with me buying another book.

Then we drove to the airport, or rather to the rented car return, where with some difficulty, we returned the Camaro, which had around 7.000 miles more on the odometer than when we got it 25 days earlier. When we arrived at the terminal, the check-in counters were already open so we went directly there. There had not been much else to do, as U.S. airports are extremely boring and without many facilities. When it was our turn, I threw my suitcase on the scale and so did Tim. In my case there were 6 kg overweight, while Tim had plenty of space. The man at the counter suggested we moved some of the baggage, so I moved the wine from my suitcase to Tim's bag, and it was enough to let us both through without having to pay for overweight. Fortunately there were no one behind us in line, while we conducted this operation, so there was no one who was upset about the extra waiting time. We went through security, which was relatively easy. In the departure hall, nothing much happens, but we found a small cafe where we got a soda. Then we went to the gate, and enjoyed ourselves reading until departure time. Along the way, I visited a small (the only) store where I bought a box of chocolates to bring home.

Then there was almost 10 hours of boring flight to London. We watched movies and read and tried to sleep, but with no luck on my part. I'm not good at sleeping on planes. Along the way, we had dinner and later (as breakfast) a very dry bun, but otherwise the service with British Airways is quite good. In London, we had 1½ hours, until the plane to Copenhagen departed, and as it was from the same terminal, so we thought we had time enough. When we landed, we were however told that because of the time of day, we could not taxi into the terminal, but would be picked up at the plane by buses, we would have to wait approx. 10minutter. When they had passed, we were told that because of the bustle, there were no buses, so it we would have to wait another 15-20 minutes before we could move on. After 20 minutes, one bus with room for maybe 75 people arrived, and that's not much room, when you are emptying a Boeing 747, so almost an hour had passed after landing before we were actually inside the terminal. We ran through passport control and security, and continued at a brisk pace on the 20 minutes walk to the gate where the plane to Denmark was departing. Here the departure was fortunately delayed 15 minutes so we got on board in time. Two hours after departure, we were in Copenhagen after another fantastic holiday.
Right now we are busy planning another trip in 2012.