From Grand Canyon to Cortez, Colorado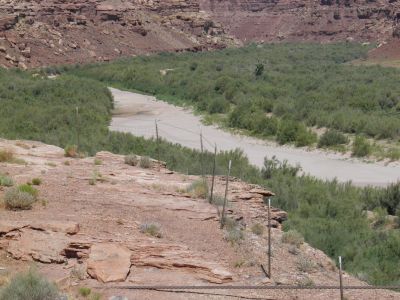 We left the hotel at Grand Canyon around 8.30 AM and drove toward the eastern exit. As we already drove this tour the day before and stopped at almost all view points, we drove straight through to the end of the park. Then we continued along the canyon, but outside viewing distance through the westernmost part of the Painted Desert to the town of Cameron, where we again met with U.S. Route 89.

In Cameron, there is a historic trading post (we were now inside the Navajo Nation, America's largest Indian reservation). The trading post sells a lot of souvenirs, but also genuine Navajo and Hopi crafts and there is also a gallery with more Native American art. We refilled the car and bought ourselves some water. At the trading post I bought a Navajo vase to the shelf withs souvenirs back home. Right next to the trading station is the river bed of the Little Colorado River, which, incidentally, also runs through Holbrook, where we had been a few days earlier. In fact there is no more than 180 km between Holbrook and Cameron, but we had taken short detour. I took some pictures of the river that proved to be completely dry.

From Cameron, we continued north along Route 89 for approx. 15 miles until we met U.S. Route 160. Here we turned east, and continued virtually non-stop passing towns such as Tuba City, Moenkopi, Tonalea and others. Between Tonalea and Cow Springs we drove along the northwestern border of the Hopi Reservation, which lies entirely inside Navajo Nation. Originally, the two tribes were enemies. The Hopis were resident farmers while The Navajos were a nomadic people who migrated to the area form from Canada. The Hopilvillage Oraibi has been inhabited since at least 1150 and is the place with the longest continuous habitation in the USA.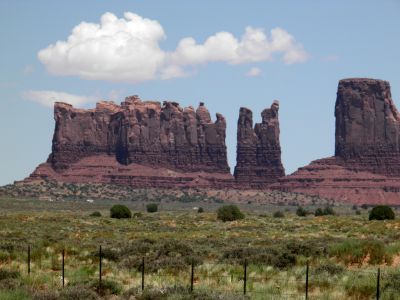 We didn't visit the Hopis though, but continued farther east past Black Mesa, which has its name from its dark color associated with large quantities of coal. Mesa means "table" in Spanish and refers to a hill with steep slopes and a flat top. At Kayenta we changed to U.S. Route 163 north. Once again the landscape began to change. The colors began to shift from gray to yellow to more reddish colors. The mesas was increasingly supplemented by smaller buttes. These also have steep sides and a relatively flat top, but is much smaller than Mesa. Even larger than mesas are plateaus, such as the Colorado Plateau, which has an extent of more than 140,000 sqare miles. By comparison, most buttes are a few hundred square feet. When we saw these buttes, it was because we approached one of the largest concentrations of such, namely Monument Valley on the border between Arizona and Utah.

Monument Valley lies within the borders of the Navajo Nation and within the limits of Monument Valley Navajo Tribal Park. Inside the park is built a hotel and a restaurant, and here we had lunch. We looked at the park from the restaurant and walked around a bit but we decided not to take 17 mile trip through the park. We were not quite sure how the Camaro would handle the pretty bumpy earth and gravel road. We could have taken a guided tour in an open truck, but when we drove into Utah, we lost one hour in time difference , so we dicided to go on.

We therefore drove further north on Route 163. Even when we left the park the buttes and other interesting rock formations continued for a long time. At the small village of Mexican Hat in southern Utah, we made our next stop. First to take pictures of San Juan River which flows through the village, and later we made another stop where we could take pictures of the rock, which gave its name to the city. At Mexican Hat you leave the Navajo Nation, but we should soon enter again. Soon after Mexican Hat we turned back south along U.S. Route 191, which we also had used down in southern part of Arizona around the San Carlos Apache Reservation. It is one of the exciting things about U.S. highways. Many of them are quite long, and hence you can meet them many times during a trip.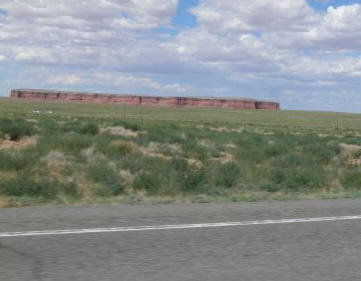 This time we drove south back to Route 160 through an entirely different type of landscape. There were still hills and buttes, but now the landscape was mostly grass covered and we saw grazing cows in several places. When we got back to Route 160 we turned east. The purpose of this exercise was to get to the Four Corners Monument. It is the only place in America where four states meet. I had been here before, but Tim would also like to try to stand with his feet in four states at once. Unfortunately, he was disappointed, because when we got to the entrance to the monument, we were greeted by a closed gate and a large sign reading "Closed due to construction." We took a picture of the sign, but it's not quite the same :-).

The entrance to the Four Corners Monument is in New Mexico. The border of this state we crossed about 1 minute before we reached the gate, and approx. 3 minutes after we had driven from the gate again, we left the state, so it was a short visit to America's fifth-largest state. We continued into Colorado until we met the U.S. Route 491 and here we were in a dilemma. Should we go south to New Mexico and see Shiprock, a rock that is sacred to several Indian tribes, or should we drive north to Cortez and find a hotel there.
Fatigue after a long, eventful day prevailed, and wewent to Cortez. In Cortez, we found a hotel that had free rooms. We did our laundry and then drove to a nearby restaurant to have dinner.

- Return to Father and Son tour -
- Return to Travel stories -