Gateway to the West
The next day we left Winchester and continued west along the Interstate. At Frankfort, capital of Kentucky, we left the motorway to do som shopping. We needed more ice to our cooler and some bread and stuff for lunch later on. At Louisville we crossed the Indiana state line. Louisville is a pretty big city, in Denmark best known for being the home of the Kentucky Derby. The town spreads on both sides of the Ohio River, so parts of it, including the suburb Clarksville are actually in Indiana.

Clarksville was originally an independent city and is one of the oldest in the area. It was founded in 1783 by General George Rogers Clark. At this time Kentucky had no official status, but when Clark went to Virginia and explained that it was under attack by British troops and also led war against three Indian tribes, Kentucky was admitted into the U.S. as a county in Virginia. Clark, who died poor, is not very well known, except by American Revolution buffs, but four counties and three cities are named after him, like for instance Clarksburg, West Virginia, which we had visited two years earlier. Better known is Clark's younger brother, William Clark, one leading member of the Lewis and Clark expedition that explored the northwestern United States from 1804to 1806. This was the 200 year anniversary for this expedition, and we were not allowed to forget it for one minute. Everywhere, that was ever so remotely connected to Lewis or Clark celebrated the anniversary with exhibitions, posters and so on. Thus, also in Louisville, were there was plenty of posters along the highway.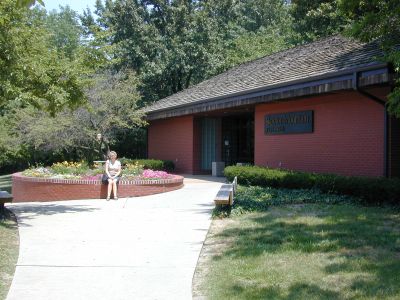 Just after Louisville, on the Indiana side of the border, we visited the Indiana Welcome Center. Here we chose to eat some of our recently purchased food. After lunch we walked around a bit on the surrounding area including a "limestone hole." It is a recess in the surface where the underlying limestone has collapsed, like our Danish sinkholes.
We drove through Indiana with virtually no delay. En route we crossed the time zone from Eastern Standard Time to Central Time, thereby gaining one hour. The timezone was marked by a sign at the roadside, located roughly halfway between two houses. It may require a little coordination to have coffee with the neighbor. "Coffee is ready at 3 PM" will not be enough. You have to add an "our time" or "your time". We continued to the next state line, this time between Indiana and Illinois, known as "The Land of Lincoln" even if Abraham Linbcoln was born in Kentucky and grew up in Indiana. The only president to be born in Illionois is actually Ronald Reagan, who most Danes consider Californian, due to him being governor of this state. This time there was no welcome center, but we got a map at the next rest area. We passed through Illinois, with only one stop to refuel the car and have ourselves a cup of coffee. Gasoline prize had increased dramatically since we were in the U.S. two years earlier. Back then we paid between $ 1.20 and $ 1.30 a gallon. Now, prizes ranged between $ 1.80 and $ 1.95. After refueling we continued to today's goal, St. Louis.
The state line between Illinois and Missouri at Saint Louis is located in the Mississippi River, and on the east bank you find East St. Louis, while St. Louis is on the western shore in Missouri. When we came to East St. Louis we left the interstate and crossed the river by Dr. Martin Luther King Junior Memorial Bridge. We quickly found the hotel which we had booked from home: Hampton Inn at the Arch. We got our room at the hotel, and it appeared to be on 11th floor, with a magnificent view of St. Louis' skyscrapers on one side, and the Gateway Arch on the other.

After an hour of relaxation in the room, we went for a walk in town, or rather in the oldest part of town, which was not very far away. This part of town was named after a French fur trader, Pierre Laclede, that once settled there, and named the place Lacledes Landing. There were originally only three streets and these streets still exist, although they have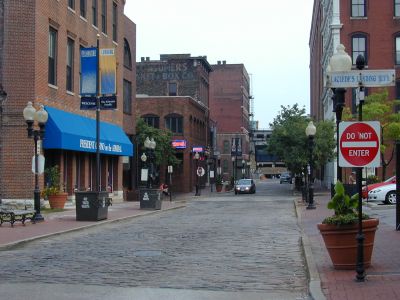 other names. La Grande Rue, the Rue d'Eglise and Rue des Granges have been to 1st Street, 2nd Street and 3rd Street. Formerly this area were made up of workshops, warehouses and industry, but today the neighborhood have become fashionable, and there are many restaurants, nightclubs, etc. Actually, our plan were toeat at one of the restaurants and then go back to the hotel. But before we got that far, we caught sight of a horse, or rather several horses and carriages that that were ready to take us around town. We began negotiations with a female driver, who turned out to be named Sue (her horse was named Napoleon, but there wasn't too much imperial about it) and she could offer two tours, one short and one long. The long lasted an hour and cost $ 45, which was twice the price of the short, that lasted 25 minutes. We chose the long, and that made Sue to look happy, but then she could also expect a larger tip for the longer trip. She welcomed us to St. Louis Missouri and pronounced it like misery :-)¨. As usual, we learned a lot about the city's history, and saw some of the old buildings, and as usual it was very interesting. When we got back to base, we asked Sue if she knew where we could buy St. Louis Rams equipment. St. Louis Rams is our son Tim's favorite football team, so he wanted some souvenirs. Sue could tell that there certainly was not a souvenir shop at their stadium - which otherwise was just next to our hotel, but at Union Station, we probably could get what we wanted. So we thanked her and said goodbye.

After the tour we walked around in Lacledes Landing and looked at the old, restored houses before we finally decided to have dinner at an Irish restaurant named Hanigan's. We got a table outside, and ate a nice dinner and drank a few Irish beers . When we were done eating we went down to the river and took a walk along the river bank and under the Gateway Arch, before we returned to the hotel.

Next day we had three things to do. Buying St. Louis Rams stuff for Tim, take a boat trip on the river and take a closer look at The Arch - or rather to get inside and enjoy the view from the top. Since we had heard that there were often long waiting lines to get into The Arch, we agreed that it was probably best to start there. So we walked down to the river again. On our way we passed the town's tourist office, and here we got a street map, with major streets and buildings in the center. Then we went down to The Arch".
"The Arch" or The Gateway Arch, as it is rightfully called, is America's tallest public monument. The arch is 630 feet and built of steel girders with an exterior made of stainless steel, but in the sunshine, it looks white from a distance. The arch stands as a symbol of America's westward expansion. St. Louis is called "Gateway to the West", thus the name of the arch. Beneath The Arch is among other things, the Museum of Westward Expansion, and of course it was decdicated to the Lewis & Clark expedition that took of from here 200 years earlier. William Clark is buried in St. Louis, but we did not visit his grave. At the ticket office, we discovered that we could buy a double ticket that was valid both for a ride up in The Arch and as well as for a cruise on the River with a riverboat. We chose such a double ticket, and then we went to queue up at the "tram", tghat would take us up into The Arch. The line wasn't that long,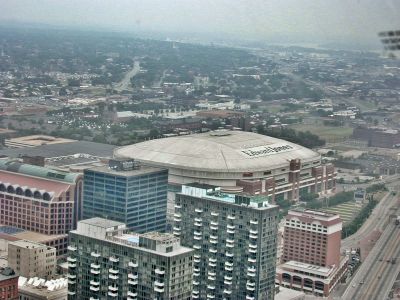 and while we waited, we could study some posters that told about the history, development, and the building of the Gateway Arch. When we arrived at the "tram" it turned out that it consists of 8 small cabins, each with room for 5 people. These cabins are coupled together and drawn up into the monument by cables. The climb to the top takes four minutes and the trip down lasts 3 minutes. At the top of the monument there are some small windows that gives some stunning viewa of St. Louis and Illlinois on the other side of the river, but to look out you have to lean forward and it may give an impression that you fall. This causes some people to stay away from windows and stay in the middle of the corridor. The only really dangerous about it however, is entry and exit of the "tram", where the doors are only 4 feet high and made of metal. I, of course hit my head, when I entered, but beside that nothing happened.
From the top there are great views. Unfortunately it was quite hazy due to the heat that was already high here at half past nine. But we enjoyed what qwe could see from there like Edward Jones Dome, home of St. Louis Rams. When there was no more to see, we took the tram down, this time without me hurtinhg my head. Once more on solid ground, we visited the local souvenir shop and bought a couple of coffee mugs, and some postcards, to send to to family and friends.


From The Arch we walked down to the river and found our riverboat. There were actually two that sailed from that particular wharf, and they were called, respectively, Tom Sawyer and Becky Thatcher after two of Mark Twain's famous characters. While we waited for the boat to sail, we were admiring some very beautiful black birds with distinctive red spots on the wings. Later I discovered that they were called redwinged blackbirds.
During the boat trip a park ranger told us about the things we passed, but also the captain told a story or two. Among other things we passed a power station, built in 1902. It was built to provide power for the world exhibition in 1904 (remember Judy Garland with the song "Meet Me In St. Louis, Louis, Meet me at the fair"?), And this was the first world exhibition, which used electric lighting, and which therefore had activities in the evening. In addition, we saw the largest riverboat that ever sailed the Mississippi. It was laid up in 1978 and remained unused until 1995 when a consortium bought the vessel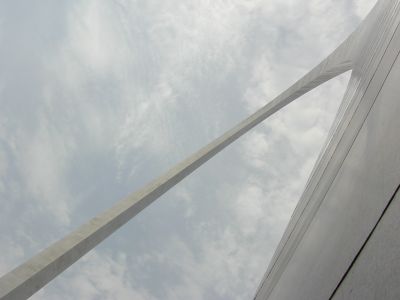 and turnes it into a casino. When the riverboat was active, it could accommodate 4,500 passengers, making it one of the world's largest passenger ships, and it was certainly the one with the largest dance floor. 2,300 people could be on the dance floor simultaneously!

When the river tour was finished we still missed one of today's tasks, finding a gift for Tim. We therefore decided to take a metro train to Union Station. Rides were free until 1 PM between Lacledes Landing and Union Station, but unfortunately it was now later than that, so we had to pay for our ticket. Before we got that far though, we walked to the Edward Jones Dome, just to see if Sue had been wrong, and there would be a store with Rams merchandise. She had not! We used that opportunity to visit a postoffice to buy stamps for the postcards that we had written aboard the river boat. Then it was metrotime, and the trip to Union Station probably lasted about 7-8 minutes. Union Station used to be a station, but is not anymore. Today, the entire station is converted to shops, restaurants, hotels, etc. One entire floor of the center is devoted to food where you buy your food at a counter and then eat at some tables in the middle - just like in the Old Post Office Pavilion in Washington DC, which we visited in 2000. Our lunch consisted of some salad with chicken and two bottles of water. When we had finished eating, we walked around the mall, and found, among other things, a "hat shop". Here they had hats and caps of all sorts, and we also found a St. Louis Rams cap, which we bought for Tim. It turned out that the store also sold so called "mini-helmets." That was football helmets in mini size, and when Tim also wanted a Rams helmet, we decided to buy a mini-helmet. The regular helmet was just too big to fit in the suitcase, on our plane ride back home.

We also managed to find a sports shop which sold more Rams merchandise. There was several models of jerseys, each with many different player names printed on the back, so even though it was late in Denmark, probably around 11 PM, we finally had to to call home to Tim and ask him what kind he preferred, and which name should be one it. He mentioned a 4-5 names, and we managed to actually find a jersey with one of these names, so we bought it as well.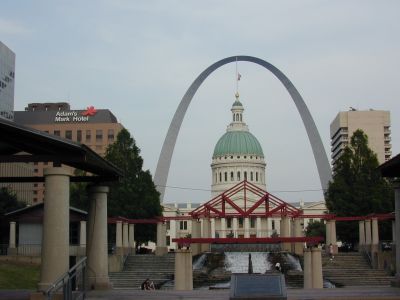 From Union Station, we decided to walk back to the hotel instead of taking the metro. When we exited Union Station, we discovered that it had been raining pretty much while we were there, but it had already stopped. On the way back to the hotel we passed a number of old buildings in town, such as the opera house, the old and the new city hall, three different courthouses, one of which was no longer in use, a fountain and some very fine sand castles, which, was being "built" on the occasion of the upcoming 4th of July celebrations, as the whole town was preparing for. We passed the old Cathedral of St. Louis, today called "The Basilica of Saint Louis de France", which was the first cathedral that was built west of the Mississippi River, but we didn't go inside the church. We also walked by the towns Old Couthouse from 1828, where at least two famous historical trials have begun, namely the case Dred Scott vs. Sanford, about a slave's right to his freedom. The case went all the way to the U.S. Supreme Court where it was rejected because the Supreme Court held that the Constitution did not apply to slaves and that they therefore had no rights, and therefor could not sue! The second case, Minor vs. Happersett was about the right of women to vote. Also, this case ended up in U.S. Supreme Court, and again, the complainant lost when the court refused that Virginia Minor should have a constitutional right to vote. According to the Constitution men and women were peers well enough, but individual states could decide for themselves what rights, the two sexes should have, and these needed not be identical. Furthermore, it was Minor's husband, who brought the case to court as married women could not sue independently.