Gators, camel thieves, trams and boobs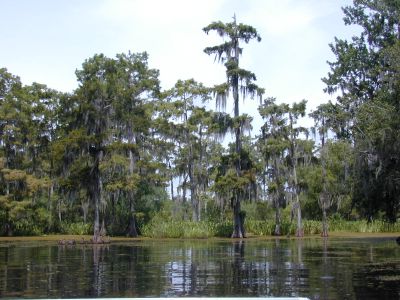 Our hotel in New Orleans was actually in Metairie. It was in one of the areas that were hit hardest by Hurricane Katrina in 2005 and it was out here that the first levees facing Lake Pontchartrain collapsed. But that was of course not on our minds, this lovely Fifth of July morning when we left the hotel to enter the world.

Our plan was to visit the swamps south of New Orleans like we did two years ealier, and we had decided to go to the town Lafitte, named after smugler, slavetrader and pirate Jean Lafitte. Lafitte is still popular in the area, in fact so popular that not only towns like Lafitte and Jean Lafitte, both south of New Orleans, and Jean Lafitte Street in Chalmette, has been named after him, but most of southern ​​Louisiana is part of Jean Lafitte National Park and Preserve. The National Park has six sites, Acadian Cultural Center in Lafayette, Prairie Acadian Cultural Center in Eunice, Wetlands Acadian Cultural Center in Thibodaux, French Quarter in New Orleans, Chalmette Battlefield and National Cemetary just outside New Orleans and Barataria Preserve at Barataria Island.
Into the swamp
Last time we visited New Orleans we paid a fortune to get transported by bus to a swamp tour company, but this time we knew enough to save that.
To get to Barataria Island from our hotel was not a problem. We simply continued along Causeway Boulevard to U.S. 90 and then west across the Mississippi by the Crescent City Connetion and then turn east again along US-90 Business. After approx. 10 miles we just turned right onto Barataria Boulevard. From there we should continue until the road stopped. Then we would be in Lafitte. We did, however, make a single stop along the way while we were still in populated areas. We had to visit a pharmacy in order to buy some insect repellant, that would keep away mosquitoes and other stinging and biting critters. And for the eventuality that some of these many stinging pests would not get the message to stay away, we bought some anti-itching agent as well.,

After our stop, we continued toward Lafitte, and eventually there were no longer houses along the roadside, but trees and water, and as we continued, it was obvious that we were now in the swamplands. When we noticed a signpost for the Barataria Preserve Ranger Station & Information Center, we agreed to make a stop here. At the ranger station we were greeted by Park Ranger Wendy, who immediately asked us where we came from? When we replied, she told us, that she had a bit of a hangover because the day before she had partied with some Norwegian and Swedish friends, who all night had told jokes about each other and the Danes. Our only possible reply to that was it was no wonder that she felt sick, when she had been together with both Swedes and Norwegians simultaneously and with no Danes to balance the score. We had a nice chat with Wendy, and then we went out to the car to put on some repellant, before going for a walk in the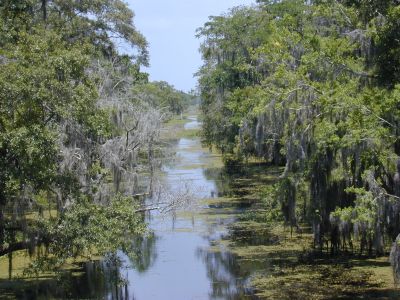 swamps guided by Park Ranger Wanda. Wendy and Wanda - it sounds most of all like a comic duo. As it showed her name was actually Wanda Lee, not just plain Wanda. We were the only ones who took the guided tour, so she had plenty of time to show us alle that was to see. During the 30 minute walk we saw many different plants, but unfortunately not so many animals other than insects, especially different varieties of dragonflies and some large lobster grasshoppers. When it came to larger animals, all we saw was a dull cottonmouth, sleeping in the shade. It was about 11.30 am, and the temperature at the ranger station was above 110. We heard some frogs croak, but that was all. During the tour, Wanda Lee told us the sad story of how Louisiana's coastline is being "eaten up" by the sea, which annually removes more and more of the coast. It is estimated that if left unchecked, New Orleans will be a coastal town within 100 years.

After the walk with Wanda Lee we drove about a few miles back toward New Orleans to another walking path that Wanda Lee had told us. Barataria Preserve, located at the brackish lake Lake Salvador, is a 20,000 acre site with a very varied nature. The area contains both bayous, lakes, canals, swamps, marshes, river dikes and larger and smaller streams. By taking the walk, that Wanda Lee had suggested we would get to experience all these different landforms. The trip was almost 2 miles each way. Since it was still very hot, we each armed ourselves with a bottle of ice cold water from the ice box, our cameras, and then we went walkabout. The path began in the "highlands" - ie the river dikes, which is here about 2˝ to 5 feet above the surface of the water - which is actually below sealevel. We started along a small bayou, Bayou Coquille, where the remains of a long abandoned Indian village can be spottet. In fact the village was abandoned more than 1,400 years ago and the only thing that remains is its kitchen midden of coquille shells. We followed the path to the end at the edge of the marshes, where we made a short stop. On our way back we looked for alligators, but saw none, even if Wanda Lee har told us, that there plenty of them in the area.
When we got back to the car it was almost two o'clock and we started getting a little hungry. We therefore decided to drive to Lafitte and find a restaurant. We had read in one of our guide books that there should be some nice seafood restaurants in town, but we never got that far. As we entered town, we passed a boattour company with a tour boat about to leave, and we decided to go on a boat trip. Instead of lunch, we bought ourselves a couple of biscuits at the ticket office, and then we were on our way. It was quite a large, covered tour boat with room for about 50 passengers, but we were only approx. 20 on board.

We sailed out on the lake Lake Salvador, and then into small and narrow canals. Here we saw not just an alligator but the alligators en masse. From a little fellow of about three feet to specimens of up to 12 feet. The captain showed us how he could feed the alligators with chicken and marshmellows (not a healthy alligator diet I think). He also showed that he could summon alligator females by roaring like a male alligator in heat. Later, he showed examples of alligator skins, tanned and untanned, and to demonstrate that he could give a warranty of alligator sightings, he had brought a small alligator in a box. It was approx. 1 year old, and about one foot long. It was called Elvis, and we were all allowed to hold it. If you think that alligators are slimy you are wrong: it was almost like touching a rubber toy alligator, except that it was breathing.

Eventually, when everybody had tampered with the animal, the captain put it back in the box, and then we returned to Lafitte. When we got back it was past 4 pm, so we decided to skip lunch that day. Instead, we drove back to the hotel and had an early dinner at some restaurant in the neighborhood after a short visit at a bookstore.

An "Egyptian Camel Thief"
New Orleans is a town where there really is a lot to see and experience. So we still had a few things to do and see. And then I would once again look for the camera, that I didn't buy in Tysons Corner in Vienna. I was convinced that New Orleans had have photo shops that were cheaper than what we had seen until then.

Once again we drove into town and parked the car at one of the large parking lots near the river. We then walked to Jackson Brewery. We looked briefly at the different shops and then went down to the river. Just behind the brewery, river boat Natchez departs. This is a "real" paddle steamer, which takes tourists down the Mississippi. The steam is created, however, with an oil burner, not with a coal stove as in "the good old days". The ship is a "stern wheeler", meaning that it is equipped with a single paddle wheel astern. Tickets were sold from New Orleans's old, now modernized lighthouse, so we deicded to take the trip.
While waiting for departure, we were entertained by music from an old steam organ, which was powered by steam from the ship's steam engine. When the ship left shore, we went to the bar and bought ourselves a margarita and then went out on deck and enjoyed it while we were listening to a guide who entertained us with information of the sights that we were passing. At Chalmette the boat turned around and headed back to New Orleans. On the way home we would have lunch (included in the fare), so we went into the restaurant, and found a buffet, which looked very exciting. Unfortunately, it appeared that many of the dishes were not included in the prepaid lunch but were extras. As this applied to most of the stuff we wanted to try, such as the alligator sausage, we decided not to eat anything at all, but wait till we got back to shore.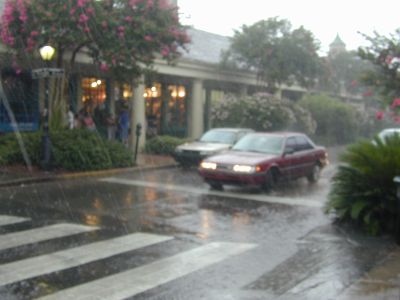 When we arrived, we had decided that we would walk to the French Market. This used to be a farmers market, buttoday mostly restaurants and souvenir shops are found here. Among the cafés is the world-famous Café du Monde. The café, which has remained the same location since 1862, is famous for its cafe au lait and French beignets. The coffee is made in true New Orleans style with the addition of lots of chicory. We too hungry by now to be satisfied with beignets and coffee so we continued down the street, but we did not get very far before it started to rain. Not very heavy in the beginning, but soon it was pouring, so we decided to get inside somewhere. On the corner where Decatur and N. Peter Street meet we found a cafe, which had both indoor facilities and also covered sidewalk tables, so we rushed there and found a table well inside of the covered portion of the restaurant, but not inside the building. It turned out to be a very nice place. A band was playing traditional Dixieland jazz, which both Dorte and I enjoy. When the waiter brought us the menu, it was studied carefully before we decided to go for a Muffuletta to share. If you don't know what a muffuletta is, read about it by clicking here :-). When the waiter brought us the Muffuletta, is was cut into quarters and two quarters were more than enough for each of us.
While we dined, the rain had gotten even heavier, and it has gotten quite windy, so rain reached the tabels as well. Most others fled indoors, but we stayed outside and enjoyed it. In spite of the rain and wind, it was still nice and warm, and the worst that could happen was that we got wet. And so we did, but not much, and as the band stayed outside as well and continued to play, it was still nice. When we were done eating, the rain had stopped so we decided it was time to move on. We returned to Jackson Square and looked at the intresting buildings around the square and not least the beautiful wrought-iron blalcony fences at the Pontalba buildings. The St. Louis Cathedral and the Cabildo and Presbytere next to it are also very impressive.

Along Chartres Street, we walked to St. Ann Street. The area north of St. Ann is New Orleans's gay neighborhood, and there are plenty of bars with drag shows and the like, but we continued to Bourbon Street and followed this back to Canal Street. This street forms the border between the French Quarter and the Business District. Since the relationship between the residents of the two areas, the French in The Quarter and the Americans in what is now the Business District, was not always on the best foot to put it mildly, Canal Street was popularly know as "Neutral Ground". In Canal Street the world's first dedicated movie theater opened in 1896. Previously, movies were shown in ordinary theaters. The reason we wanted get to Canal Street was that when we entered town from out hotel earlier in the day, I had spotted a photo shop, and I wanted to visit it to see if I could get a camera.
Just around the corner from Bourbon Street we found the shop. So here we went inside and was greeted by a smiling gentleman of Arab origin with obcious Arab business practices :-). Within a few minutes, we were engaged in negotiations about the price of a camera. Besides the camera I also bought a wide angle lens and the owner of the shop also added a bag and a battery charger and a couple of filters "for free". When we told him, that we could not buy it duty free as we were not leaving the U.S, by plane from New Orleans, he reduced the price a bit. So when we left, I had got it all for half prize - and he had probably earned twice as much! After the deal was made we talked further, and he said that he originally came from Egypt, but had moved to America as a young man. When Dorte learned his nationality, she said that this must be why she had recognized his way of making a deal. It was the same as she had encountered at Khan El-Khalili, the bazaar in Cairo, Egypt. It amused him quite a bit, and when we left, he said good luck - in Swedish. We explained to him that we were Danes, nor Swedes, and then he said the same in Danish. I'm pretty sure that had we asked, he would have claimed to have a sister living in Copenhagen. The guy was what I call a typical Egyptian camel thief, and a very charming one at that. It is said of the Egyptian merchants in the bazaars in Egypt, that they do not sleep well at night if they have not conned at least one European each day, and I'm sure our friend did the same. But he was a nice fellow though.

When we left the shop, we continued along Canal Street towards the parking lot at the river, where we had left the car. On the way we discovered that the shop we had visited was not the only camera shop on Canal Street. Actually there were a lot of them, but I didn't dare to visit any of them out of fear of discovering that maybe I could have had the camera even cheaper in one of them. Meanwhile, it started to rain again so we hurried to the car and went back to the hotel, this time through the Garden District, which we had walked through two years earlier.
Boobs for beads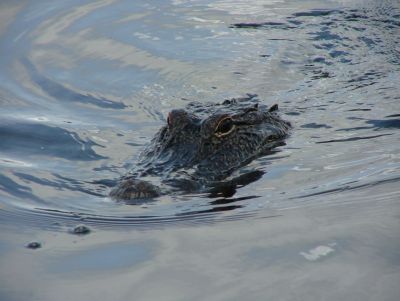 Last time we visited New Orleans, we visited the swamps in an airboat, and this time we had visited the swamp partly on foot and partly in a larger tour boat, but we would really like to try an airboat once more, so we did that the next morning. We left the hotel, and went the same way as two days earlier, only this time we stopped in the town of JeanLafitte and did not go all the way to Lafitte. We knew from earlier experience, that we could get an airboat tour from here, so we got to the Jean Lafitte Swamp Tour Company with no problems at all. We quickly found the ticket office and purchased tickets, but then had wait for the bus arriving with those, that made the same mistake as we did two years before. While we waited, we enjoyed the area around the ticket office, where they kept an alligator in a cage, a nutria and a raccoon and a large turtle, called an alligator snapping turtle, which is the largest turtle that lives in the U.S.. Next to the ticket office, there was a small shop where you could buy almost anything that had to do with alligators. Skins, skulls, large and small stuffed alligators, alligator snacks (ie snack made of alligators, not snack for alligators), and much more. I didn't buy anything though. I did not want to try to explain the Danish authorities that American alligators, unlike crocodiles are not an endangered species and therefore legal to bring into the country.
Finally the bus arrived and we were ready to leave in two smaller airboats, each with seating for 6 people. This time we saw an alligator nest; which we had never seen before. There were no eggs in the nest, as they had been harvested the day before. As part of the struggle to maintain a healthy and viable alligator stock, eggs are collected from nests, and they are then incubated at farms where the small alligators stay until they are a few years old before being released into the wild. This has raised the survival rate of the alligators that reach adulthood in nature from 2-3 % to 15 to 20%. It has also helped to remove the American alligator from the UN list of endangered species. Besides alligators, we also saw many other animals, including a pair of turtles sunbathing on a fallen tree trunk. We also visited a cypres swamp, and while we enjoyed the silence, the engine was stopped here, this driver produced his alligator. It was about three years old and nearly three feet long, and it had no name. But apart from this one being somewhat more lively than the one we had met two days earlier, they seemed quite similar. You could get this one to open his mouth by tapping on his nose with a finger.

The trip lasted about 1 ˝ hours, and then we returned to New Orleans. Back in town, we once more found a parking lot near the river. As we did not want to spend much time at lunch, we once more had muffulettas at Market Café. This time in dry weather and with a different jazz band, but just as good and just as nice. After lunch and a bit of shopping we walked to St. Charles Avenue on the other side of Canal Street to take a ride one the world's oldest tram or streetcar line still in operation. St. Charles Avenue line is one of three streetcar lines in New Orleans, which is still in operation. It ran its first trip in 1835 and has been in continued operation ever since. When it started it was horse pulled, but in 1893 the horses were replaced by electricity. Originally the tram went from the city into the countryside, past the village of Lafayette (which today has become the Garden District). Later the town grew, and the tram route was extended, but today the entire route is within the urban area of Greater New Orleans. The current cars are built around 1920 and does not offer much comfort. They have wooden seats, and the only air conditioning is that the windows can be opened, but its fun none the less.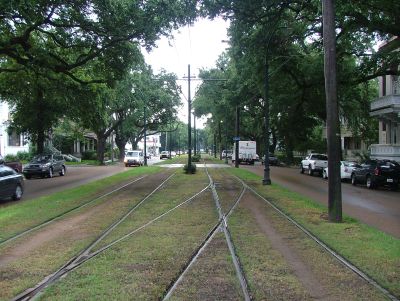 We took the streetcar from Canal Street to South Carrolton Street in the Riverbend district, where the tram leaves St. Charles Avenue and heads away from the river. At one time, we had to stop at a traffic light. The tram driver left the tram to cross the street and walk into a store. The light turned from red to green to red again, to green again and then to red before the guy returned with a sandwich and a Coke. Don't take the tram, when you are in a hurry, it does not run by a time table! When we got of the tram, we walked down to the river and thne back to St. Charles Avenue and continue back in the direction from which we came. We passed Audubon Park with New Orleans's zoo, and the two universities, Tulane and Loyola. After walking about 1˝ miles, we took the tram back to square one. Along the way we had to stop because of a traffic accident. Another tram had apparently hit the bumper of a car. The car was now parked across the tracks while the driver discussed the matter with the tram driver. Nothing was apparently wrong with the car and it could easily have been moved away from the tracks, but it wasn't. The driver of "our" tram and several of the passengers got out to enjoy a cigarette while they attended the quarrel. When the two gentlemen had finally agreed and the car owner was ready to leave, three trams in each direction were waiting to continue. Take your time, when you are in New Orleans.

Along the way through St. Charles Avenue, we had noticed that many of the trees, especially on the stretch towards the center, were covered in pearl necklaces. It surprised us at first, but later we got the explanation. During Mardi Gras carnival parade, the famous ornate parade wagons, known as "floats" drive through city streets, including St. Charles Avenue. The crowd shouts to the people on these floats, "Throw me something," and then tin coins, plastic beads, etc. are thrown to the audience, and some of the pearl necklaces end up in the trees. The custom of throwing coins and gems from goes back to 1872, when Duke Alexis Alexandrovich Romanov visited New Orleans during the carnival. He was the son of the Russian Czar, and they built a special float for him and elected him as carnival king, Rex. Since then a Rex has been elected each year. Romanov and his companions were masked, and gifts were thrown to the audience that attended the carnival. Originally the gifts had some value, but today it is only cheap tinsel, especially "pearl" necklaces, and so-called doubloons (colored aluminum coins). In Bourbon Street the beads are thrown from the balconies to the people below as well as from the floats. Throwing a necklace from a balcony has an entirely different meaning. The parade is followed by plenty of spectators on the street and beads are thrown from the balconies to women below who "flash" their breasts as the procession passes. Normally it is illegal to appear fully or partially nude in New Orleans, and it is forbidden to throw things off balconies, but during Mardi Gras, the police accept both.

As it was not Marid Gras we went back to the car while it started to drizzle, so we returned the hotel, and next day we left New Orleans, and has not been back ever since.


- Return to Family Visit -
- Return to Travel Stories -