Getting there and away
Planning a vacation for 11 people is not easy, especially when everybody has different interests. Some of us were interested in seeing as much as possible, some would rather stay at the swimming pool for as long as possible, but finally we agreed on a tour, that would take us from Copenhagen by plane to Amsterdam, from there to Chicago and finally to Knoxville, Tennessee, where our real trip would began.
The flight went very well, except for my brother in law loosing a suitcase when we flew from Amsterdam to Chicago. It gave him a bit of trouble getting it back, but he succeeded a couple of days later. On the final leg of our trip, the flight from Chicago to Knoxville with United Airlines, we were placed in the back of the cabin, just in front of the pantry. One of the stewardesses must have head us speak Danish to one another, because she left the pantry and introduced herself. She appeared to be Norwegian, and as it was between 11 pm and midnight, there was not much for the stewardesses to do, so we had a nice long chat. At one time she asked us why we were going to Knoxville. When we told her, that we were on a vacation she was shocked. "Whatever are you going to do in such a boring city?", was her question, but we could satisfy her, by telling that we were going to use the town as a starting point for our drive around the south eastern states.
It was past midnight when we landed, and as we had been awake for around 26 hours, time difference included, we just went to the Avis desk and got our three cars. Then we drove to a hotel close to the airport, checked in and went to bed.
When we got up next morning around 7.30 am, we made our first mistake, when we went down to get some breakfast before leaving. The hotel advertised with "breakfast included", and we expected something like a European hotel breakfast, with different kind of cereal, cheeses, sausages, eggs and bacon and the likes, but all we got was some muffins and marmalade. We have had better breakfast at other times, but American hotel and motel breakfasts just doesn't compare to European. On the other hand, the rooms are much cheaper.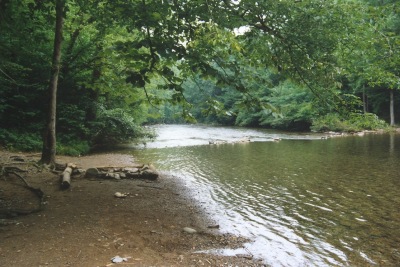 After breakfast we left the hotel. And got our next surprise; the temperature. When we arrived the evening before, it was past midnight, and when we went from the airport building to the cars the air felt a bit cold, but not anymore. At 8.30 am when we left the hotel, the temperature was already over 80o and the humidity was also more than we where used to. Luckily for us air conditioning in cars is invented. My brother in law and his family had to go to a mall, to buy some things, that they needed because of the missing suitcase, so we left in a short cortege of two cars, the parents in law in one and the four of us in another. Our plan was to meet again later that day in Cherokee, North Carolina.
We left town in a southeasterly direction, as we planned to go to Gatlinburg, and from there through Great Smoky Mountains NP. At home we had studied maps (and we brought with us a Rand McNally Road Atlas) and the American road numbering system, and we thought, that we had it worked out, but as it appeared, we hadn't passed the exam :-). At one time we took a wrong turn, at suddenly we were inside the national park, where we drove along Little River. As it happened it was a very pretty road, and we enjoyed the surrounding woods, and the river. At one time we made a stop, and we nearly lost my father in law. We went down to the river, and there I spotted some beautiful butterflies, and when I called out for him to come and watch, he stumbled on a rock and was almost washed way by the 6 inch deep, roaring river where kids were drifting along in car tubes.
Later we visited a visitor center, before leaving the park for Gatlinburg. We had no idea, what we were going to see, but were determined to get there just the same. We were not disappointed. It was just as touristy as we had thought. After eating lunch, Dorte and I and the kids, decided to take the cable car to the top of Crockett Mountain, towering 400 feet above town. Here we got another surprise when we heard the price, $ 8 pr. head, and with an exchange rate of 8. DKK per USD that was rather expensive. Later we have spent much more than that on tourist attractions, but at that time we were shocked.
We went up and enjoyed the view for awhile, than went back down again and continued our journey to Cherokee. The grandparents had already left, so we were on our own. We returned to Great Smoky Mountains NP, and crossed The Smokies to get to Cherokee. Here we eventually met the rest of the family, and decided to get something to eat. Even if it was late, the kitchen managed to serve us a great steak, but when we ordered wine with steak, the order were rejected. At that time we didn't know, that it was not allowed to serve liqueur within the Qualla Boundary, home of the Eastern Band of Cherokee Indians.
That completed out first full day in America.
- Return to First Visit -
- Return to Travel Stories -
.