The lady who knew
After our visit to St. Louis, we turned south. Or at least tried to turn south. When we left the hotel parking lot early in the morning, it turned out that the road that we exited to was one-way ... in the wrong direction. We therefore had to drive around the hotel, and we must havbe made a wrong turn because suddenly we found ourselves crossing the Mississippi in an easterly direction, that is back to Illinois. As we were on a motorway, we couldn't just turn back, so we had to continue to the first possible exit. Here we left the motorway, but once more the road we exited to was a one-way in the wrong direction, so we had to drive around for a bit, in a less than fashionable neighborhood in East St. Louis. Finally we managed to get back to the motorway and back across the Mississippi, so we could get south. The Interstate runs along the Mississippi, but so far away from it that you can not see the river at all, so there was no particular reason to make any stops until we reached the mandatory Welcome Center right after the Arkansas state line. Here we got a map of Arkansas, which we studied for a while to decide out how far we would go. Simultaneously we also lconsulted a hotel brochure, and we agreed that the city of Pine Bluff, sounded like an interesting place to stay for the night. The town is situated about 65 miles south of Little Rock. Even today I remember the Arkansas capital best from a novel I read in elementary school about the segregation between blacks and whites in the 1960's. Who wrote the book and what it was called, I don't remember but if was a Danish author and the protagonist was a young African-American girl.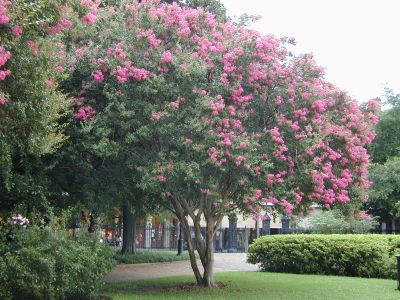 We continued on the interstate south to around Memphis in Tennessee. Here we turned west again. As we approached Little Rock it started to rain. The weather had been hot and very humid all day and and our aircondition wasn't working properly, so a little rain was welcomed. But a few miles outside Little rock the rain turned into a thunderstorm and at one time it was quite bad, though not as bad as in Mississippi two years before. Despite the rain and thunder we arrived safely in Pine Bluff, where we also found a nice hotel. Fortunately it stopped raining just long enough for me to carry the luggage from the car to the room without getting wet.
At the reception desk were two girls who were very interested in knowing where we came from. They were somewhat surprised that we came from so far away from and one of the girls said she had traveled extensively in America, but had never been outside the country. After checking in at the hotel it had started raining heavyly again so we took the car and drove a short distance to a large shopping mall. Dorte simply had to have some new shirts and jeans, so she got that. We also found a restaurant, that looked interesting, and we were apparently not the only ones that thought so, because we had to wait about 30 minutes to get a table. But when we finally got inside the restaurant, whose name I have forgotten, was incredibly cozy and the food was excellent. Then we returned to our hotel and relaxed until bedtime.

From Pine Bluff we were heading south to Opelousas, Louisiana. But oh woe oh horror, there is simply no interstates that crosses the border between Arkansas and Louisiana, and no intersatess means no welcome centers. We therefore had two choices. We could drive east into Tennessee and find an interstate there, or we could go southwest, into Texas and then to Louisiana, but we decided to take an ordinary U.S. Highway south and just manage without a welcome center. So we just took U.S. Route 65 south, and it was a good example of how the highways are not always freeways. Just outside Pine Bluff the highway had four lanes, and a 60 miles per hour speed limit. Soon after though it narrowed down two lanes, and then the speed limit dropped to 50 miles. Later it dropped even more, eg through the cities, where it often was down to 35 miles, so we didn't go very fast on our way south. But then we had time to enjoy the road's surroundings that was very beautiful. We saw a lot of the redwinged blackbirds that we had already seen in St. Louis, and in the ditches along the roadside were plenty of herons and great erets as well as golden egrets. As always there was plenty of "road kill" along the road. It is everywhere, along with large quantities of exploded tires. The animals we saw here were especially squirrels, opossums and raccoons, but as we got farther south, we also saw armadillos and we are actually passed a single dead turtle, so it's not only in Georgia, there are turtles on the road.
Even if it was a very pretty road (U.S. Route 65 is actually a scenic route all the way from Pine Bluff till it meets with I-20 near Tallulah, Louisiana), there was a downside to it. No rest areas and thus no toilets. Gradually the need for such a facility arose, but of course at a time when there was neither a gas station nor anything like that around. We were therefore quite needy when we finally reached the town of Lake Providence just south of the Louisiana state line, which incidentally we had crossed almost without realizing it. Here we could choose between two posssibilities; a "cotton museum" and a Visitor Center. We agreed that both places must have the necessary facilities, and our choice fell on the visitor center, primarily because we got to that first.

The place was run by an elderly lady, who either must have been psychic, been accustomed to visitors only coming for one reason - or maybe she was able to read our body language when we entered the place. Literally the first word she ever uttered was "Do you need to use the restroom?" And at the same time she pointed in the direction of this facility. When we had done what we had to do, we returned to the lady who apparently thought that now that we had "made room", we needed a refill, so she offered us both freshly squeezed, homemade lemonade, coffee or iced tea. While we drank the juice of freshly squeezed lemons and limes (she pressed while we lwaited), mixed with sugar and water, we had a chat with the lady, who like so many others would like know where we came from. Unlike most others we had met in the U.S. though, she actually knew Denmark - and even knew where in the world it was! It turned out that she had worked for a Danish furniture company's Puerto Rico branch. The lady took her task as information staff seriously, and asked where we were headed. When we replied that we were going to Opelousas farther south in Louisiana, she initially looked quite puzzled, as if she thought "What will tourists do there?" But she recovered herself quickly, not least because we explained that it was only a stop on the road to New Orleans. Then she began to pull down leaflets from the shelves and told us about things we absolutely had to see along the way, and we thanked her for her helpfulness, and didn't visit a single spot of those she recommended, as we already had our own plans, and they would take us in another direction.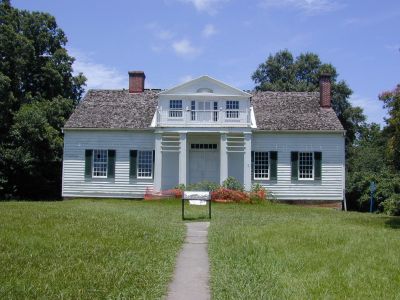 Now we could of course have chosen to proceed directly to Opelousas, but it would have been too easy. So when US-65 met Interstate 20 near the town of Tallulah, we turned east on the interstate, crossed the Mississippi and drove into the state of the same name. Not to visit a welcome center, nay, no, oh oh. We would be cultural as well as historical and visit yet another battleground! This time the Vicksburg National Military Park, scene of one of the longest sieges on the western front during the civil war, but also of the first major victory for the Union troops. We therefore stopped at the park's visitor center and bought a ticket for us and the car. We drove around the park but it was not as exiting as I had hoped. Only one building was left, that had existed in 1863, when the battle took place. Everything else was gone - of course apart from later added monuments. Most interesting in the park was the view of the Mississippi and an old armored gunboat, Cairo, from the Civil War (known as an ironclad). The ship was the first ship in history, that was sunk by a naval mine. It happened in the Yazoo River in 1862, and Cairo was recovered in 1956 and is now exhibited in Vicksburg.

From Vicksburg we headed south and took U.S. Highway 61, known as "The Blues Highway". My knowledge of Highway 61 comes actually from music, from Bob Dylan's "Highway 61 Revisited". I'm particularly fond of a recording with Johnny Winter, but I digress. It was en route south on Highway 61, that the car's air condition system broke completely down, so the only air conditioning we had on the rest of the holiday was to open the windows. That did not much good, as the outside temperature was in the 90'es. We left the road in Natchez, but made no stop here, apart from a refueling of the car and the ice box. Now that the air condition system no longer worked, ice-cold water was the most cooling, we could get. At Natchez we crossed the Mississippi, and continued on U.S. 84 to the city of Alexandria, where we changed to I-49 for the last stretch to Opelousas.
We had booked hotel from home, so now it was just about to locate it. This was rather easy, as it was placed right next to an exit from the interstatel. Getting to it was entirely another matter. I have previously told about our problems with I-10 Service Road in New Orleans, which we couldn't find (No alligators at the roadside on the 25th anniversary tour.). Also this hotel was on a service road, but this time we had no troulbes at all locating the actual road. It was actually very easy, but when we reached the right exit from the highway we were both so busy looking out for the hotel, that I did not turn on to the service road, when we exited the interstate. Instead I continued on an access ramp, and then we were back on the Interstate, that we had just left. We had to drive about 9 miles to the next exit, where we could turn around and go back. The second time we hit the right road however, and then drove straight to the hotel. It was rather late when we arrived and there was apparently a big party going on at the hotel. What was celebrated, we don't know, but there were many people, all dressed up and in a very festive mood.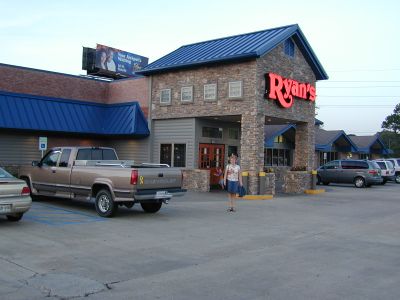 When we had carried the suitcases to the room, we just took a quick shower and then left again to get something to eat. From home we had read, that Opelousas was an exciting city with lots places, where you could listen to cajun and zydeco music (my interest, not Dorte's). Opelousas is called both the "Gateway to Acadiana," which is the area where the cajuns and their music comes from, and also "World Capital of Zydeco", but we where too tired after a long day of driving, so we decided just to eat, and the go back to the hotel. We found a place a little further down the service road, that looked OK. It was a Ryan's Grill and Bakery, another of America's many chain restaurants, but one which we had never tried before. When we entered we were met by a lady at a cash register, which was slightly surprising as we are used to pay after having eaten. She asked what we would like to drink, and we chose a Coke for me and iced tea for Dorte. Then she asked for $ 21 all inclusive, and asked whether we would leave a tip. We would like to, so I said $ 5, and it was addeed to the bill, which I paid for with my credit card. We were then handed the five dollars in cash, so we could give them to the waitress later.
"All inclusive" proved to be a dinner buffet. There was a great salad buffet with everything your heart could desire of different kinds of lettuce and accessories in the form of croutons, bacon, ham, cheese, vegetables and a rich selection of dressings. But now people do not live by salad alone. Therefore, there was a 25 feet long counter with chicken dishes with accessories. An equally long counter with fish dishes and accessories. And finally a great dessert buffet with pastries, cheese, ice cream, fresh and stewed fruit, pie, and not least a soft ice machine. Besides these buffet counters there was a carvery, where a chef cut pieces of beef fillet, fried ham and stuffed turkey. And if you were still hungry there was a second chef who grilled large, inch-thick T-bone steaks to the customer's desire, and/or grilled crabs.
Unfortunately, our appetite did not live up to the offering. But I ate lots of salad, a little fish and a little chicken. What Dorte got I don't remember, but I do remeber, that she visited the dessert buffet, which i didn't. When we could squeeze nothing more down we were offered coffee, which I accepted and got a giant mug. After this giant meal, we returned to the hotel to relax.