Heading north
The next day Tina felt quite well again, but we chose to follow the doctor's advice, so Tim and I shared the driving the next 2-3 days so she could get some rest. We followed Lombard Street and later U.S. 101 out of San Francisco and across the Golden Gate Bridge. As usual on a summers day, the bridge was hidden in fog, but we made a stop anyway on the northern shore, so Tina could get a few pictures. Then we continued north through the Sonoma Valley with the many vineyards and wineries. We had expected to visit a few, but as Tina was not allowed to drink alcohol, and I was driving, Tim was the only one left to do the tasting, so we gave up on the idea. Instead we continued north with only a few stops along the way.
North of Garberville we left 101 in favor of Avenue of the Giants, which among other things, leads through Humboldt Redwood State Park, which is known for its very large redwoods, but the big trees are actually all along the road, also known as California Road 254. We stopped at Founder's Grove and went for a walk in the woods, where we enjoyed the 345 feet tall Founders Tree, and the now toppled, but the formerly 370 feet tall Dyerville Giant. Even when lying down, the trunk is at least twice as high as Tim, who is 6'4". We made another stop at Immortal Tree, not so much for the sake of the tree, but to visit the souvenir shop located there. I would have bought some bookmarks made of redwood bark (they have a nice smell) , but they were sold out, so I just bought a few small carved bears to take home as gifts. Tim also bought gifts here while Tina already had bought what she needed.

When we left, we agreed to stop today's drive in Eureka, partly to look at the quaint old houses, and partly to give Tina time to lie around a swimmingpool. Unfortunately it turned out that there apparently were no hotels in the town with an outdoor pool, and as Tina's purpose primarily was to get some sun, more than swimming, an indoor pool was not good enough. We therefore decided to continue north, and if we had not found a hotel with an outdoor pool when we reached Crescent City, we would stay there for the night. And that is how it ended. We found no hotels that met the requirements on our way north, but instead we found a motel in Crescent City, on the Us 101 and just off the waterfront. But no outdoor pool. We did have an excellent room though, and then we left again to find a place to eat . After dinner we returned Tina to the hotel while Tim and I did some shopping. Tim was missing a few shirts, and I got a pair of shorts that I had been looking for for a while.
Still no pools
The next day was just another day of driving, and with nothing we particularly wanted to see. The day before we had after all seen both bridge, vineyards and large trees. Back home we had planned that we would drive north through Oregon along the Pacific coast, but then we had assumed that we would already be in Oregon, which we were not since Crescent City is located in California. We therefore agreed that we probably had better take the interstate, I-5 instead, so we could drive a little faster, and get further north. Our original plan was to stay the night in South Bend i Washington, but we decided to stay in Longview, just after the border between Oregon and Washington, not least because South Bend is located on U.S. 101, and not anywere near I-5

After breakfast we left Crescent City At that time it was just 9, so we had been up early. We took the small California Road 199, also known as the Redwood Highway northeast through the mountain range called the Coastal Range. The road is not very wide, and it winds through mountains and forests, so we didn't go very fast but it a was pretty, scenic route - when we weren'ot tailing large RV's and trucks. The road passes through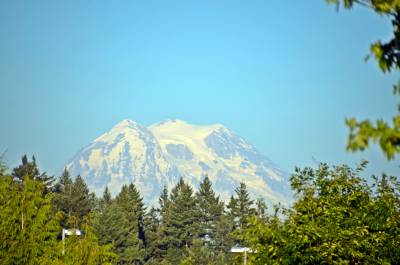 Jedediah Smith Redwood State Park and through a portion of Redwood National Park, so there were still many large trees to enjoy. It's actually in the latter forest that you can find the world's tallest tree, Hyperion at 380 feet, if you know where to look as the exact place has not been disclosed to avoid tourists. It is about 30 feet more than the tower of the town hall in Copenhagen , so it's a hefty tree. About half an hour later, we completed the stretch through the mountains, and then it went a lot faster for the next 40 miles to Grant 's Pass and the interstate.

When we reached I-5 we headed north as fast as the speed limit permitted. Oregon maintain a somewhat lower speed limit than most other western states. Yet before long we reached the state's largest city, Portland, located at the border of Washington. Before, through and after the city we had to reduce our speed due to the traffic, and actually it was here that we agreed to stop for the night in Longview, approx. 40 miles north of the border - so Tina could have time for a swim and some sunning. Unfortunately, we ended up with the same problem as the day before, no hotel with an outdoor pool, so we proceeded further north, after a few laps around Longview. On the way north we passed the road leading to Mount St. Helens, but Tina would rather see a pool than a volcano, so we proceeded to the town of Centralia, which turned out to be no better equipped in this respect than Longview.

We agreed that it was now so late, that it didn't matter with a pool, so we proceeded to Tumwater, which is one of the suburbs of Washington's capital, Olympia. Here we found a hotel without an outdoor pool, but with a nice room. We had the last dinner at an Applebee's on the trip, and along the way we saw in the distance the dome of the state capitol and Mount Rainier. After dinner we took Tina back to the hotel and then Tim and I for the last time on this trip visited a Walmart. I had discovered that I had lost a two shirts and a T-shirt somewhere along the way, and now I had to buy some replacement and we would also like to get some fruit for next days trip.


- Return to Three on tour -
- Return to Travel Stories -