I love Louisiana
In the summer of 2012 it was eight years since I had last visited Louisiana. At that time we came from Arkansas and drove south to New Orleans, where we crossed Lake Pontchartrain Causeway. This time we had not planned to visit New Orleans, but would stay south of the city and otherwise just continue further east, but as so often before, we changed plans. We decided to skip a day later on the trip (in St. Augustine, Florida) and just make a short visit to New Orleans, where neither Tim nor I had been since Hurricane Katrina in 2005.
Texas to Louisiana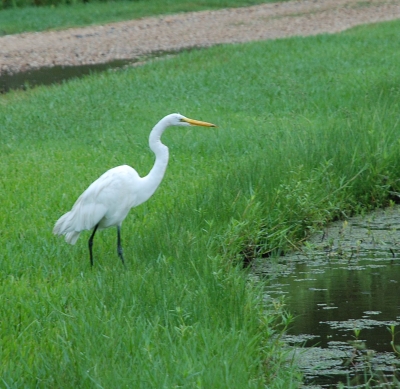 Although there is much to see in Texas, there was no more that we wanted to see at this time, apart that is from the longhorn cows, which I was still looking for. We therefore decided to stay on I-10 through Houston and further on to the state line. There were heavy traffic through San Antonio, but as we got further away from the city, most of it disappeared. Between San Antonio and Houston, we were hit by a thunderstorm that was even worse than the previous day, and it almost brought traffic to a complete stop. Before we reached Houston the thunderstorm had long since stopped, so we got a good impression of the city's skyline. When we had passed Houston it began to rain heavily once more but not cloudbursts as before. On the other hand, it kept raining until we were well into Louisiana.

The rain made us give up our self-made lunch, which we had eaten for most of the trip, so when we got hungry we left the highway and visited a Denny's. It was the first time on this trip, we had lunch at this chain, even though we had eaten breakfast and dinner at the chain earlier. This turned out to also be our last visit to the food chain. When we returned to the interstate, we continued to Louisiana only with a few breaks caused by traffic accidents. When we had crossed the state line the clouds disapperared and it the sun shined until nighttime. When we reached Lake Charles, we agreed to continue as it was still early. Instead, we continued to Lafayette. From here, U.S. Route 90 runs to the south, and we were going to take that route the next day.
When we got to Lafayette, we found a hotel at a reasonable price. It was laundry time once more, and this time we had to do all the work without help from the staff, see the article National Monuments, but we managed. After doing our laundry we went shopping, and after that we decided to eat our dinner at a Hooters, where the food taste OK and the serving staff look better. We are still waiting for the first Hooters in Denmark, but it would probably never be allowed, because it would be sexist and against the gender equality laws.
Hot and hotter
We drove south along U.S. 90, which arcs along the coast into the swamp country. Our first goal was Avery Island, which is not actually an island, but a giant salt dome, reaching above the surrounding marshland, and thus gives the impression of being an island. The salt dome is about 3 miles long and 2,5 miles wide at its longest and widest. The "island" is protruding 163 feet above the surrounding landscape at the highest point. It is believed that the salt dome has a depth of more than 6 miles. On Avery Island, you will find, among other things Jungle Gardens, a private park. That we would like to visit.
When we got to the island we had to cross a remarkably short bridge, but it cost quite a whole dollar to get across. Jungle Gardens is a private park, established in 1895 by Edward Avery McIlhenny. The park has a number of interesting plants, but also animals such as alligators are swimming in the park's lakes. Trying to photograph one of these reptiles, which were in the water near the shore, it "hissed" of us, so we moved a little away. Although there actually was a fence between us and the animal, this was not particularly high and didn't look too stable. In addition to alligators apparently also black bears, musk rats, coypu, various snakes and otters roams wild on the island and also in the park, but we didn't see any of those. On the other hand we saw birds galore. Not least Snowy Egret and the bigger Great White Egret. In a small lake, these birds were all over the trees and on "bridges" built out into the lake for the same purpose. There were also a number of so-called Little Blue Heron, and there were quite a few interesting pink birds with a strange beak. These birds are called Roseate Spoonbills. They are wading birds, belonging to ibis family and can grow up to 34 inches with a 52 inch wingspan, but we did not see them fly, just sit!
This part of the park is called Bird City and not without reason. When we got there it was raining once more. Not much, but enough for us to put on our rain jackets, when we were walking from the car to the lake. On the other hand, it was quite warm, around 85 degrees, which made us more than a little damp. After visiting the lake, we continued the rest of the 4 mile long gravel road back to the entrance.
After the visit to the park, we continued to what we had really come to Avery Island to visit. The founder of the park mentioned above, Edward Avery McIlhenny, was the son of Edmund McIlhenny. Edmund was born in Maryland, but moved to Louisiana, where he became a relatively wealthy banker who came to own his own bank. He married into the Avery family, the family that owned Avery Island. During the civil war Edmund had to escape to Texas, and he lost his entire fortune. When the war ended, he and his wife moved to the Avery family's plantation on the island. Here Edmund made a new fortune when he used one fruit of the island to manufacture a new product in 1868 (patent in 1870), which is still used on a large scale throughout the world, namely Tabasco Sauce. All the Tabasco Sauce, which are sold worldwide is still produced at the factory on Avery Island, although the peppers used, are mostly grown in Central America. However all seeds are still grown on Avery Island.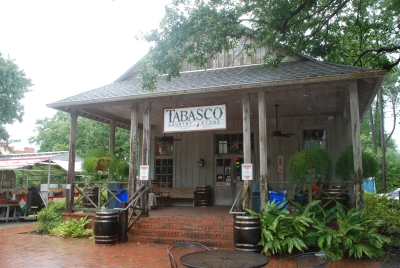 Access to a short tour of the factory was free, so we went into the factory's visitor center. Here we got a brief lecture on Tabasco and the McIlhenny family, who still own and run the factory, now in the sixth generation. After the lecture we saw a film about the production. When the film was over, we walked past the bottling hall, where Tabasco sauce is poured on the well-known bottles. Approximately 750,000 of them are produced every day. Before that happens, the crushed peppers (crushed the same day that they are picked) mixed with salt from the island's own salt mines, are stored in bourbon casks for 3 years. Then the pulp are mixed with vinegar and bottled. Yummi!
Finally we visited the "Tabasco Country Store", where you could buy all sorts of souvenirs, but also the company's products, and you could get a taste of some as well. I tasted sweet and sour, as our guide had told us, it was the best, but it was not exactly my taste. Habanero, the strongest flavor was excellent and so was their brand new Raspberry-chipotle sauce and the Tabasco Garlic Sauce. There were several other kinds, and I tasted a few more besides chocolate spiced with Tabasco and not at least two kinds of Tabasco icecream. First one with habenero and another with raspberry chipotle. Both tasted very good, once you got used to icecream being hot, not least the habenero-ice. I bought a few things to bring home including some Tabasco chocolate, Tabasco Salt, a bottle of raspberry chipotle sauce and then a 12 ounzes bottle of ordinary Tabasco well as some mini bottles. Most I used later for gifts, but the Tabasco and the raspberry sauce I kept for myself.
After the visit to the island, we returned to U.S. 90 and continued south and then east. Heading for the goal of the day we drove through landscapes of swamps and bayous, but also cultivated fields of cotton and sugar canes. Today's goal was the small town of Westwego, south of New Orleans on the south side of the river. Here, however, we didn't find a hotel that satisfied our demands, so we continued to the next suburb called Marrero. Here we found a hotel and got a room. Later we took a drive in the neighborhood, partly to see how long it would take to get to the departure spot of next days swamp tour (30 minutes), and partly to find somewhere to eat later.
When we had found the place, we continued toward the small town of Lafitte, named after the pirate, slave trader and smuggler Jean Lafitte, who is a hero in New Orleans and the area south of town, where he lived in the beginning of the 1800s. We found Lafitte without problems, but the place where Dorte and I went for a swamp tour in 2004 was gone. On the other hand, there were built some new, very large houses in the outskirts of the village, which certainly was not there in 2004. On the way home we took a road which we thought would lead us in the right direction, and when we came to a traffic light, we were certain, that we had to turn right. We did so and shortly after we met houses that we thought we had seen before, and soon after we passed the road where we had originally turned. It turned out that we had driven on a road, which did not exist on our map, and that we shouldn't have turned right, but continued straight ahead to get back to the hotel.
On the way out to the swamp we had passed several restaurants, so we decided for a Ryan's Grill like Dorte and I had in 2004, and the food was just as good as it was then.
'Lost' in the Swamp
The swamp tour that we had booked from home, started at 10, but we were there already at 9.15. When we got there, it turned out that we should have confirmed our reservation by telephone at least 24 hours before departure, which we hand't so the lady at the ticket office didn't think we could join the tour. The boats were completely filled up, she explained. Luckily there was one of the captains who proposed to call the agency they worked with in New Orleans, to see if they needed all the 150 seats they had booked. It appeared that they did not, so we got a ticket and was told we were going on boat No. 2 and that we could go on board, any time we wanted. Since there were more half an hour to departure, we walked around the area for 15 minutes. Then 3-4 buses with school children with their teachers arrived. It was apparently those who had booked through the agency. We boarded boat 2 to get a good seat, but all the children boarded in 2 other boats. Each boat had room for 55 people, and lefte from right outside the ticket office just outside the town of Jean Lafitte, not to be confused with the Lafitte, that we visited the day before. It is a completely different village, which is almost 4 miles south of Jean Lafitte. They really love the pirate around there.
All school children boarded the two boats, and on our boat beside Tim and I, were a Mexican family (father, mother, daughter and son) from California, and an English mother with two boys from Dallas. Actually they were from Isle of Wight, but now they lived in Dallas. It's easy to get to talk with people, when there is only a few of you . The man from California had been in the US Navy, and when I told him that I had been in the Royal Danish Navy, we had something to talk about. The English mother had completely damaged her car in the rain the day before, so we could discuss the weather with her. While we waited for the tour to start, we admired two alligators that swam around in the canal right by the pier. The guy from California showed us a newspaper clipping that told of a young man from Florida, who had lost his arm to a hungry alligator a few days before. We therefore decided to keep the hands and arms away from any alligators.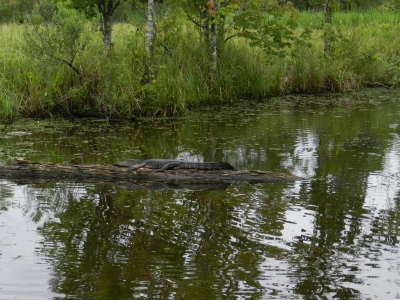 Exactly ten o'clock we sailed out into the channel, and here we saw some alligators, herons and other birds. After a while we came out into a bayou, and here there were several alligators, including a mother with babies, and she certainly was not happy with the boat's presence. We saw several egrets, herons, hawks and one turtle who warmed himself on a tree trunk. One of the things we did not experience, was stinging or biting insects. We had on our way to the swamp tour visited a drugstore to buy insect repellant, to keep the insects away. We couldn't get any though, and the lady at the drugstore claimed that they had never sold insect repellant, but it's not true, as Dorte and I bought some in exactly the same drugtore in 2004! Instead we had to make do with buying some anti-itching agent, which we eventually did not need either on this occasion or later on the trip, as none of us was stung or bitten. We'll probably make up for that next year when we are going to visit Yellowstone NP. Last time I was there I was attacked by around 3 billion mosquitoes. I also found use for the anti-itch agent, back in Denmark, where I promptly after our return was attacked by a bunch of mosquitoes the size of sparrows or something like that.
The captain had brought along a small alligator which everybody were allowed to hold. Especially the youngest son of the English lady thought it was funny. And Tim actually wouldn't let go of it again, he almost adopted it. Later the captain pulled out a larger alligator head, and a large tortoise shell, which was circulated among us, and eventually put together on a bench so that anyone interested, could photograph a tortgator or allitoise or whatever. When we came ashore we found our the car, which wasn't difficult, as there were only 3 or 4 cars in the parking lot. We drove a little further south to the Barataria Preserve Visitor Center, which we had passed a couple of times the previous day. Barataria Preserve is a nature conservation area, which is part of the Jean Lafitte National Historical Park and Preserve, which covers much of southern Louisiana. Barataria Preserve is located on the Isle of Barataria where Jean Lafitte had his headquarters while he lived in the area.
When Dorte and I visited the place in 2004, we first joined a ranger-guided tour along a short path, and then we drove one mile further south and walked another path, Bayou Coquille Trail, on our own. This trail leads along a bayou and out to the marshes that surround the island. This trail was unfortunately closed this time, due to repair. We had to settle for the short path, but on our own, as there was no guided tours while we were there. This trail, Visitor Center Trail, is only approx. 1,200 feet long, but there was plenty to see along the way, and we also heard a lot of frogs, which we didn't see though. After approx. 900 feet another trail parted from the one, we were on. It was called The Palmetto Trail, and we decieded to take that as well. We didn't know where the trail lead as we had no map, but we felt that it just went on and on, and as it twisted quite a bit, I lost my sense of direction. The conditions didn't improve by the rain that fell almost constantly, and as it was 102 degrees it was damp and our concentration on what direction we took was low. It turned out that the path terminated at the place where the Bayou Coquille Trail begins. The problem was that I was so "dizzy" that I did not know which way we should go. Tim though he knew, but also he got doubts as we walked down the road, but it turned out that he was right, and when we got back to the Visitor Center, he immediately went into the center and got a map. We should probably have done that before we left! It turned out that the trail had been about 1.5 miles long and the trip back by road a little bit longer, so in all we had probably walked about four miles in approx. 102 degrees heat and a humidity well above 95%.
The next step was to get the GPS to show us the easiest way to New Orleans, and so it did. It guided us by very small roads. Roads and narrow streets leading to and through some rather poor residential neighborhoods in Algiers on the southern bank of the Mississippi. Locals calls it the West Bank though, and because of the river's twists, Algiers is actually east of New Orleans - just to make things easy. Finally, we arrived at a ferry across the river. Unfortunately, the ferry didn't take cars! It had previously done so, but car traffic was cancelled and our GPS didn't know. So we had to make a major detour, still through various residential areas to reach the Crescent City Connection.
When we got across the river, we drove to the French Quarter and left the car in a parking lot. While we had been driving around in Algiers it had rained a lot, but when we left the car it was not. That soon changed, however. While we were on the way up Decatur Street to the French Market a thunderstorm hit, and we therefore took shelter at Market Café, where Dorte and I ate muffulettas in 2004. I also did this time, while Tim refused to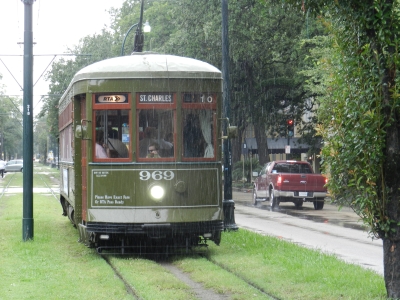 participate and therefore he ate another New Orleans sandwich specialty the po'boy. He is apparently not so fond of olives, as I am and you have to be to enjoy a muffuletta, and there is also provolone on a Muffuletta, and as he doesn't eat cheese...

While we were eating we enjoyed live jazz music and rain while we looked at the people who were at the café and those who hurried past outside. When we had finished eating it rained only slightly, so we went for a walk in the French Quarter, past Jackson Square and St. Louis Cathedral, up St. Anne Street and then down Bourbon Street. This part of town looked just like it did in 2004, and you couldn't see that Katrina had been there seven years earlier, but we were told that in other areas of town there were still many ruined houses, and also houses that simply have been abandoned by their residents who never returned home after the hurricane. While we were walking down Bourbon Street the rain got heavier once more, so we decided to return to the car.
We would have taken the St. Charles Avenue streetcar through the Garden District, but because of the rain, which eventually got even worse, we decided to take the car through the area. We stopped once to photograph Commanders Palace, the famous restaurant, and a second time so I could take a photo of a streetcar. I had taken some in 2004 but they were not good to put it mildly, and I would remedy that. I took some photos, but when i re-entered the car I was rather wet! I also took pictures of the many trees from which Mardi Gras bead chains always hangs. Eventually we drove west out of the Garden District, through the River Bend and further on to Huey P. Long Bridge, which we crossed to get back to U.S. 90 Business and our hotel.
- Return to Cross Country Tour -
- Return to Travel stories -