Three days in Dooley-country
We have driven on the beautiful Blue Ridge Parkway on several occasions. The road begins in Cherokee and arcs south to Asheville. From here it continues north through North Carolina and Virginia. This time, though, we would try something else, namely a small road running parallel to the Blue Ridge Parkway and crossing this in several places. But first, we just had to get to it.
Getting lost on a detour
We left the hotel in Cherokee and drove to Asheville, which was quite easy. Underway we passed through towns like Maggie Valley and Lake Junaluska. It was only when we reached Asheville, we got into problems. It was me who was driving at that time. Getting from Asheville we had to continue for a while on an Interstate, but somehow I ended up on a wrong interstate. When I tried to leave the interstate, I took the wrong exit, so we had to drive a while back and try once more. But once I managed to leave the interstate and get onto the right one, everything was fine - for a while. We left the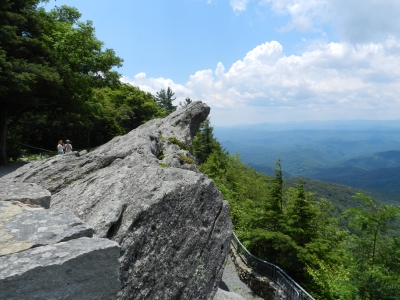 interstate at the right exit, and continued on a smaller road. Then the road we were on terminated - or rather it was blocked due to road works, and we were led on a detour. This too went well at first, but soon there were no more detour signs so we lost track and eventually got further and further into the countryside on smaller and smaller roads. Our GPS had broken more or less down at this time, and Tim who was trying to guide via our roadmap, got more and more desperate, because he actually had no idea where we were, and neither did I, so we just chose direction from instinct. The road we wanted to take was U.S. Highway 19, or rather 19E, but the detour had led us astray. I later found out, that the road, we were actually on, was North Carolina Highway 80, which was too small to be shown on our map. This road was so narrow that on certain parts of the road trucks were not allowed. On other parts trucks were allowed, but with a speed limit of only 15 mph. We had otherwise been fairly alone on the road, but of course right on this stretch of road, we ended up behind several trucks that we couldn't pass. At long last we met a sign, directing us to 19E, and when we got there, we were back on track. After a while we reached U.S. 221, which had been our goal from the beginning.
This road took us past Grandfather Mountain, which we chose to skip. A mountain with a theme park on top we could both do without. We also passed the entrance to Linville Caverns, that Dorte and I had visited in 2002, but this time we had seen enough caves in Carlsbad, NM. We therefore also skipped the caverns. While stopping at a gas station to get some coffee etc. Tim was asked for directions to the caverns which he gave, like we were locals, and not just tourist, that had passed the place 15 minutes earlier. We continued on U.S. 221 to the day's first real goal in the town of Blowing Rock in Watauga County, NC. Here is a rock of the same name, and we would visit the place if it was not too expensive. On the way there, we agreed that we would enter if the price was $ 5 or less, but just before we arrived, I changed the limit to $ 8, and when it turned out that the price was actually $ 6, we decided for a visit . The rock itself is nothing special to look at, but there is a fine view of the Blue Ridge Mountains from the place. The special thing about this particular rock is that the wind is always blowing up from below the rcliff. It is said that in winter you can see the snowflakes here "falling upwards". The local Native Americans have a story about why it blows up, and as in many such, it is about love. I don't bother to tell it all, but briefly it goes like this: "once when a Cherokee warrior jumped or fell off the cliff, then the wind blew him back to his beloved on the cliff-top, and since then the wind has always blown upward here".
Into Dooley-country
From Blowing Rock we continued to today's final goal in Wilkesboro, but with a few more detours, this time on purpose. We could have taken U.S. 421 from Blowing Rock to Wilkesboro but that would have been too easy. Instead, we took U.S. 321 south towards the town of Lenoir, and shortly before this town we changed to NC Route 268 towards Wilkesboro. The reason for this detour was also the reason we were even in this area of ​​North Carolina. Tom Dooley! The Dooley case is (as stated elsewhere on this website) one of my major interests and most of the events in the case took place near what is now NC 268, and all of the characters of the case lived within 10 miles of 268. Today's tour was meant as a kind of getting to know the area better before the next day, which was actually reserved for Tom Dooley etc. We therefore did not stop, but found the place where Laura Foster, the victim of the murder, is buried, something Dorte and I gave up on in 2004. We also found the location of The Whippoorwill Academy and Village, an open air museum with a Tom Dooley collection. We continued to Wilkesboro, where we found our hotel and got a room.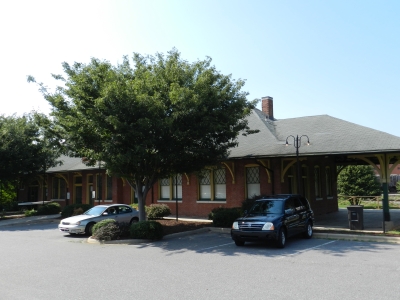 When we had moved into the room, we drove to Statesville, the town where Tom Dooley was convicted and later hanged in the spring of 1868. The courthouse where the case was tried, is long gone, as is the prison where Tom Dooley was imprisoned from October 1866 to 1 May 1868, while the place where he was hanged, of course, still exists. No one knows, however, exactly where the gallows stood, but the approximate location is known. It was in a field called "The Circus Lot" beside the 1868 railway station, and the location of that is known, even if the station itself doesn't exist anymore.
We took some pictures of the field, where there is now a factory in part of the area, while there are railroad tracks and some trees on the rest. I wanted to visit the city's Visitor Center, which in 2004 was in the old train depot from 1906, to see if they could tell me more, but it turned out that the place had been moved. The train depot building was still there and the Visitor Information Center sign was still on the door, but the lady who worked there informed me that the visitor center had moved. She was apparently accustomed to the problem, as she immidiately produced driving directions to the new address and handed it to me. I went to Tim who had waited in the car, and explained the situation, and we left in direction of the new target. When we finally found it, the office, however, was closed due to a staff shortage! We then drove back toward Wilkesboro through Union Grove, where Dorte and I stayed in 2004. Back in Wilkesboro we saw the old jail and courthouse from the outside. Both are now museums, but they were closed for the day, so we decided to come back the next day.

When we earlier in the day had passed Whippoorwill Academy and Village in Ferguson, it was closed, which we actually knew ahead it would be. The museum is only open on Saturdays and Sundays between 3 and 5 pm, and by appointment. We had along the way tried to call the "manager", but it did not work from our cell phones. On the whole we had problems calling to U.S. numbers from our cells. Tim therefore called from the phone in the room (free of charge) to Mrs. Edith Carter, who owns and runs the place. She was unfortunately about to go see her daughter, when we called and would also be gone the whole next day, so the two options, we had to visit (Tuesday afternoon or all of Wednesdays) were both excluded . She would, however, like to show us the place, so if we could come Thursday just before 9 am, she would show us around before we had to drive further north. We accepted the offer as we probably wouldn't be to busy getting north, and it would prove to be an interesting Thursday - in many ways.
Elkville and surroundings
Not all roads in the United States has numbers, but most have. Some roads have names instead of numbers. Some roads have both a number and a name. As long as you stick to the main roads and other major roads it is usually easy to get around, but even those roads that are called highways, can be very small. Not least because the term "highway" can mean anything from a 20-lane freeway to a very narrow one-lane dirt road. Highways can be "Interstate", U.S. and State highways, but also the individual counties, identify some of their roads as highways. In a page on my Dooley pages I mention how North Carolina Highway 268 and some of it's side roads can take you to the places of interest in connection with the Dooley case, and today we would test this description ourselves, and once more we had troubles finding a specific road.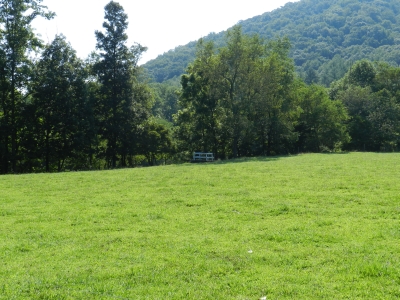 The place connected to the Dooley case", which is the furthest west from Wilkesboro, is Laura Foster's gravesite. We would therefore pay a visit there first, and then work our way east. We therefore followed NC 268 west from Wilkesboro, to the point where we had spotted the grave the day before. On the side of the road opposite the grave was a small pull-out where there was a commemorative plaque telling about Laura, and it was duly photographed. The grave is on the other side of the road (left side when you come from Wilkesboro). It is well hidden in a field, and can be hard to spot when you come from the wrong direction, which we did. In 2004 Dorte and I, managed not to to find the place. The field is unfortunately private and fenced with electric fence, so you can not normally get close to the grave, but with a good zoom lense you can get a good picture anyway. We took pictures of the grave, and then we continued east and later south. Here we drove around the area around King's Creek, where Tom Dooleys nemesis, James Isbell lived. On the way back from King's Creek we drove on a road callec Grandin Road, and we tried to locate Tom Dula Road that should meet with Grandin Road. However, we couldn't find it. We passed a few small dirt roads, but we were not sure if it was any of those and if so, which.

Then we proceeded back to and further east on NC 268 until we reached the town of Ferguson. At this end Tom Dula Road, also known as State Road 1164, is signposted, so we turned down the road but couldn't find Tom Dooley's grave. When we gave up, I would turn around and try again, but Tim would rather continue down the road so we could find out where it met with Grandin Road, where we could not find it earlier. It turned out that when we came into Caldwell County, that the paved road turn in a dirt road, and when we finally reached Grandin Road, Tom Dula Road proved to be the northernmost of the two dirt roads, we had seen before. After that we returned to NC 268 once more and drove to Elk Creek, the creek that in the old days formed the border between Wilkes County and Caldwell County. Here there was a gas station, and here we stopped because I wanted to visit a rest room. And then I experienced something I have not experienced on my previous travels and after more than 30,000 miles of driving on U.S. roads. The gas station and general store had no rest rest rooms! Neither indoors nor outdoors. On the other hand, they sold everything from candy to garden tractors - a real general store, which also is in some way is linked to the Tom Dooley story, or rather, the site where it is located, is linked to the history, for at the time of the murder, it was the site of the general store where Laura's body was taken when it finally was found.

I photographed Elk Creek and a small modest sign that said Elkville. When I was done we drove on up a road named Elk Creek Darby Road, where we passed the local cemetery, where among others Ann Meltons oldest daughter is buried, and we continued up to the sites where we thought that Tom Dooley and Ann Melton and others had lived, the place where the murder was probably committed etc. We were not quite sure if we got them right though so a local guide would have been nice. Fortunately we got wiser the next day. At some point along the way, we stopped on a road near the place where Lotty Foster, one of thne involved women lived. Here Tim stayed in the car while I walked up another road to take pictures. Shortly afterwards a car pulled out from a house on the little road where Tim was parked, so he backed down the road and drove away to make room. The car left the the house and drove up to me. Here the elderly guy in the car stopped, rolled down the window and asked somewhat acidic, what I was doing there? I explained that I was a tourist and I was only taking pictures. Apparently this satisfied him, as he turned the car around and drove back to his house. I wonder if he thought we were terrorists who were out to plan an attack on the local hen house? Tim picked me up and we continued driving around the area until I thought I had seen enough.
In Tom Dooley's cell
It turned out later that I had not seen enough, but for the time being we returned to Wilkesboro and the museum, that had been closed the previous day. It was not now. We went inside where we were met by a young girl who apparently was the only one present. A sign announced that there would be a tour of the old prison at 1 pm. As that was exactly what we had come to see and it was around 12.40 pm, I asked if the tour actually would take place - and it would, as soon as Jack came back from lunch! Even if Tim and I were the only participants. We paid five dollars each to see the museum (and prison) and so we chatted with the girl, while we looked around in the souvenir shop. Soon after Jack entered, and introduced himself as Jack Steele. He was an man, about 75 yo by my guess. He led us to the prison. Once there we first visited the jailers flat, where he had two or three rooms, that accomodated him and his familiy. Prisoners in this jail ate particulalry well, unlike many other prisons, because they were simply served the same food as the jailer's family. We also were shown a strange device. A rod with a board at the end with eight large holes, and Jack asked if we knew what it was. I suggested that it was a gizmo to move clothes up and down the wash basin when doing laundry, but it was not. However, it had something to do with cleaning, because it was actually a broom. In the holes were placed leaves from corn plants, and it was then used for sweeping.

The prison had three cells (there were orginally four, but one had been converted to storage space). In the cell on the ground floor the less dangerous prisoners were placed, or at least those with the smallest escape risk. On the first floor there were two cells, one that was used for women and one for men. However, men were placed in both cells if no female prisoners were present. The cells were rather spacy, but we had to remember that up to four or five prisoners could be incarcerated in each cell at a given time, and there must have been terribly hot on a summer day without air conditioning. There must also have been a horrible stench as the cells were equipped with a "privy" with a bucket, that was not necessarily emptied every day. We saw the women's cell, where Ann Melton had been imprisoned for about a month before she was transferred to Statesville, but this cell is almost entirely reconstructed. The cell next door were where Tom Dooley spend from July to October 1866 - alone, as he was considered to be very desperate and dangerous. The walls, ceilings and floors were original in this cell as well as a small bench and the infamous privy - now without the bucket. Outside the cell was a small collection of Tom Dooley memorabilia, and while we looked at them, we had a chat with Jack about the Dooley-case, which of course, like everyone else in the area, he had an opinion about. I told him about my theory, that of course he had never heard of, but which he found exciting. No, I am not retelling it here. I've already written a lot about Tom Dooley in my diaries from 2000 and 2004, and most of it nonsense. Fortunately, you can learn more juyst by reading more on my website under www.kronsell.net/tom_dooley_the_legend.htm. Here, my theory has been published. It was Jack who told me that while Tom was in prison, he had been alone in his cell, and that the sheriff had strengthened the bars outside the window with a welded grid that still is there. I'm not sure if that story holds is true, but the bars on the windows of the cell, where Tom was IS significantly enhanced, and it is a good story anyway.
Wine and barbecuesauce
After the visit to the prison we visited a small cabin from the middle of the 1700s, which had been inhabited by a family Cleveland, which had a lot of kids, all of which - along with mom and dad - had shared only two rooms. Also this was interesting, but not quite as exciting as the prison. When the tour was finished, I would give Jack a tip, which he would not accept - but I was welcome to give money as a donation to the museum, so I did.

When we were finished at the museum, we drove east from Wilkesboro to Laurel Gray Winery, where Dorte and I had been so well treated in 2004. So we were this time, and we got a taste of a variety of wines, and in the end we both bought wine and a fantastic barbecue sauce. Its gone now, but my son has ordered his mother, who is visiting the area this coming summer, to go to Laurel Gray and buy some more :-). Last time we were served by the owner, Kim Myers, and we also had a chat with her husband, but now the place had grown, so it was an employee who handled the wine tasting. We did however meet Kim Myers, as she came into the room, but for some strange reason, I do not think she recognized me! And we had spoken for almost an hour only eight short years earlier! She maybe suffering from a temporary loss of memory? :-)

From Laurel Gray we drove along small roads to the Korner Kitchen that in 2004 was called Gaby's Diner. On this stretch we drove into North Carolina's Amish country, something I had no idea existed. We had previously seen some people in traditional costumes, but had not realized that they lived in the area. Also, Union Grove, where we stayed in 2004, is located in Amish country. If only Dorte had known that as she would like to see an Amish :-). We passed signs that warned us about horse-drawn carriages on the road, but unfortunately we met none.

It was at Gaby's Diner, that Dorte and I almost got adopted by some locals, and Tim and I were considering to have dinner here, but it was a little too early yet. Instead, we decided to drive back to the hotel and then return for dinner later, but once we got back to the hotel, we gave up the idea. It was, after all, a trip of about 30 miles each way, and we were rather tired. Before we returned to the hotel, we drove west on U.S. 421, to find the outdoor theater where The Wilkes Playmakers perform a play about Tom Dooley. We did find it, but couldn't seem to buy a ticket at the entrance, so we returned to the hotel to check on the internet. It turned out, however, that you could not buy a ticket for the same day, so I had to abandon the project and save it for the next time I'm in the nighborhood in the summer. Instead, we relaxed for a few hours before we drove to a nearby Ruby Tuesday restaurant and ate dinner. Then back to the hotel and set the alarm clock for 6:00 am the next morning. We had to be at Whippoorwill Academy a little before nine, as agreed with Mrs. Carter.
The very nice Mrs. Carter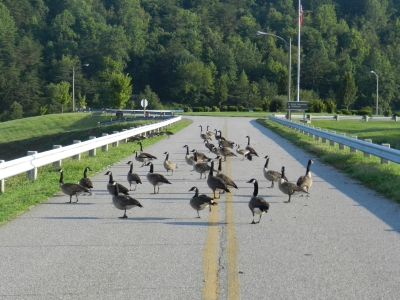 Already at 7.30the next day we had packed the car and left the hotel, to once again head east into Dooley country. As we could see that we were in real good time, we took a detour to W. Scott-Kerr Dam, a dam that dam the Yadkin River, forming W. Scott-Kerr Reservoir. You could drive over the dam, so Tim, who was a driver this morning, did just that. When we reached halfway out on the dam, the road was blocked by a flock of geese. They were very reluctant to move away, and when they did, they went just as well out on the road as off to the side. Tim had to zigzag through the crowd with great caution. On the other side of the dam the road ended, so Tim turned and ran in the same careful way through the flock of geese again. After this grueling experience, we continued directly to Whippoorwill Academy, where we arrived already at 8.15.

Mrs. Carter was already there despite the early hour. She drove up in a small golf cart and recommended us to move our car. The ground was too moist, where we had parked. It would be much better to drive into her well-trimmed lawn, where the ground was more solid, so we did. Then we were warmly welcomed by Mrs. Carter, who turned out to be a lady, whom I judged to be about 80 (I later found out that she was actually 82), but very lively. She personally showed us each of the buildings to which she herself drove in the golf cart. In each building, she told about it, both on its origin and what she used it for. For example, Chapel of Peace, which is now used as a church, especially for weddings, had originally just been a cottage, but was rebuilt. Another cabin she had arranged as a tavern, because a true such, she had not been able to find, and she wanted to show what the inn had looked like that Daniel Boone ran, while he lived in the area. In the village is also a replicaof Daniel Boone's cabin (the chimney is the original), where he lived with his wife and 10 children. There were actually 11 children in the household, but one was not his. Once in 1771 when he returned from a 2 year long expedition, he found his wife with a newborn! When he asked her how it was possible - he must have had a suspicion, I think - she explained that he had been gone so long that she thought he was dead. The child she had with his brother, she explained, to which Boone commented: "As long as it was just a Boone." And so they lived happily together until she died in 1813.

We spent the most time on the Tom Dooley Art Museum, that contains more than 40 watercolors, oil paintings and drawings, which retells the legend of Tom Dooley. All were painted or drawn by Mrs. Edith Ferguson Carter, who had also owned and operated Whippoorwill Academy and Village for 27 years. She runs the place herself with the help of a few volunteers who come once or twice a week to mow etc. She still has an eye for old buildings that are falling apart somewhere in the local area. She had just acquired an old wash house, which had been repaired and was now open to the public. At the Tom Dooley Museum, she left us alone to watch a video with Mrs. Carter's pictures where she retells the version of Tom Dooley legend, as she knows it. When the 20 minutes that the video lasted, had passed she returned, and so we chatted a bit about the Tom Dooley case.

Mrs. Carter told me a little about the case, that I didn't already know, if not much, and we talked about the novels written about the case. Like the two novelists and I, she was also sure that Tom Dooley was not the killer, and was convinced that it was Ann Melton (which I don't believe). She said, however, that most of the local people, were of the same belief, like herself, while Ann Meltons descendants agreed with me, that their ancestor had nothing to do with the murder.
I learned some new things however, that I could use on my website about Tom Dooley. When we were done talking about the case, we continued to the last building that we managed to see, namely The Old General Store, where Mrs. Carter actually runs a small business. Here I bought a book with several of Mrs. Carter's paintings retelling the legend. It cost the incredible sum of $ 10, so I gave her 20 as thanks for the talk and tour, but she told me that it was not necessary. When I insisted, she finally accepted. As Tim would buy a small ring for a few dollars, for his god daughter, he was told that the ring was already paid for. So offered us a taste her pickled bamboo rings, which she claimed was a very great delicacy amd they were actually quite good. Then we talked a little further on Tom Dooley, and she told me that her late husband, George, had been the great-grandson of Dr. Carter, who was the doctor who was involved in the Dooley case and that her own great-grandmother had been the victim, Laura Foster's aunt. Ask if everybody is related to each other in this neighborhood?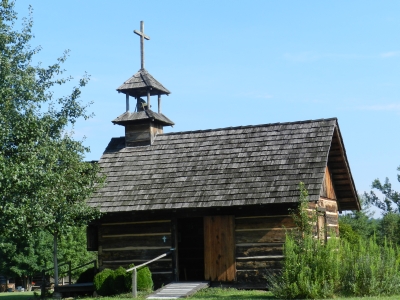 Eventually we had to leave, and she asked us if we had seen Tom, Ann and Laura's graves? We told that we had seen Laura's grave, but we could not find Tom's and I thought that Ann's grave was unmarked. She then told that the descendants of the Melton family recently had put a stone on Ann's grave. Then she brought a map showing where the various places were, and she wrote an explanation of how we could find Tom Dooleys grave. She also told us, where Ann, Lotty Foster and Tom had lived. This explanation meant of course that we had to take another trip around the area, so we said goodbye and thank you very much, and so we left Whippoorwill Academy and Mrs. Carter for this time.It was now past 10 nnd we had spent almost two hours with Mrs. Carter and it was time to leave. I hope that I will be able to return to the area soon, and visit Mrs. Carter again, as she was very interesting - and incredibly friendly. Before we left for this time I asked if I could use the photos I had taken of her pictures and also at the museum as illustrations for my website, and she kindly allowed me to do so.

We drove a little back along NC 268, to Tom Dula Road, and I took a few pictures of both the Yadkin River, and a sign that tells about Tom. Then we proceeded to the place where Mrs. Carter had told us that there was a path that led to the grave. It turned out to be absolutely correct, and we parked the car and went ahead. Unfortunately, it turned out that as we continued, the path became more and more overgrown and eventually was completely impassable. We continued to Ann Meltons grave, which we in turn found without problems. She is buried in a Melton family cemetery as it was quite common to have on private land in those days. Also Tom Dooley are buried together with other members of the Dula familyon land that belonged to his uncle, Bennett Dula. Tom'ss grave is just the only one that is marked with a stone. At the Melton cemetery Ann and James Meltons sister Sarah, had stones on their graves, but at least 19 others are buried here with no stonemarkers on their graves. The reason for the lack of markers we had been told by Mrs. Carter. When they buried people in the middle of the 1800s, they put a stone on their grave, but it was just a stone that was found in the aerea of the grave and without inscription of any kind. The family did know who was buried where, so no names were necessary. These stones however, tended to disappear in the run of time and therefore the many unmarked graves on family cemetaries. Both Tom Dooley's and Ann Melton's original stones can be seen at Tom Dooley Art Museum and both are fairly unremarkable. Ann's stone has come to the museum relatively recently, as a gift from her great-grandchildren when they put a real tombstone on the grave.

After the tour it was time to move north, because we still had a long way to go today, and it would actually prove to get even longer than planned.
- Return to Cross Country Tour -
- Return to Travel stories -