Jackson's Mill or whatever
Before leaving Gettysburg, we planned to go for a run, so we got up early, and put on our running gear. When we got out of the motel room and and out to the parking lot, we looked at each other and turned around and went back to the hotel . Though the time was only 7:30, the temperature was already above 90, and the humidity was in the 90th. We therefore agreed to postpone the running until the next day. As it were, it wasn't any better the next day or the day after that either, so in the end, we never got to run on the entire vacation. We saw many locals, who ran, but for us it was simply too hot and humid.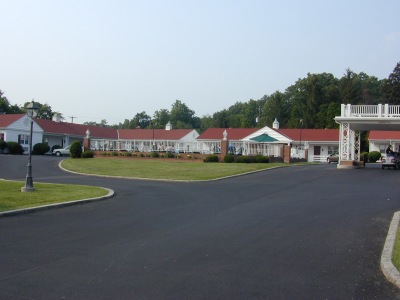 So in instead of running, we ate breakfast at the hotel, and then we left Gettysburg via Chambersburg Pike (where the hotel was located), to Chambersburg, and then south along I-81. At Hagerstown, Maryland, we changed road to I-68 West through the Maryland Panhandle and into West Virginia. The Interstate is a very nice route through the forested mountains. At the West Virgina border we visited a Welcome center as usual before we continued west. At Morgantown we changed to I-79 South through the northern part of central West Virgina. After passing Clarksburg, we left the interstate to visit Jackson's Mill.
Jackson's Mill is a sort of mini open-air museum with a range of buildings from the late 1700s and early 1800s. Some of them are orginally built on the site, while others have been moved to the area from elsewhere in Virginia and West Virginia. The site is owned and operated by West Virginia University, Center for Lifelong Learning, and they have a campus just next door. Why did we go there? Well, this place is where Thomas "Stonewall" Jackson grew up. He was born in Clarksburg, a little further north as the third of four children. When he was two years old, his four year older sister got typhoid. Their father, who was a not particularly successful lawyer with large debts, tended his daughter, but in the end, both died a few days apart. The mother, Julia, was pregnant and gave birth soon after to another daughter who was named Laura Ann. Because of the large debt that the husband had left, she soon got into economical troubles, having to provide for three small children. Four years later, in 1830, she married again, but her new husband did not like his stepchildren. Thomas and Laura Ann were sent to their father's family in Jackson's Mill, while their older brother Warren was sent to his mother's relatives. In 1831, Julia died of complications after giving birth again. Tom attached himself much to his sister, and he also saw his brother now and until the brothers death from tuberculosis in 1841. During the Civil War Jackson also lost contact with his sister, who was a convinced union supporter, while Jackson, like many others in this area of Virginia was a nationalist and therefore chose to side with his state, when it seceded from the Union. Jackson grew up in the home of his (half)uncle, Cummins Jackson, at Jackson's Mill.The mill was founded by Thomas' grandfather in 1801. Stonewall Jackson worked in the mill, went to school a little, and later taught the other children, and for a time acted as an aid to the local court, until he in 1842 at the age of 18 was admitted to West Point Military Academy.

Today Jackson's Mill is a museum. The mill and a couple of the other buildings are still standing, although the main building where the family lived, burned down many years ago. Where it once stood is now a memorial. As mentioned a few other buildings has been transferred to the area. We had a little trouble finding the entrance, but after walking round for a bit, we succeeded. In the "General's Store" we bought tickets for a guided tour. As we were the only participants the tour was postponed for 15 minutes. Three more people arrived, and Ron, our tour guide decided to take off. Besides us there were a couple, who later turned out to be from Virginia, and a lady who introduced herself as a teacher at the university campus. She should start by teaching summer school the following day and would like to learn something about the place that she could pass on to children. Unfortnulately she didn't stay with us long.

Ron started the tour by telling us about the building we were in, "The General's Store" or as the the real name was, Mary Conrad Cabin. It was built in southern Virginia in the vicinity of Roanoke. Next to it was the Henry McWhorter Cabin, which had only one room, but a door in three sides of the house (the fourth was occupied by a stone fireplace and chimney). Ron asked if anyone could guess why there were all these doors? The husband from the Virgnia couple, believed that it was because the family could escape in case of attack from indians. This made the scoolteacher angry, and she corrected him. In a loud and clear voice she told him that these people are certainly not called "Indians" but Native Americans! The guy who could see that this would provoke the poor teacher, then continued talking about indians, and every time she corrected him. Native Americans or Indians had nothing to do with the doors though. It was simply so the family could get out of the house in winter when snowdrifts blocked one or two of the doors. Depending on wind direction least one door would always be accessible. In this cottage there was also a very interesting bed where the quilts could be roll up on a spindle above the bed by turning a handle. I did understand why the mechanism was necessary when I tried to lift the quilts myself. When I was a child I often visited an old aut of my grandmothers, and the quilts in her bed felt like they were stuffed, not with feathers but with whole hens. The quilts in this case, were stuffed with something that the minimum must has been turkeys. I would think that the quilt on the bed weighed around 40 pounds.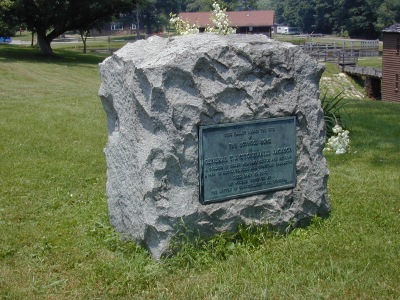 From this cabin we continued to the memorial for the Cummins Jackson House. Then we entered a barn. On the barn wall hang a fur from some kind of animal, and Ron asked us if we knew what of fur it was. The guy from Virginia claimed it had to be and "Indian hide" and this became too much for the teacher. She glanced nervously at her watch, and regretted that she had to go now, because she should teach in about half an hour. This despite the fact that she had previously stated that the teaching would begin the next day - when the students arrived.

The rest of us continued down to the mill that had once belonged to Jackson's uncle, but was now a sort of museum, even though most of the items in the house reminded of something that was bought from an second hand scrap dealer. Mostly rusty horseshoes and kitchenware, but Ron tried his best to make it entertaining, although he was a little tiring to listen to at length, because he basically said, "or whatever" two or three times in each sentence. "This is where Cummins Jackson kept the wheat or whatever - before it was grinded to flour - or whatever. Then young Jack put it in a sack - or whatever - and took it to the big house - or whatever." that was how the presentation went on and after about one hour it started getting a little enervating.
After the visit to Jackson's old mill, we visited a second mill (Blaker's Mill), that were stilll in operation. Ron told us that we could watch him grind flour if we came next Labor Day or at other selected times. We completed the tour by visiting an old smithy and a few other buildings. When we got back to the General's Store, we paid for the tour, a mere $ 8 per person. So we decided to add a $10 tip to Ron as a kind of saying "thank you", for the many "whatevers".

We drove back to the Interstate and continued south to Charleston, capital of West Virginia. We didn't visit town though, but got a room in a nice motel west of town.
Next day we had planned to go to Bowling Green, Kentucky. There was really no special reason that we chose this city, but maybe it was the old Everly Brothers īsong, that made us chose it. Along the way, we would visit some caves.

After eating breakfast and watching the finals of the Soccer World Championships,we continued along the interstate to the Kentuky border passing through Huntingdon. Here we got a glimpse of the Ohio River before turning south. We made our "usual" stop at the local welcome center, and then we continued west towards Lexington. Lexington is Kentucky's second largest city, and is know as (at least in Kentcucky) the "horse capital of the world". Dorte was very disappointed on this part of our trip, because she was sure that Kentucky "was just flat plains," but we continued to drive through mountains, that weren't different from those we had driven through in West Virginia. At Lexington we left the interstate and took the Bluegrass Parkway south.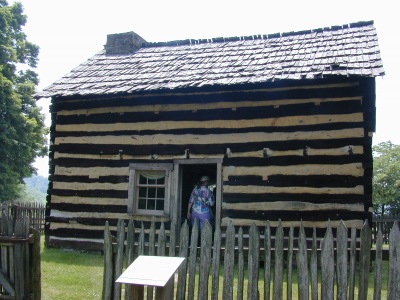 The road is one of the many scenic routes in the U.S. and it was a rather pretty drive to Elizabethtown. Here we returned to the Interstate and continued south towards Bowling Green. Just outside Bowling Green is Mammoth Cave National Park. Mammoth Cave is the world's largest known cave complex with more than 350 miles of passageway, which stretches into the Tennessee. Besides Mammoth Caves, there are other caves in the area, not associated with either each other. We had to visit Crystal Onyx Cave. We had read about it in one of the brochures, we got at the Welcome Center. It looked exciting, and the in cave was found traces of prehistoric humans, so we left the interstate once again, to go cave hunting. When we found the cave, Dorte didn't like the ticket office. It was a little shabby hut, and Dorte thought that if the security of the cave reminded the shed, it would be too risky.
Instead we decided to visit Diamond Caverns, which has a reputation of being Kentucky's most beautiful cave. It was about 6 miles from the Crystal Onyx Cave, so it was not much of a detour. Here, the ticket office was very nice :-) and with the mandatory souvenir shop. In return, we were told that we should go down 350 steps and the same number of steps on the way up, so we gave up. Later we discovered that it was throughout the cave complex, one would up and down a total of 350 steps, and had we known it, we had probably taken the tour anyway. Now we decided to continue to go to Bowling Green.
At this time we were a bit hungry, so we located a Dairy Queen somewhere in the Kentucky Outback. It was the only dining place we came across, but it proved to be "not up to standard". Usually chain restaurants are rather clean, but this specimen was probably the dirtiest restaurant I have ever put my feet in, and when we saw the restroom facilities we decided to starve until dinner.

We got to Bowling Green around 2 pm, and we thought it to early to stop for the night, so we decided to continue south towards Tennesse, and as we had not booked any hotel it didn't matter where we stopped. We considered continuing to Nashville, but abandoned the idea and finally stopped in a small town called White House half way between the Tennessee border and Nashville. We found a hotel, and after getting our room, we visited the pool. Later we went out for dinner, but the city proved to be very small and there were not many eateries to choose from, and especially not close to the hotel. So for the first and only time on this trip, we ate at McDonalds.