Jellyfish and windmills
This was the first day of our actual roadtrip. We had booked a room at a hotel in Santa Maria down south from San Francisco, and we left the town quite early, going south on U.S Route 101, passing the airport, Stanford University, Silicon Valley, and more. About 85 miles south of San Jose, we left the highway to go to Monterey. Our goal was the Monterey Bay Aquarium and we found it without problems. So when we had parked the car, we went to the aquarium which is located on the famous Cannery Row.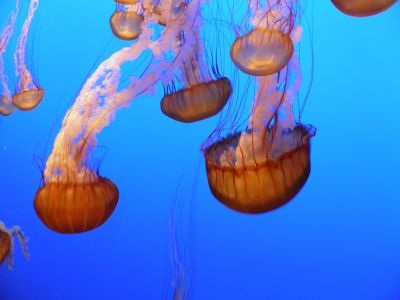 We paid the $ 30 and entered the famous aquarium, anbd went straight to the Kelp Forest tank, a 28 feet tall tank (one of the world's tallest aquarium tanks) called seaweed forest exhibition. Here we saw a seaweed and the fish that live in one, such as sardines, leopard sharks, sunfish and other interesting fish. We tried to take pictures, but the darkness in the aquarium and the glare of the glass made it very difficult. After the sight of this very interesting pool, the rest of the exibition. The other pools were virtually no different than any other aquariums. Actually, I think I liked the Pacific Aquarium in Seattle better.. We did however see both moray eels, anchovies, birds and jellyfish. Especially the latter had some nice red and oranged colors, so I illustrate this with a picture of such jellyfish here.
When we had seen enough fishes, we ate a sandwich in the aquarium's cafeteria, and then we went back out on Cannery Row. Originally this street was named Ocean View Avenue, and it was home of the sardine cannerys. In 1945 John Steinbeck wrote his novel Cannery Row, which had its origins in this very street and in 1958 the name of the street were officially changed to Cannery Row and today the street is a major tourist attraction. Many of the old canneries are converted to restaurants, bars and souvenir shops, but there are still a few canneries in the area, although not on the street.

When we got back to the car we had spent about three hours in the aquarium. It meant we had to change our plans. Originally we hadd planned to drive along the famed California Route 1past the scenic Big Sur, but when this road is not exactly made for fast driving, we agreed that it we would take U.S. 101 instead.

Along the way south, we made one stop so I could get a cup of coffee and around 16.15 we arrived in Santa Maria. As it was this early, we chose to continue approx. 30 miles further south to Solvang, the famous "Danish Town" where you can find a "Danish" bakery, a "Danish" wind mill, an open-sandwich restaurant, false half-timbering and so on. The town turned out to be filled with people - and without free parking spaces, so we just drove through town, turned around and went back the way we came. At least we can now say, that we've been in Solvang, as good Danish tourists should!

Back in Santa Maria, we found our hotel and got our room overlooking the pool, which we did not use. When we were finished with our various chores at the hotel, had been at around 19.00. Then it was time for dinner, so we drove around the city, but none of us did not bother the true greats. We were probably still bothered a bit of jet lag, so when there was a Denny's near the hotel, we ended up driving back to it.