Leaving the desert
When we left Moab to continue north to Salt Lake City there were a few things we wanted to see along the road, including the San Rafael Swell (on the interstate), a dinosaur dig, which apparently also lay close to the road, but otherwise it was just about to come to Salt Lake City without delays. The route we had planned was perhaps not the most direct, but we took it anyway :-).

We left the hotel and drove alongside Colorado River back to Moab and U.S. Route 191, which we would take north up to Interstate Highway 70. When Dorte and I visited the place in 2006, we ran into roadworks, as soon as we entered the interstate, and that was the beginning of an endless number of roadworks, that plagued us for the rest of the vacation. This Tim and I met road worsk on the 191 with only one lane open, as soon as we left Moab. Once again this was the beginning of a series of roadworks, that persecuted us for the rest of the trip, virtually until we returned the car at the airport in San Francisco.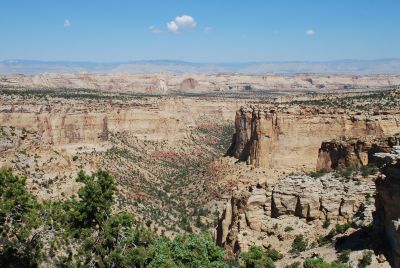 Finally we got through the roadworks and reached the interstate, where we turned left. We drove along the highway only disturbed by a few roadworks now and then and even if one lane was closed, we didn't have to stop and wait for opposite direction traffic. After crossing the Green River, the interstate was leading into the San Rafael Valley and through the San Rafael Swell. I had read that this should be one of America's most beautiful strethches of interstate, which was the reason for this detour, where a more direct route would have taken us by U.S. Route 6 to Provo. San Rafael Swell is a geological formation that runs through this part of Utah. The formation is about 75 miles long and 49 miles wide and consists of a gigantic folding of the area's sand and limestone rocks, which have then eroded over millions of years. It gives a - I think - amazingly beautiful scenery and we stopped several times to take pictures and it was well worth the detour.
We then continued west without any more stops until we left the interstate to take Utah Route 10 north. At the small town of Huntington we left the highway and drove east, to the small town of Cleveland. Here we were going to visit Cleveland-Lloyd Dinosaur Quarry. When we got to Cleveland, which was quite small (508 inhabitants), we saw a sign pointing towards the quarry, so we drove in that direction and after about 10 miles we got to a small dirt road, and here was finally another sign - which said that there were still 15 miles left to the quarry. We therefore decided to skip the visit and return to the highway and continue to Salt Lake City. When we got back to Cleveland we ran into roadworks, so we were sent out on a minor detour. When we finally got back to Route 10, there was also roadworks going on here with only one lane open, and it lasted for almost 20 miles.

Now we were gradually beginning to get hungry, and I thought I could remember that outside Price we would be passing some eateries, but we did not. Also four years earlier, Dorte and had passed a lot of freight trains between the towns of Price and Helper carrying coal from the mines in the area, and of course I had told Tim about these trains. Unfortunately, the mines must have been exhausted, or the trains gone to depot or something like that, because we didn't come across a single freight train throughout the journey. The town of Helper, which was the next town we passed, is named after the auxiliary locomotives that were used when the trains were crossing the mountain pass Soldier Summit at 7,500 feet altitude. We didn't locate a place to eat in Helper either, so we agreed to skip lunch and have an early dinner in Salt Lake City in stead.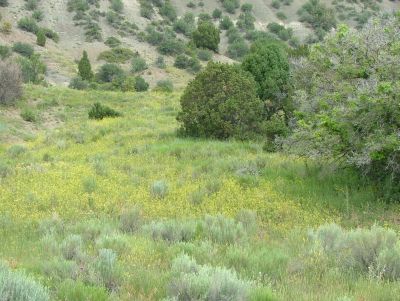 Near Soldier Summit Dorte and I visited a rest area where we had seen a lot of funny little chipmunks, and at this rest area, there was also rest rooms, so Tim and I decided to make a stop there. Dorte and I didn't get to take pictures of the small animals, and I would correct that now. Unfortunately it wasn't a succes, as there was approx. 12 miles of roadworks, before and after the rest area - and it was closed! So we continued to Provo, where we met I-15, which we took the last miles to Salt Lake City. Throughout this stretch, there was a speed limit of 65 miles per hour, but absolutely noone drove less than 85. It was the first and only time we observed the speed limit being breached so consistently, and I must confess that even we just followed along. Luckily we encountered no police on the road, because I've never actually been on a tour in the United States where we experienced so much speed control with both cameras, handheld radars, etc. as in 2010. Especially in California, there had been police controls everywhere and many places in Arizona as well.

In Salt Lake City, we found a hotel at E 400 South, not far from the center of town. All roads are numbered from the Temple of The Church of Jesus Christ of Latter-day Saints. E is an abbreviation for East and means that you is on a street which runs in an east-west direction and is located east of the temple. South means that the street is located south of Temple and 400 is the fourth street in that direction. In the north-south direction, a street named eg S 300 West, and it tells that it is the third street in the north-south direction in a west of the temple and that you are south of it. Once you understand the system it is very easy to navigate in Salt Lake City. Not least because it just continues like that. How far I don't know, but on the highway, we passed the exit for E 13800 South, representing an east-west street, 138 blocks south of Temple and then to the east of this.
After we got a room, we went out to take a look at the town. When we left the hotel, we went right and got to a street in the north-south direction, which - to make it really easy - does not follow the system completely. It's called South State Street, which still indicates that it lies south of the temple, but State Street is called so because it leads up to Utah's capitol building.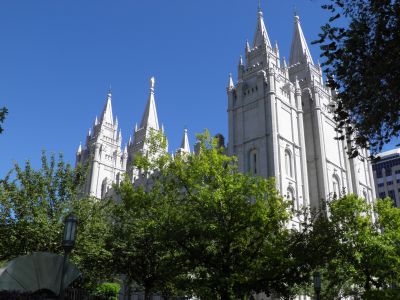 We walked to Temple Square, the city's "central square". Most buildings in this area is linked to the LDS somehow. Besides the temple, you also find the "meeting hall" which Dorte and I last time mistook for the Tabernacle. The Tabernacle is located here as well, and this time we found it. The Tabernacle, original home of the world-famous Mormon Tabernacle Choir is open to the public, so here we entered and took a look at their concert hall, which is pretty impressive. Actually the choir mostly performs in the newly constructed conference center next to the temple, where there is room for many more spectators, but they still appears in the tabernacle from time to time.

We continued north to E North Temple, the street just north of the Temple Square. Here there are several buildings belonging to the church. We went south again, this time on what really is the temple front. At the top of the middle tower of the temple is a golden statue, which I guessed depicts the angel Moroni, who is an important figure in the LDS beliefs, and an internet search later confirmed that I was right. On our way south again, we also passed a 60 storey office building belonging to the church, and Tim was rather impressed. On the way we saw Utah's Capitol in the distance. The road to the building, is guarded by "The Eagle Gate", an arc of metal with a large, two-ton eagle on top. Previously it was the "gateway" to the farmhouse, owned by Brigham Young, second prophet of the mormon church and Utah's first governor.

On the way back we passed the house that Brigham Young had lived in, called the Beehive House and Lion House next to it. Here Brigham Young lived with some of his 54 wifes. Some sources believe that he actually only had married 27 of them, and "inherited" the rest. Anyway even 27 is quite a number to keep satisfied. And just think of the number of mothers-in-law! Young died not from overwork as I would have expected, but from cholera, 76 years old.

Eventually we decided that we had seen enough and was hungry enough, even though Tim was ready to convert, when he saw how pretty some of the LDS girls were, so to avoid that, I guided him in directon of the hotel. On the way we passed Mo's Neighborhood Grill, and even if it was only about 5 PM, we decided to have dinner, as we had neither breakfast nor lunch. The food was excellent and since we were the only guests there were also plenty of room.

- Return to Father and Son tour -
- Return to Travel stories -