A short visit to Mesa Verde National Park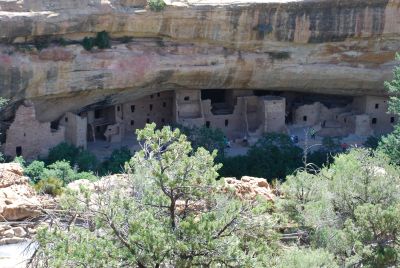 After our visit at Monument Valley, Mexican Hat and the closed Four Corners Monument the day before we were only going a little bit north from Cortez, Colorado to Moab, Utah, but as we had a lot of time, we decided for a short detour and a brief visit to the Mesa Verde National Park.

We drove 10 miles east from Cortez and took a small road to the national park. When we arrived at the park entrance there was a long queue and a park ranger walked along the queue and sold tickets - or in our case, controlled our pass. She told that there was a 10 mile roadwork, with only one lane open. Once it was our turn to drive,we had to follow the "pilot car" and then there would not be time to buy tickets in the booth. After approx. 20 minutes, it was our turn to drive, and we drove along at a slow pace along the mountain road up to the mesa top. After 10 miles the pilot car turned back, and we were allowed to drive on our own, but it was still not particularly fast, because we were in the middle of a long queue. Further up the hill we met more roadworks, but they were short, and we did not wait long at any of them.

The first place we had decided to make a stop was at Spruce Tree House, ca. 5 miles after the Visitor Center and 18 miles from the entrance. Here we found a place to park the car, and armed ourselves with a bottle of water from the cooler, and then we got underway. Spruce Tree House is like Montezuma Castle (see A house on a cliff...) a cliffdwelling from the time of the Ancestral Pueblos. This dwelling is built on the cliff side in a relatively narrow canyon. The buildings, for there are several, are built between 1211 and 1278 and are the national park's third largest cliff dwelling. The buildings comprises 130 rooms and eight "Kivas, circular rooms used for ceremonial purposes. The buildings are built in a natural "alcove" on the hillside. The place was "rediscovered" in 1888 by two cowboys who were looking for lost cattle. It was very exciting to see, and we walked around for a while, and heard a ranger talk about the tree which gave its name to the site, but which had now disappeared. It had stood in front of a tenement and it has been speculated, that the original inhabitants had used it to get to the houses, which however is doubtful. The tree was a Douglas fir, but later it was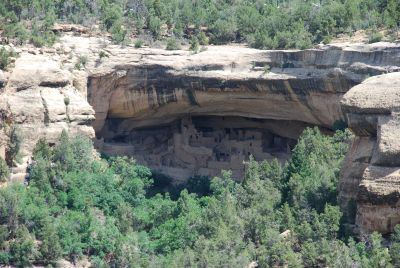 discovered that "Douglas fir" was not actually a fir, spruce is not much better, as it is also not a true spruce. Actually the Douglas Fir belongs to the genus "False Hemlock" but now it's probably getting a bit of botanical. We walked back up, and although the path rises only 40 meters, we were actually both breathless and sweaty, when we reached the top, not least because the temperature had risen considerably since we went down. When we got up, it was 95 degrees, so it was probably even warmer in the valley.
When we got up we went for a drive up on the mesa along the so-called Mesa Top Loop. From here we had the view of other rock buildings, such as Balcony House and Cliff Palace, which with it's over 150 rooms and 23 Kiva is the park's main building. It is estimated that about 100 people lived at Cliff Palace. Cliff Palace was built around 1200 and left again about 1300 Why the inhabitants left the place is not clear. Drought and poor harvest may be part of the explanation, but attacks by hostile tribes may also have played a role, because some of the houses were abandoned while meals were still on the tables.

We could have visited Cliff Palace, but it required an extra ticket, which we should have purchased at the Visitor Center, and then we would have had to wait our turn. Cliff Palace can only be visited on guided tours and you have to climb a lot of vertical ladders to get up from the site again. We therefore just continued the tour on top of the mesa, where we saw the ruins of the so-called Sun Temple, a D-shaped building, the living descendants of the Ancestral Pueblos believe has been a ceremonial building a, temple.

After the tour of the loop, we decided to proceed to Utah, but first we have to pass the road work again and it took a while, so it was almost 2 PM before we were out of the park . We drove back to Cortez and then on to the northwest along Route 491 to Utah. We got to Moab without additional stops, and found a hotel for the first night of our stay. We had already booked a hotel for the second night, but they had nothing free when we got there.

- Return to Father and Son tour -
- Return to Travel stories -