Just one more bridge to cross
From Opelousas to New Orleans is approx. 155 miles taking the fastest route and 135 miles taking the shortest. We chose none of these routes though, but took a somewhat less direct route. But even so, we didn't have to go so far, so we left the hotel a little later than usual. Before we left we tried out the included breakfast. It proved to be a bad idea. Unlike the Danish and many European hotels included breakfast at American hotels and motels can be rather sparse and what is there is not always resupplied when gone, and it was definately the case here, so when we entered the breakfast area there was nothing left. So we decided to find somewhere along the way. So we headed for the interstate and drove south to Lafayette, where we found a place to have breakfast. After breakfast we did not return to the interstate, but drove south on the old U.S. Highway 90, that we two years earlier had traveled on through Southern Mississippi.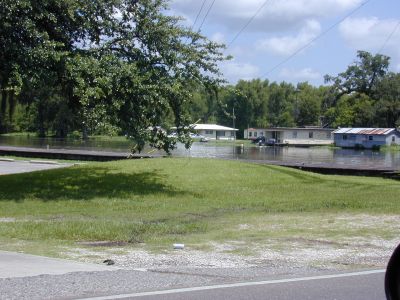 On this side of New Orleans, the road makes a bend to the south and then back north, so if you follow it all the way you arrive in New Orleans from southwest. The area it runs through a part of the so-called Acadiana. The first stretch of road passes through what is known as The Cajun Heartland. We drove south through this area, which is pretty exciting when it comes to nature. We passed the towns of New Iberia, Jeanerette and Franklin and Morgan City,. On this stretch U.S. Route 90 is a relatively narrow road that leads through fields of cotton, rice and sugar cane, interspersed with swamps, marshes and bayou's. The bayous are typically home to many interesting plant and animal species and therefore verey exiting to drive along. In Morgan City, we left the highway and turned north on even smaller roads, including Louisiana State Route 70 past a series of lakes where there was a lot of people who were busy enjoyng the weather by sailing around in different kind of boats. Once more we passed through exciting landscapes, up to Mississippi River that we crossed near the town of Donaldsonville.
From Donaldsonville we continued towards I-10; not because we wanted to take the interstate to New Orleans, but we followed I-10 east east until we met I-55. Then we changed to that interstate heading north between Lake Maurepas and Lake Pontchartrain. That is the same road that we had taken two years earlier in the opposite direction. When we reached Interstate Highway 12, which is also called the Republic of West Florida Highway, we turned east again. If someone today wonder how Florida comes into play here in Louisiana, so it has nothing to do with the state of Florida. But for 74 days in 1810 part of current Louisiana was an independent republic, which was named Republic of West Florida. This republic also included parts of Mississippi and Alabama, but no part of the Florida of present time. Moreover, there is another specialty of Louisiana. All U.S. states are divided into counties, except Louisiana, which instead is divided into parishes and the eight southeastern parishes, that was part of the shortlived republic are collectively known as The Florida Parishes to remind of the former republic.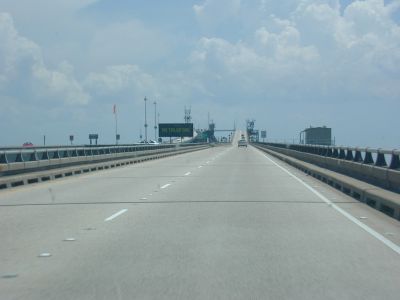 Well, but why now this detour instead of just taking the main route all the way to New Orleans? The reason was that we would like to arrive to New Orleans from the north. Not because we normally have any preferences for that specific corner of the world, but because then we would arrive to New Orleans by bridge. And not just any bridge, but the Lake Pontchartrain Causeway, the longest bridge in the world which runs entirely over water. In fact, there are two parallel bridges, one carrying the northbound lane, and another carrying the southbound. The bridge is about 23.5 miles long and is a toll bridge, but this time we had no trouble with the payment, not like the Dulles Toll Road. The bridge is a low bridge, and the road is just a few feet above the lake surface. Eight miles south of the northern coast, is a bascule that can be opened to allow ships to pass, and in two other places there are some small "humps" which can not be opened, but where small vessels can sail through. But otherwise it is flat as a pancake - or rather, it is actually not! The bridge is carried by over 9,500 pilings, which means that the distance between them is only around 30 feet, and between these the road arches up a bit, so when you drive with it feels exactly like being on a ship in a seaway, and the low height above the water means that there are many reflexes from the sun shining on the waves. This can almost hypnotize the driver, so local authorities actually recommend that you do not cross the bridge more than once each day. But on the other hand it is an experience to see the New Orleans skyline become visisble in the haze, when you approach land again.

The hotel we had booked from home, Hampton Inn Metairie is located on Causeway Boulevard, which is the bridge's extension inland. Also here we had to deal with a service road, and again we managed to go too far, so we did not exit the Causeway at the right exit, but had to take the next exit, which lead us unto I-10 going west. At the next exit we turned around and finally we managed to get back to the hotel. Despite this detour, it was only 2.40 PM when we arrived at the hotel, so it turned out that our room was not yet ready. Instead we drove to a large shopping mall, Lakeside, which was just across the road. It was not that easy to get there though. First we had to take some small streets around the hotel and then on to Veterans Boulevard where we wanted to turn left. Unfortunately the boulevard had a dividing strip, so we had to turn right in stead. At the next intersection U-turns and left turns were prohibited, so we had to continue straight on "Veterans", until af break in the dividing strip, where we could make a make U-turn, and finally we could get in the right direction to the mall.

There were some interesting shops in the center, and we both bought some clothes and then just looked at the many shops and eateries, before we returned to the hotel and were accommodated. When this was done we went for a drive in New Orleans. At the visitor center in Lake Providence, we had got ourselves a tour map, and that was what we roughly followed. However, we could not drive all the way, since some of the streets were closed. It was the 4th of July and there were apparently planned some events that needed the streets to be closed to cars. We also saw many people who came shuffling with barbecues and garden furniture into various parks. We didn't participate in the festivities, but returned to our hotel passsing through Garden District and Riverbend. Before we went to our rooms though, we had dinner for the first time on a Hooters restaurtant. Later we watched fireworks from our hotel window.