Rocks in many shapes and colors
After our visit to Grand Canyon, we were heading north. This was to be the third time we were celebrating 4th of July in USA, and it was to be a day with a few added surprises. As we knew from previous experiences, it could be difficult to get a hotel room on the Fourth of July, we had booked one from home, in the small Utah town Blanding. Therefore Blanding was the final goal of the drive from Williams, Arizona.
We left Williams rather early in the morning, heading east to Flagstaff. The sight San Francisco Peaks, north of town gives it a very distinctive profile, when you drive by on I-40. In Flagstaff we left the interstate and turned north on US Route 89. A few miles north of Flagstaff we left the highway, and made a stop, to take pictures of San Francisco Peaks, one of which is 12,633 feet high Humphrey's Peak, highest mountain in Arizona. From the same rest area, we took a look at Sunset Crater, a volcanoe, not far from US 89. The top of the volcano is 8,042 feet above sea level, but as the bottom of the cone is on top of the Colorado Plateau, bout 7,000 meters above sea level, the cone is only approx. 1,100 feet high. We continued north, and in Gray Mountain, 40 milies north of Flagstaff, we entered the Navajo Reservation and continued north on US 89, to the small town of Cameron.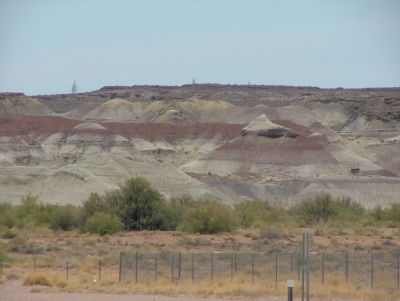 Here we made another stop to visit the Trading Post there. We bought a few souvenirs, and looked at the dry Little Colorado River, that passes right behind the trading post.
Cameron is located in the western part of an an area called the Painted Desert. The area stretches in a southeasterly direction from Grand Canyon to the border between Arizona and New Mexico. Earlier on the trip, we had visited Mount St. Helen, the great redwood forests in California, the Mojave Desert and the Grand Canyon, and already later the same day, more natural beauty were planned. Even so I remember the journey through this amazing landscape, as one of my favorite nature experiences in the United States. Not because the landscape was anymore beautiful than some we had already seenm and some we were to vsit later on, but maybe because it was a surprise. We were expecting Grand Canyon to be grand, and later Yellowstone to be one of a kind, but we had'nt expected anything like this. The desert consists of mountains and hills made of sharply defined layers of rocks with different mineral content, separated by a layer of organic material (the area was once a seabed), and this causes the desert to appear as if the hills are painted with a brush in gray, yellow and especially pink shades. Many of the colors change as the light changes, and they were said to be even more beautiful at sunrise and sunset. The Painted Desert continued as we left US 89 14 miles north of Cameron, to turn east on US Route 160, but after Tuba City, the desert extends southeast, and the landscape changed once again, as we passed Black Mesa, which is actually almost black because of the coal, found in the area.
On our way northeast, we passed through small towns like Tonmalea and Cow Springs, both towns with less than 500 inhabitants. Just outside Kayenta we drove through Marsh Pass around 6,700 feet above sealeavel. In Kayenta we left US 160 and turned north along US Route163, which leads to the Utah border and continues north. The road also passes through the outskirts of Monument Valley and the Monument Valley Navajo Tribal Park. Here we left the highway to visit the park. Between Kayenta and Monument Valley, we had experienced a "Long and Lonesome Road", as US 163 was almost straight, and we were the only people on the road at that day and time, except from a few other heading in the opposite direction from time to time. We left the main road and drove to the park's visitor center, where we both enjoyed the view of the many buttes, that is the reason for the park's name. In the restauntant we enjoyed a cup of coffee and some fruit pie. We only saw a fraction of the park, but what we saw was very impressive. Unfortunately we didn't have time to stay, as we had to get to Blanding.
Mirage
Leaving the park, we continued north on US 163 into Utah. We made another stop in a village called Mexican Hat, which is rather small. At the 2000 census there were only 88 people living in Mexican Hat. The village is located at the San Juan river, and is named after a very distinctive rock which you can see just outside town. Of course it was not enough for us to view the rock from a distance. We left the highway and drove down a small dirt road toward the rock. On the way we overtook a pedestrian. It turned out to be a young lady,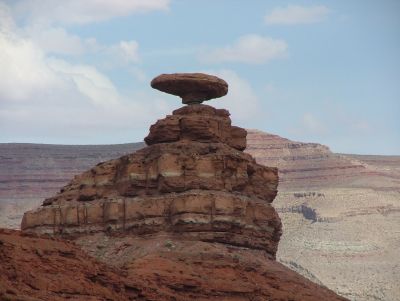 dressed only in a bikini, who looked a little annoyed, maybe because of the dust whirled up by our car, even with a speed of less than 10 miles per hour. I would have liked to talk to the girl, mostly to learn where she was headed in the outfit, in the direction she went, there was absolutely no water in sight - only desert, rocks and more desert, but maybe it is possible to swim in San Juan River, and may have been her goal. Unfortunately, she had disappeared when we drove back toward the road, so either she passed "the hat", which she hadn't had time for, or maybe she simply was a mirage of someone walking on a beach in California!
After taking an appropriate number of pictures of " the hat", we continued north with no more stop before we reached our goal in Blanding, about 50 miles northeast of Mexican Hat. Here we located our hotel, and got a room. After unpacking and relaxing for an hour or so, we were ready to celebrate the 4th of July together with the locals. But that didn't happen as it were.
We went to the front desk to inquire whether the desk clerk knew any good restaurants. It turned out that there were only two in the entire town (3,000 inhabitants), and she was not sure if they were open, since it was The Fourth of July. One was just across the street from hotel, so without leaving, we discovered that it was closed. The other restaurant was at the edge of town in the direction we had come from, so we returned to the car and headed back in the same direction, and indeed we found the restaurant. Unfortunately this place was closed as well, so it seemed that we wouldn't havce abny fine dining on this 4th of July. The only thing that was open was a subway diner,so as not to go to bed hungry we purchased a couple of sandwiches to go. In a nearby supermarket we would have bought a few beers, but they didn't sell liquor. According to the cashier we had to drive 20 miles north to the state liquor store, if we wanted to drink anything stronger than coke. We gave up on that and settled for a soda. As there apparently were neither fireworks, parades nor any other official celebration of Independence Day, we returned to the hotel and celebrated the holiday ourselves, having cold sandwiches and soda. Another surprise on the surprise trip, but this one was of the more disappointing kind.
Along the Devil's Highway
The next day we had planned a short trip from Blanding to Moab only about 80 miles north. But instead of taking the direct route, we decided on a small detour. We therefore left the town heading south and continued in thaty direction until we met with Utah Road 262, also known as Hovenweep Road. Here we turned east through some very exciting mountain landscapes to the town of Montezuma Creek. On this trip we passed open range and actually had to stop because a herd of horses crossed the road. In this area ​​the Utah desert was not red, as it had been further south and also further north, but rather greyish yellow, and there was even rocks with greenish coloration. We reached Montezuma Creek without problems, but then we made one of the few navigational errors we had made in the USA until then and continued straight ahead at an intersection, where we should have turned. We ended on a dirt road, and decided to turn around and return to the intersection. Later we learned that we could have continued on the dirt road, but we didn't know at the time. At the intersection we changed to UT 162, until we once again met with US 160. We would have met with 160 if we had continued on the dirt road and somewhere along the road, we passed the Colorado border. When we reached US 160 we turned southwest and crossed another border, this time between Colorado and New Mexico.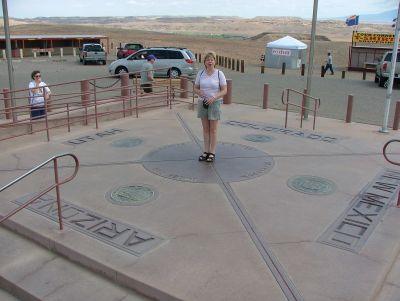 But why all this moving around in several states? Well, we simply wanted to visit the Four Corners Monument, located inside the Navajo Reservation. This is the only place in the U.S. where four states meet, and here a monument is erected. The Navajos charged a small entrance fee, but not too much. There weren't many people at the monument on that 5th of July, but we still had to wait in line to stand on the monument itself, to be in four states at the same time. We waited our turn though and took a few pictures, but as it was rather windy, we didn't stay for long.
We returned to the main road and followed this eastward into Colorado, where we tried to locate triple-6 (U.S. Highway 666) near the town of Cortez. We like maps and normally trust in them, but for some reason our now very tattered and well-worn Rand McNally Road Atlas, who have followed us on several US Roadtrips, and which had served us fairly faithful failed us here. Maybe we should have bought an updated version :-). Thus we tried in vain to locate US Route 666, which should run from Gallup, New Mexico via Cortez, Colorado to Monticello, Utah. Our plan was to meet the road somewhere in Cortez and follow it to Monticello, and we did find a road, that went in the right direction. It was US Route 491 though, not US 666. Anyway we followed this road and it actually lead through Cortez and continued northwest to Utah and finally to Monticello. Later we learned that the road had been renumbered, as the number 666 to many people was connected with the number of the beast in Revelation. 666 is considered as representing the Antichrist or Satan, and U.S. 666 was indeed called The Devil's Highway. As many traffic accidents happened on the road, some believed that the road was cursed and that the devil reigned here. Therefore it was decided in 2003 to change the road number. Unfortunately for us, our 2002 edition of the Road Atlas had not foreseen this. And just as well, because we had had a more recent map, we had never looked up the story on how the Devil's Highway was cured of it's curse by changing it's number.

When we got to Monticello we stopped for a late lunch and then continued to Moab, and found ourselves a place to stay. In stead of 80 miles drive, we had driven 275 miles or almost 200 miles more than necessary, but we had some nice experiences. As it was time to do some laundry, we decided for a motel, that advertised with a guest laundry. We didn't do the laundry at that time though, but carried the suitcases to our room, and then took of once more.
2,000 arches
Our last goal of the day was Arches National Park about five miles north of Moab. There are around 50 miles of paved road (and some not paved) within the park, and we spent about three hours there. Wechose to take a closer look at four of the approx. 2,200 recorded arches in the park. It is the largest number of natural arches, which are assembled in the same area anywhere in the world. In addition, we saw a number of other things, such as petrified dunes and upstanding rocks, with or without overlying rocks, some looking most like an unmentionable part of the male body :-). But otherwise, the park is very beautiful, with the same reddish-brown color, that is also found in Monument Valley. The first stop we made was at Balanced Rock, an upright rock, 128 feet tall, with a balancing rock on top. We left the car and took a short stroll around the rock to look at it from all sides.

The first three arches we visited was Skyline Arch, Sand Dune Arch and Broken Arch. We took the paved road through the park as far as it goes, to a parking lot by the so-called Devil's Garden Trail. There are several arches farther out in the park, but here you have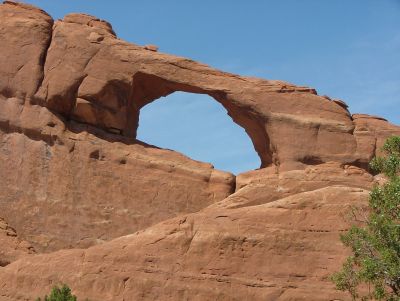 to walk quite a bit to get to those, but as it was late afternoon, we chose to walk to Skyline Arch, only about half a mile from the parking lot. This was the first arch we photographed in the park, but not the first in all, as we had already taken pictures at Wilson Arch south of Moab the previous day. At the next stop we visited Sand Dune Arch, also half a mile walk from the rest area. Sand Dune Arch has it's name from a large sand dune beneath and around the arch. The next walk took us from the same rest area to Broken Arch, almost one mile each way. On the way we had time to admire some of the flora and fauna in the area. Among other things, we saw various cacti, with and without flowers, blackbrush, juniper and "cryptobiotic crust" The latter is a layer of various microorganisms that are extremely important to life in the desert, and you are warned on several signs not to step on these crusted areas, as they are very fragile. As of fauna we saw only a small hare and some birds.

The last arch we had planned to see was Delicate Arch. It is probably the most famous natural arch in the world. It stands alone on a windswept cliff, and is by most people, including us, considered to be very beautiful. To get to this arch, you have to walk about around 3 miles with an increase in height of 500 feet. This walk can be tiresome, and you should expect to spend 2-3 hours on it. We didn't have that much time, so we chose to look at the arch from a distance. This can be done in two places. One, called Delicate Arch Viewpoint, located just 100 meters from a parking lot, and the walk here is "deceptively flat and unimpeded" (a Rowan Atkinson qoutation). The last option is to take an approx. half a mile long path with an increase of 200 feet to the top of a hill on the other side of the canyon, beyond which Delicate Arch is located. This gives you a good view of the arch, but you can not cross the canyon. As mentioned, we didn't have much time so we chose the latter solution, and although the path in some places was quite steep, it was worth it. The view from the top of the hill, both of Delicate Arch and of the area in general was excellent and we spent quite a while here before we returned to the car, and headed for the motel. On the way back towards the entrance we stopped to take some pictures of the petrified dunes. These dunes originally consisted of sand, but later deposits of rock pressed the sand into sandstone, and when the overlying sediments eroded away once more, leaving only the petrified dunes.
After dinner at some Mexican restaurant we returned to the hotel and our laundry. Later we sat in our room and enjoyed the view of the mountains in the distance that changed colors as the sun went down.
Changing landscapes
The next day we were heading north. We were leaving the desert, and instead slowly entering the Rocky Mountains. From Moab we drove north to Interstate Highway 70, and turned east. Heading for the Interstate, still on US 191, we ran into a series of road works, that continued on the interstate, and it was the beginning of a series of roadwork, which followed us for the rest of the trip until we was back in Seattle once more, no matter if we were driving highways or byways.
When U.S. Highway 191 left the interstate, we once more turned north. Going north the landscape began to change. The desert were no longer red, but more yellow-gray or white-gray, and shrub-like vegetation began to appear. As we got further and further north, the terrain also began to change. The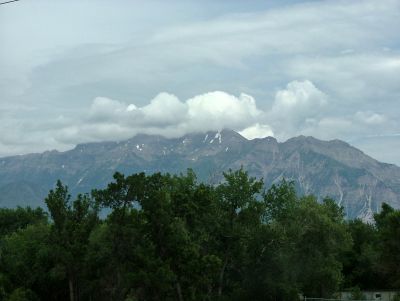 flat desert was gradually replaced by grassy hillsides, which became higher and higher and which were scattered with conifers, and suddenly it was all green, and one would not think that we just two hours earlier had been driving through desert sand. From the town of Price, we drove further into the mountains, and several times along the way, we were delayed by roadwork. Although both the U.S. 191 and U.S. 6 which we later switched to are highways, they are not particularly wide. So a blocked lane ment stop signs and slow traffic.
On the way from Price to the small town of Helper (2,000 inhabitants), and further up in the mountains at Soldier Summit, the road in many places follows the railroad line. This is primarily a freight line, but also passenger trains between Chicago and Emeryville, California use the tracks. Earlier we had seen some very long trains in Arizona, but a train we met here broke the record. A freight train, still with four locomotives in front was very long. I don't know how many cars were on the train, because when I had counted 120, we entered a tunnel, and then I could no longer count, but when we exited the tunnel again, the train was still at next to us, although it was traveling in the opposite direction. My guess is that there have been at least 150 cars on the train and it ended with a locomotive at the back too. Such a locomotive behind a train, is called a "Helper". In the old days these helpers, that helped trains climb to the Wasatch Plateau, were parked when not in use, and where they were parked, the town of Helper arose.
At a rest area near Soldier Summit we made a stop, and we watched a lot of uinta chipmunks that stood up on their hind legs to look at the outside world. Unfortunately, because we had left the cameras in the car, we nevet got any pictures. Soldier Summit is both a mountain pass, and a "real" ghost town, but by now most houses has disappeared, and only the foundations remain. After we had crossed the mountain pass at 7,200 feet altitude, we continued to the city of Provo. Here we met I-15, and took that to Salt Lake City, the goal of the day.