Drama in San Francisco
This should have been a simple albeit relatively long day of driving, but it ended up being more exciting than we would have liked.
From Barstow we headed north along California Route 58, which is actually a nice big road, despite the state road number. The road runs through a part of the Mojave Desert and past Edwards Air Force Base, where the space shuttles landed for many years until they moved the landings to Florida. After approx. 80 miles we left the wilderness desert and headed into a low mountain range. Just before you enter the mountains, you pass car producer Hyundai's U.S. test track and a little later Mojave Air and Space Port, an aircraft boneyard but also the place where the first private space flight, Space Flight One, started and landed. From Bakersfield we continued west on CR 58, which runs through a landscape with lots of orchards and later also vineyards. 15 miles later we reached I-5 on which we headed north.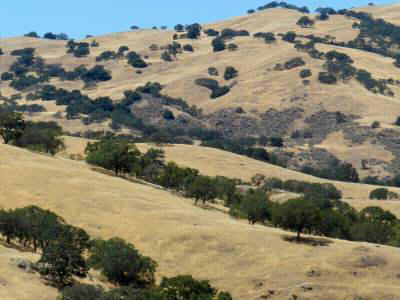 In 2006 Dorte and I were driving south from San Francisco to San Jose on U.S. Route 101 and from there via a small road over the mountains to I- 5 when we were going to Los Angeles and our plan this year was to do exactly the opposite, so we hurried up the I-5 for the next 140 miles until we came to CR 152, which was the road we were going to take through the mountains. The road leads past San Luis Reservoir, which supplies water to irrigate the fields in Southern California through the California Aqueduct. The road was not, however, small anymore. Since 2006, it has expanded from being a narrow, two-lane road to become a 4-lane road and was now categorized as a highway and named Pacheco Pass Highway. On the last part of the road before 101 it was still only a 2-lane road. It leads through relatively populated areas with even more orchards. Along the way you pass several stalls where growers sell their own products at reasonable prices , but we did not stop at any of these. When we reached 101 we turned north towards San Francisco.

At this point Tina was driving, and she managed brilliantly, although traffic got more and more heavy, the closer we got to town. 101 leads past San Jose and through Silicon Valley where we passed the headquarters of many of the major IT companies located in the area. When we got past the San Francisco Airport traffic virtually stopped. At the same time Tim got a need that we couldn't take care of in the car, so while he moaned in the back seat, Tina tried as good as possible to navigate through the traffic towards the city. As we were leaving the highway traffic came to a total stop once more, but in the end we got through and after a single navigational error, we arrived at the hotel near Fisherman's Wharf. At that time, Tim was almost desperate, so he jumped out of the car and left it to Tina and I to take care of the luggage and check-in. So we did and at that time Tina looked like a drowned cat and didn't feel very well. The luggage was brought to our room by a bellhop , so I gave Tina $ 5 and asked her to give him some tips when he came with the luggage while I went down to the reception to wait for Tim, who didn't know which room we were in.

When we got to the room again, Tina felt even worse, but she was still busy texting her boyfriend at home. Gradually she felt worse and worse with visual disturbances and she had difficulties moving her arm and her leg, and when she suddenly lost her ability to speak, we realized that this was serious, so I sent Tim down to the front desk to ask them to call an ambulance. Two minutes after he had left the "attack" had passed and she could both speak and move again and could get out of bed, but still had visual disturbances. Shortly after Tim's return we heard sirens and shortly after this a knock on the door and five people entered the room. Three were from Emergency Medical Service and two were from the hotel. The EMS people began to measure heart rate and blood pressure etc. Then entered three more people. It was the paramedics and they took over the work of the EMS who left the room. So did the two people from the hotel, although one, the assistant manager, emphasized that if we did need anything, we should just say so. Fortunately we did not. I don't normally mention hotel names on the travel pages, but I feel obliged and glad to thank the staff of Best Western Tuscan Inn for their help and the service provided during our stay.
The Paramedics felt that Tina had better come to the hospital for a thorough examination, so when they were ready they wheeled her to the ambulance and told us that they would take her to Saint Francis Memorial Hospital on Hyde Street, which was the nearest hospital. I rode in the ambulance while Tim followed in the rented car when he had it delivered by the valet. At this time Tina seemed allright She still suffered from disturbed vision in one eye to some degree, but otherwise she was OK. In the ambulance, she had an ECG (Electrocardiogram) taken, which was normal and so was blood pressure and blood sugar level. When we reached the hospital, she was placed in a bed and three nurses took care of her. One of them would then be her nurse (a male one at that) and he took another ECG, blood pressure, etc. Shortly afterwards, a doctor arrived and when he had gotten the whole story, he thought that it would be a good idea with a CT scan. Five minutes later, the nurse rolled Tina away and 20 minutes later she was back. Then we had to wait about 30 minutes for the result, and when Dr. Kim came back, he could tell that there was nothing to see on the scan but for the record he wanted to make another scan, this time with contrast fluid. Then Tina was rolled away again. At this time Tim returned to the hotel and so we should just call him when we were ready to go home. This time the scan took a little longer as the contrast fluid should first reach the head, but after 45 minutes she was back at the ER. After another 45 minutes of waiting, Dr. Kim returned and announced that the second scan didn't show anything abnormal either. He had conferred with a neurologist and they both agreed that what Tina had suffered was an attack of migraine with aura symptoms but without the headache, something that some migraine patients experience time and again. He felt that we could go back to the hotel and continue our trip two days later. Tina should probably not drive the car for the first few days and stay away from alcohol, which was no big sacrifice as she didn't drink alcohol anyway. He finally recommended that she went to see her own doctor when we got home, which she has, and everything seems to be ok.

As documents were made ready, I called Tim. While waiting for the ambulance, I had talked to Tina's insurance company, and I got an address in New York, where the hospital should send the bill, and while Tina completed the relevant papers Tim arrived, and as soon as we had finished the paperwork we drove back to the hotel. When we got back it was 11.30 PM and we had left the hotel at 6, do it wasn't much we got out of that first evening in San Francisco. Back at the hotel my phone rang and it was the insurance company once more, who wished to have an email address so they could send me a file number, so I sent it and then we went to bed. We had to get up early to go on a bus ride the next day.
A short bus ride in San Francisco
Next day we were going see San Francisco by bus and we had to be at the bus departure point 20 minutes before departure, which was at 9, so we got up early and got ready. Then we went down to the Embarcadero where we would take a tram to the Ferry Building a few miles from where the bus was to depart. Regrettably, a tram left just before we reached the stop, and when we discovered that they left at 20-minute intervals, we took a cab instead. It cost $ 7, but then we arrived in time.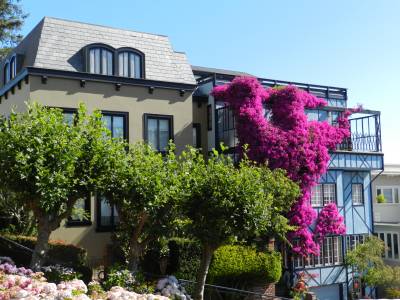 We checked in and while we were waiting for departure, Tim and Tina crossed the road to the Ferry Building to get something to eat. Before they returned the first group had left, but as three buses in all were leaving for the tour, it didn't matter. We got on the last bus, and because of road works we had to walk a few hundred yards to the bus. Tina felt fine after yesterday's scare, but she was very tired. The guide told us about the trip as we drove off to the first stop, which was Lombard Street. Here we walked down the winding street, while the guide told us about the area. Down at the foot of the hill our bus was waiting for us, and we proceeded to the next stop, Grace Cathedral on Nob Hill. On the way, the guide told us that we would spend 15 minutes at the cathedral, and from there we had to walk half an hour to Cable Car Barn and from there to Chinatown.

Tina could not cope with all this walking because of fatigue, so we informed the guide that we had to cancel the trip there and so we took a taxi back to the hotel where Tina lay down on the bed and slept like a rock. Tim would like to see the aquarium at Fisherman's Wharf, so while he went there, I looked after Tina while reading a book. When Tim returned a few hours later, he had completed his given task: to find a pharmacy. He then stayed with Tina while I went to the pharmacy to buy some migraine pills the doctor had prescribed the day before. 18 pills (for nine attacks) cost the tidy sum of $ 294 which I later got back from Tina's insurance company. When Tina later woke up again, she could see on the internet that she could buy exactly the same type of pills - of the same make - in Denmark for 53 DKK ($ 9,50) for 12 pieces. This illustrates what the public reimbursement in Denmark means to medicine prices . Fortunately, she didn't need the pills for the rest of the trip, but now she has them for any future attacks.

At dinner time Tina was awake and refreshed, so we went down to Pompeii's Grotto at Fisherman's Wharf, where we would have eaten the day before, and here we enjoyed once again their good food. They have some nice crab and fish dishes. After dinner we walked back along Fisherman's Wharf, and Tina experienced that a summer in San Francisco is not necessarily hot. "The coldest winter I've experienced was a summer in San Francisco" Mark Twain wrote. She had to buy a jacket in one of the many stalls along the wharf that make a living from tourists being deceived by the temperature. While it was about 90 degrees when we were down around San Jose and about 95 further north in Crescent City, which is located right along the coast, it was only approx. 60 in San Francisco.

After the purchase Tim walked back to the hotel, while Tina and I went down to Pier 39, where there are plenty of shops, entertainment and sea lions. That is, the sea lions were not actually there, despite the fact that we had promised Tina that she would see them. In stead, she photographed a flying pelican.

- Return to Three on tour -
- Return to Travel Stories -