San Francisco
revisited
This summers roadtrip started in San Francisco. 15 hours flight from Copenhagen via London to SFO. Then we picked up our rented Camaro and drove straight to our hotel at Fishermans Wharf. It was now only 3PM, so we had to figure out what to do, not to fall asleep, as we had been up for around 20 hours.
Day 1
The next day we were going on a sightseeing tour which should start from the Ferry Building. I suggested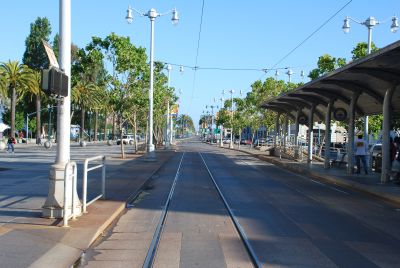 we should walk to the Ferry Building in order to find out how long it would take, so that we knew when to leave the hotel the next morning. It turned out to be somewhat longer than we had expected, almost 4 kilometers (2.5 miles), so when we got down there, we agreed on taking a tram the next morning.
From the Ferry Building we chose to walk along Market Street, which is also the terminus for cable cars, and return to Fisherman's Wharf by cable car. I thought I remembered from my last visit, four years earlier, where the cable car terminus was situated. So I started up market Street with Tim in tow. At a bus stop we found a map, and I thought I located the terminus at Hyde Street. (It is actually at Powell, as we later discovered.) Unfortunately we had only walked one third of the way to Hyde Street, so there was still a bit to walk. When we finally got to Hyde Street, we had walked about 4 km on Market Street. Here we found a better map, and discovered that we had to walk back (another 2 km) to Powell Street.
At that time, Tim had got an a solid blister under one of his feet, as he was not used to walking long distances with bare feet in his sandals. When I told him that we had to go back the same way, we came, he got a just a tiny bit angry and was very much opposed to further walking. We did however walk back to Powell, where found the cable car. The first one leaving was almost empty, so we could even get a seat and rest our feet. We took the cable car to Mason Street about 500 yards from Fisherman's Wharf. From here we walked down to the wharf and continued on Jefferson Street to the restaurant Pompei's Grotto, where Dorte and I ate four years earlier. We did the same this time, and after dinner, we walked back to the hotel. All in all we walked about 12 kilometers (7.5 miles) that afternoon.
Day 2
Next day we spent $ 2 each on the tram to the Ferry Building. Here we were already before 8 AM and the bus didn't leave until 9, so there was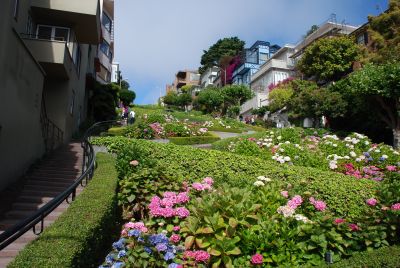 plenty of time for a short walk in the Financial District. When we got back, the bus was ready and then we took off together with about 25 other people. The first stop was at the top of Russian Hill. From where the bus parked, we walked past the Filbert Street, which with its 32% grade is one of the steepest streets in the city. From there we went to Lombard Street at Leavenworth Street. This meant that we could look up the "crooked" part of Lombard Street, that Dorte I had climbed on our previous visit. Here out guide told us about the parrots, that lives in this area and we also got the story of Coit Tower.
Next stop was Chinatown. Here we walked along Grant Avenue, the "main street" in Chinatown. Chinatown in San Francisco is the oldest Chinatown in North America and has the largest Chinese population outside China. Here we visited Portsmouth Square, that at the dawn of time - or at least the beginning of the 1800s - was the city's main square. Here were both the city's former town hall and its prison, but both buildings have long since disappeared.
Our next stop was at Grace Cathedral on Nob Hill, another of the city's 44 hills. Grace is built in Gothic style and completed in 1964. The church is famous for its stained glass, and Tim got some excellent pictures of those. From the church we continued to Alamo Square. It is one of the fixed stops for almost all tourist tours in San Francisco, partly because of the view over downtown, but also because of the series of Victorian town houses called "The Painted Ladies" because of their colors. When Dorte and I were here in 2006, we took some pictures of "the ladies", but this time we went a step further because we were allowed to visit one of the houses. We were the last group of visitors who were allowed into the house. The house has just been sold, and the future owners were not interested in letting strangers into their home. The visit was very interesting, and the owner, who showed us around himself, was very interesting as well, when he told how he had restored the house and had tried to bring it back to Victorian times. Among other things, it was one of only two houses in San Francisco, which were lighted by gas. after the visit, we went up to the square itself and enjoyed the view over the city from up there before we
drove on.
Next stop was Golden Gate Park, where we could choose between the Japanese Tea Garden and the Tower of the De Young Museum. Tim and I decided for neither of them, and just looked at the surroundings. From Golden Gate Park we continued through the Presidio. We did not make any stops inside the Presidio, but continued to the site of the 1915 Wold Fair. We didn't enter, but looked at the buildigs from the outside. After visiting the
exhibition buildings, we drove across the Golden Gate Bridge to the viewing platform on the north side of the strait. Here we had the final stop on the tour. Unlike four years earlier, this time the bridge was not hidden in fog, so we got some fairly good pictures of it. From the bridge we drove to Sausalito, where we ate lunch before taking a ferry back to San Francisco.
Well back in town, we took a stroll on Pier 39, the most famous and most touristy of the piers forming Fisherman's Wharf. Here we looked at people, souvenir shops and sea lions. That vening we dined at Hard Rock Cafe before returning to our hotel.