A short detour
When we made our preliminary tour plan, before leaving Denmark, we thought that we would drive from Bowling Green, Kentucky to Florence, Alabama and then continue to Jackson, Mississippi and further on to New Orleans. As we were now already in Tennessee we changed our plan, so we would go from White House, Tennessee to Tupelo, Mississippi, and then spend the night there. Then we would continue along the Natchez Trace Parkway to Natchez and then from there to New Orleans. However, no interstate leads directly from White House to Tupelo, or even in that direction. And no interstate meant no Welcome Center!! (A somber fanfare would have been in its place here :-)) We could take I-65 down to Alabama and drive west to Tupelo, but that would have been too easy Therefore we decided to drive to Nashville and then take I-40 west to Memphis. From here we would change to I-78 southeast to Tupelo. As it later showed even this plan changed a bit.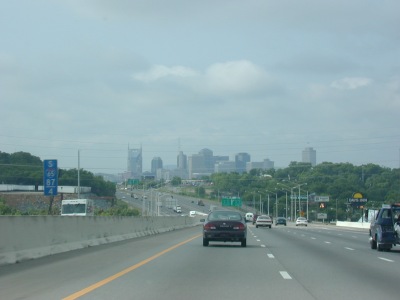 Breakfast at the hotel in the White House consisted of a cookie, so we chose to eat elsewhere. We found a place in a small village just outside Nashville, where we had a really good breakfast before we continued toward Nashville. The highway goes straight into the city and a little downhill, so we could really enjoy the city skyline. That is, we enjoyed it until we were overtaken by a pickup truck with a loose dog on the bed. It seemed a little dangerous at 80 mph, but later we met more trucks with dogs and the dogs apparently enjoyed it. In Nashville we changed to I-40 and continued west towards Memphis, a trip that almost was completely uneventful, except that it rained pretty much when we crossed the Tennessee River, so we couldn't really enjoy the magnificent scenery. Along the way Dorte mentioned that in her opinion we could not pass Memphis without a visit to Graceland.
When we reached Memphis, we had no trouble finding Elvis Presley Boulevard and Graceland. Of course we had to stand in line for about 45 minutes to enter. This happened on the opposite side of the road from Graceland. On that side, beside the ticket office you can also visit a museum with Elvis' cars and planes, and the inevitable souvenir shop. At the entrance we were handed a small digital audio player with headphones, and then we got on a bus to the opposite side of the road. We spend a couple of hours walking around the open areas of the premises, and also made time to look at the tombs of Elvis and his relatives. When we had seen enough, we went back to the car, and drove south once more.

Instead of taking I-78 to the southeast though, we decided to take I-55 south. We visited the Welcome Center, and for the first time were offered free drinking and muffins as well ast he service we were used to from other Welcome Centers. After our visit here, we continued south on the interstate for about 40 miles to the small town of Batesville. Here we left the freeway to refuel the car, and to call home and tell the family that we were still alive. When we were about to go on, we saw a sign for Sardis Dam. We thought the name sounded interesting, so we decided to see this dam.
It turned out to be quite nice, as was the lake that lay behind it. When we had seen enough, we continued south until we intersected with U.S. Route 278. Here we turned east toward Tupelo. The first long distance to the town of Oxford, the road ran almost in a straight line and for sure it was the longest stretch of straight road, we had experienced at that time. In several places you could see the road almost 6 or 7 miles ahead. Oxford is home of Old Miss, the state university of Mississippi, but we didn't not stop for a visit.

Just after Oxford, we passed Denmark, one of the 18 townships in the U.S. with that name. We didn't stop here either, but continued to Tupelo, where we found a hotel. After moving our luggage to the room, we went out to buy a few items at a nearby supermarket and to get some dinner. Then we went then back to the hotel. We were to tired to visit the Elvis Presley birthplace, even if it was just a little down the road from the hotel.
The visit to the Welcome Center (and Graceland) was about 170 miles longer than the more direct route from Whitehouse to Tupelo, but it was well worth the trip.