Lost in South Carolina
Crowded or filled up parking lots in cities are a problem because it keeps the tourists away, like it did to us in Georgia on this otherwise fine day.
Today's goal was Charleston in South Carolina, but along the way we wanted to make a short stop in Savannah, Georgia, where Tim had never been before. We took I-95 north as fast as the speed limits allowed. Along the way we had to stop to get fuel, and we also had to switch driver, but otherwise we continued without stopping to I-16, which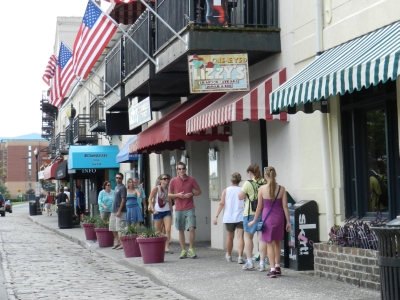 we followed to Savannah. The Interstate goes right into the city center, but unfortunately we ran into a roadblock, which delayed the process a lot, so it was about noon when we arrived. To visit the historic district of Savannah on a Saturday at noon in the car is a bad idea. It was absolutely impossible to park anywhere. We drove through both River Street and several nearby streets several times, but find an empty space we did not. Neither at the small cozy squares that are plentyful in Savannah was it possible to find a spot to park the car. We decided therefore to solve the problem by taking another drive through the River Street and this time so slowly that we could manage to enjoy the view and get some pictures, and then continue through some of the small squares where we would do the same.

We took the trip once more, while we photographed as much as we could. So even if I got to see the places I had visited ten years earlier, I nevet got to visit them. We took I-16 back to I-95, and continued north across the border to South Carolina. When we met U.S. 17 we switched roads. It was on this road that we (with no luck) had looked for ladies selling sweetgrass baskets in 2002, and we didn't pass any on this occasion either. As we approached Charleston, we agreed to take a look the city first, and then find a hotel afterwards, but even before we had crossed the Ashley River and had got to the peninsula where the old part of the city is located, we had changed this decision. We would not stay in Charleston at all, but eat dinner here, and then continue up to Santee, where we also stayed in 2000.

In Charleston, unlike Savannah it was easy to find a place to park, as the city has some parking garages near the center. We found one near King Street, and left the car there. Then we armed ourselves with caps, cameras and bottles of water, and went on an expedition in Charleston. The first phase of the expedition took us down to Market Street were we would visit the old market buildings, and also see if the peanut shop we visited in 2000 and 2002 still existed. It did, and we even entered it, but we managed to get out without either of us buying anything. But it's quite interesting to visit a store that basically only sell peanuts and peanut related products. We postponed the market buildings until a later time, and instead we continued down the street to the Wild Wings restaurant where Tim had his first ever burger in the U.S. back in 2000. We discussed having dinner there, but Tim did not think he wanted to wait in the city for dinner time. We decided however to delay the decision until we had completed out tour of the town. We continued our walk along East Bay Street, leading down to The Battery, which was a part of Charleston, that Tim would like to revisit. On the way we passed The Old Custom House and Provost Dungeon, which is an important building in South Carolina's history. It was from the steps of this building that South Carolina declared itself independant in 1776. It was in this building that the state as the first in what was to become USA,m ratified the new constitution, and it was from the stairs to the building that it once seceded from the United States in 1860. The building was also a prison, and Gentleman Pirate Stede Bonnet was incarcerated here until they executed him on 10 December 1718 on a sandbar in the harbor.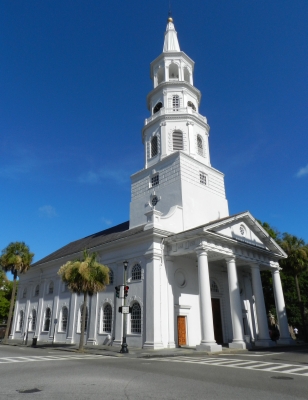 The Battery is on the south point of the peninsula between the Ashley River and Cooper River, aznd many large antebellum mansions are found in the neighborhood. It was also here that we ten years earlier first saw houses with men's and woman's balconies. Straight and narrow for the men and rounded and wide for the ladies, to make room for their wide b......, sorry, wide crinolines. We took some pictures of mansions and the harbor,with views of both Castle Pinckney and Fort Sumter, two of the four forts that protected Charleston's harbor. We also saw a sandbar with a cross on it, which we agreed was the sandbar where they hung Stede Bonnet. It was'nt though, which we already knew, but why should the imagination be obstructed by pure facts? Where the real sandbar was, there is now and, in fact there is now a park, White Point Garden, on the southernmost tip of The Battery.

At this point, the temperature had gone up considerably and we were out of water, so we decided to return to Market Street and this time we walked up Meeting Street, another of the city's ancient streets with old, large mansion, but also with several churches. Charleston is called "The Holy City", exactly because of the many churches. We stopped along the way to take pictures of among other Nathaniel Russell House, John Cordes Prioleau House, South Carolina Society House and several others. Here in the street we found them, the basket-making ladies who were no longer on the country roads. I began negotiations with one of them for a small basket to take back home to my ex-wife, who enjoys these much. I managed indeed to haggle down the price a bit, but others would probably have done better. I'm not too good at haggling.

We went on up the street to the intersection of Broad Street. This cross is popularly called "Four Corners of the Law", because at every corner is a building that represents some kind of law. At the northeast corner of the intersection is the Town Hall, the city's law. On the northwest corner is Charleston County Courthouse, the state's law. On the southwest corner is a U.S. Post Office and Federal Courthouse, the nation's law and on the southeast corner, St, Michael's Episcopal Church, God's law. At the cemetery of St. Michael's two of the signatories of the U.S. Constitution are buried, namely John Rutledge and Charles Pinckney. I managed to take pictures of all four buildings before we went back to Market Street. Here we visited the market buildings, as we had previously decided.

When we had seen the market buildings, it was 5.30, and we decided to eat at Wild Wings after all, so Tim could get another reliving. As ten years before Tim ordered a burger, maybe even the same kind of burger as back then, while I enjoyed some spicy boneless chicken wings. For dinner we ordered our usual soda, but as Tim were to drive the rest of the way, I changed my mind and ordered the first and only margarita on the whole trip. When we were done eating, we walked back to the car, and redeemed it fromthe parking garage. Now we just had to get to Santee and find a hotel.
Lost again - again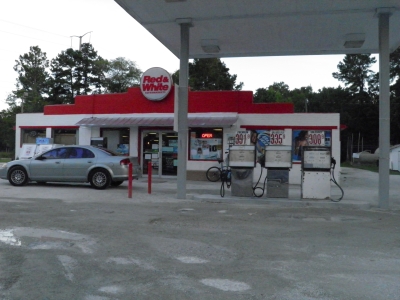 When in 2000 we visited Charleston and was returning to Santee, we didn't take the interstate but drove along small roads along the two lakes, Lake Marion and Lake Moultrie. We never saw any water however, as there were always trees between the road and lakes, but we managed to get lost, so much that we had to ask for directions along the way. We were also running out of gas, so we had to count our cash to buy gas at a very small gasstation right in trhe middle of nowhere, that didn't accept credit cards! Tim and I wanted to take the same route, and we were a little better off, because we had a more recent map, where the roads that we hadn't been able to find in 2000, actually was on, and we also had our trusty GPS. Unfortunately, it turned out that we got problems at getting out of the city in the right direction, and we had to turn back several times before we hit the right road. In return, we managed to pass both an air base and a naval station. At long last we succeeded in getting onto U.S. 52, the road that would take us up to the first lake, Lake Moultrie. Our GPS led us unerringly to the town Monck's Corner and South Carolina State Road 6, which we should follow along the lakes. So we did, just as before without seeing anything that just reminded us of a lake. We still had the GPS turned on and followed its guidelines, which was important as Route 6 has no number signs, at least not where we were. It didn't either 12 years earlier, which was the cause of our misery on that occasion. This time we blame it on the GPS, because even though we did everything it asked of us, we suddenly were in a residential area, and the road we were on was a dead end. TSo we had to turn around and go back, and once more we missed Route 6, and ended on State Highway 311, which went in the wrong direction. Later the GPS however got us back on the right track, and we got back to SC 6. At the same time, there were also signs for Santee, so now we knew that we were on the right track. Later we passed the gas station where we had filled up the car in 2000, but this time we lwere not out of fuel. We stopped, however, to take pictures of the place, which had evolved since then. There had been added two more pumps to the one there was then and there was a supermarket now as well.
Despite the new map and modern equipment like GPS, we once more had succeeded in getting lost in this area. I'm sure that Road 6 in South Carolina is bewitched somehow! But we finally got to Santee, found a hotel - without internet access, and rested for the night.
- Return to Cross Country Tour -
- Return to Travel stories -