"Thar she blows"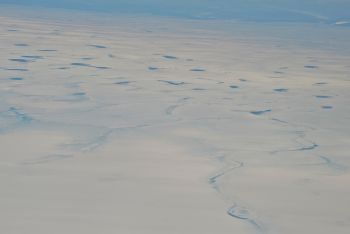 On June 23rd it had finally become time to go on another road trip in the USA after around 12 months of planning and looking forward to it. This trip would take us from Washington state in the west to New York in the east, but with a few detours like Texas and Florida. We flew with Icelandair from Copenhagen to Seattle via Reykjavik or rather Keflavik on Iceland. The flight was pretty boring, except that we had very clear weather over Greenland, so we could enjoy views of glaciers and later of the ice sheet.
We landed in Seattle four hours after take-off from Copenhagen (on the clock), but as Seattle is 9 hours later than Copenhagen, we had in fact been under way for almost 13 hours. In Seattle it was around 6 PM. We passed through immigration service very quickly, and it was also pretty easy to get our rental car so we left the airport around 8.30. We then drove north of I-5 and later turned west, to today's final destination: Anacortes on Fidalgo Island, 90 miles north of Seattle.
We were a little tired when we arrived. It was now around 5.30 AM on our biological clock, so after finding our hotel and getting a room, we went out to get some dinner, which ended up being a sandwich at a Subway. Then we drove back to the hotel, to get some sleep before our first real day in USA.
The purpose of going to Anacortes in the first place, was to go on a whale watch cruise, and we had booked one on the Internet. The next morning, after making ready, we drove down the main street to a gift shop where we had to check-in for the whale tour. Here we exchanged our reservation confirmation mail for tickets, and we were explained how to find our way down to the harbor, and where we to park our car down there. We had to wait by a phone booth, where we would be picked up by the crew. After visiting the gift shop, we did as we had been told, and very quickly got down to the harbor, where we were about the first to arrive at the phone booth. Gradually, more and more people arrived, including some other Danes, with whom we chatted a bit. This should prove to be the only Danes we met during the four weeks our trip lasted. Next time we heard Danish spoken, were in the airport, before returning.
Soon after the captain and the engineer arrived and they briefed us on the tour, we were going for, and later we were also introduced to the naturalist, who was going along for the trip. He told us that since we were hurting for "wild whales," he could of course not guarantee that we would see any, but that as they cooperated with many partners, such as lookouts on shore and other ships in the area, the chance would be great. Then we all went on board and shortly after we headed out, and we made something close to a new record, according to the naturalist, for only 25 minutes from the harbor we met the first whale. It was a young minke whale, one of the two whale species that are in the area at this time of year. The other is the killer whale which occur throughout the year. Hump-back whales and grey whales can be spotted at other times of the year, but not in summer. This particular minke whale was extremely annoying! It surfaced only rarely, and stayed only surfaced for a few seconds at a time, before it finally made a "deep dive", which could last up to 20-25 minutes according to our naturalist. We had no time to wait for it to surface again, so we had to continue north. All my attempts to get a picture of the "stupid" animal resulted in me finding myself left with a lot of pictures of an empty ocean surface.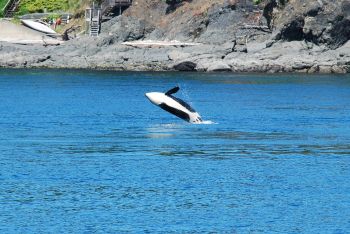 As we continued north, we met ferries sailing between the islands, cargo ships, tugboats, and we also began to see wildlife, mostly birds. Among those were bald eagles, America's national bird. We also enjoyed swimming porpoises (of a species known as harbor porpoises) and some harbor seals, known in Denmark as "Spotted seals". Soon after the captain got a message that orcas had been spotted 20-25 minutes north of our position, so we headed in that direction and a while later we indeed saw a fin that was reaching above surface. Soon after an amazing show started when two young orcas wanted to show off, with a lot of breaches. Also one of the older males joined in this activity. Also we watched orcas doing spy hops where the whale raises its head above the surface, to see what happens. The naturalist as well as the captain were very excited about the whales' performances. We followed the pod for long a long time, but at some point, we were unfortunately forced to turn back. We were at that time close to the Canadian coast and well within Canadian waters, and although the boats from the U.S. are allowed to enter Canadian territorial waters, as long as they do not go ashore, we had to get back to Anacortes in time.
The trip should have lasted five hours, ie from 11 AM to 4 PM, but we actually didn't return to Anacortes until 5.15 because we had been so far north. When we came ashore again, Tim and I drove up to a view point, Cap Santo, on the other side of the harbor. From there we enjoyed the views of the harbor and the town before we drove back to town and found a restaurant where we ate our first real dinner in the U.S., and celebrated this by drinking a local beer for dinner. After dinner we drove up to Mount Erie, the highest point on Fidalgo Island to enjoy the view. Unfortunately it was so-so with views from thre top as most of the view was covered behind tall trees, but we got a glimpse of some of the other islands of the San Juan Islands.
- Return to Cross Country Tour -
- Return to Travel stories -