Waterfalls, wine and a "kissing bridge"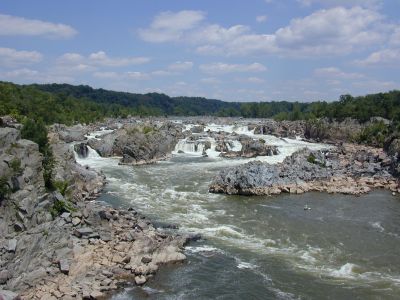 On our first whole day in America 2004, we would just relax and look at the local surroundings. So after breakfast, we drove down to the Vienna, to look at the town and in order for Annette to do some shopping. Then we relaxed at Jens' and Anette's home until lunch time.
After lunch we decided to visit Great Falls of the Potomac, only about 15 minutes drive from Jens' and Annettes home. Great Falls is located 14 miles (22 km) from Washington's downtown, and is a major tourist attraction, and also many locals are visiting the area. The falls were very beautiful, maybe not as high as other waterfalls I've seen (the river drops about 70 feet over a distance of about 0.8 mile), but impressive nonetheless. We did not take the long walk through the park around the waterfalls, but merely walked along the rivers edge and enjoyed the sight from a couple of viewpoints along the way; also enjoying the sunshine and the 85 degrees. Then we returned to the house. Jens took his daughter Britt and her girlfriend, Louise to the airport, as Louise was returning to Denmark. Before leaving Jens found a pay-per-view channel, that showed the soccermatch between Denmark and The Czeck Republic and when they returned, Jens and Britt joined us for the second half. Jens could have saved himself the $ 25 though as Denmark lost the game :-(.
Before we went to America, I had decided (with few protests from Dorte) that I needed a new digital camera. I was convinced they must be cheaper in the U.S., so after the match, we drove to Tysons Corner Center. We found a shop that had my desired camera, but I thought it was too expensive so I decided to wait and see if I could not find it cheaper somewhere else. Instead we walked around the mall, which must be every shopaholics dream or nightmare, depending on perspective. The center includes 300 stores, including four department stores, among others the world famous Bloomingdale's, Nordstrom and Macy's. Other stores are located in the center, for example, Barnes and Noble, Hennes and Mauritz and others. And for those who can not get enough shopping, on the other side of the road you find another center, Tyson II, with som slightly more expensive stores like Neiman Marcus and Saks Fith Avenue. Moreover, branded shops like Hugo Boss, Bally, Burberry, Lacoste, Ralph Lauren, Versace and many more.

We visited none of these shops but took a look at some of them, from outside before we returned to the house once more. Once back home, Jens fired up the BBQ and we had a nice dinner. Later Britt got a visit from a friend from high school. A Brazilian girl called Ana. And once again we played Ludo. This time someone must have cheated. I can not prove it of course, but someone must have, as Jens and I lost the game.
When Jens and Annette earlier this year had been home in Denmark, we had discussed going on a wine tour, when we came to visit them. Ever since I first discovered that Virginia was a wine producing state, I had wanted to taste Virginia wine, but I was too stingy to buy a bottle. At that time I, like most other Danes, only associated North American wine with California, because it's whats is sold in Denmark, but now I realized wine was also produced on the East Coast and anywhere else as a matter of fact. This time I had to try wine from Virginia though, no matter the cost.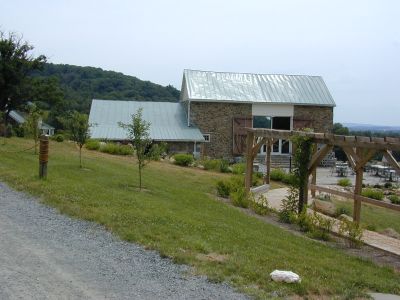 Jens, who loves good wine too, had done some "research" at the local vineyards during the two years, they had lived in the area. He divided the wineries into three categories: those with beautiful sourroundings and views, those with nice people, and those where the wine was drinkable! So we decided to visit a winery from each category. Unfortunately, we only managed to visit two at that time, as the third place we went was closed.
The first two places we visited though, were both situated in very nice surroundings, especially Hillsboro Winery, near the town of Purcellville in Northern Virginia. Here the owners were of Turkish descent, but the wines are inspired by Portugal, and winemaker, Kerem Baki, son of the owners, told us of his dream of making a port wine type when the vines had grown somewhat older. The grapes, grown at the winery were among other Petit Verdou and Cabernet Sauvignon, but the bulk of the 4.5 hectares was planted with Tannat, Fer Servadou and Petit Manseng. Furthermore the winery bought wine from other wineries, and also Viognier and Chardonnay are blended in the wines produced. The wines we ended up tasting were all excellent and we got a really nice chat with Kerem and his mother. When we were done tasting, we asked the winemaker whether he knew a good place to eat lunch nearby? Jens and Annette knew from the past that the town of Hillsboro suffered from a serious shortage of places to eat :-). When he just could not think of any himself, he summoned his mother. She knew of two restaurants, but she was not quite sure whether they were open, as many restaurants in the area were closed on Mondays. Both were outside the town of Purcellville, so we decided to make the attempt. Jens and Annette bought a few bottles of wine here, while we skipped. Before we left, we sat for a moment and enjoyed the view from the terrace outside the tasting room.

It turned out that both restaurants were closed, but instead we found a small place in the center of town. The restaurant was clearly mostly visited by the locals, and they were not accustomed to tourists visiting, not to say foreigners, but the food was impeccable (otherwise the locals would probably not have come back), and it was certainly affordable. I think we paid $ 30 for lunch and drinks for all four of us. After lunch we took a few pictures of the town, and then it was just time to move on to the next winery.

The second winery we visited that day was in the same area, near Leesburg. The views from there was nice, but not quite so beautiful as Hillsboro. On the other hand the winery it self was very charming, built into a hill, and the girl who was responsible for the wine tasting was friendly and talkative. Tarara Winery as it was called was somewhat larger than Hillsboro with 20 acres planted with wine. Here were produced both wines from traditional European grapes, but also from local grape varieties, which are quite unknown in Europe. There are not many Danes who have heard of grape varieties such as Norton, Catawba, Delaware, Elvira, Ives or Isabella. The winery strive to produce "pure" wines, ie wines produced exclusively from a single grape variety. They had a few blends, but otherwise it was wines like Cabernet Franc, Cabernet Sauvignon, Viognier, Chardonnay, Merlot and Pinot Gris that was produced. Personally, I can vouch for their Viognier which was pretty good and their Cabernet Franc which was excellent. Tarara has a reputation for making some of the best wine in Virginia. Since I have not tasted that many, I can not vouch for this, but it is by far the the best Virginia wine I have tasted that came from this winery.

Well, all the way back to Vienna, we were taunting Jens because he had not been able to present us with the wine "tasting like foxes piss" he had promised. He defended himself, however, that the 2003 vintage that we had tasted, were significantly better than the 2002 vintage, which he had previously tried. We did forgive hime, as the wines we did taste were great :-). When we got back to Vienna, Britt had a girlfriend Sophie over. Sophie was a Danish girl, who had stayed with her aunt in the U.S. for a year and attended the same high school as Britt. She was returning to Denmark next day, so she was there just to say goodbye to Britt. But of course we tricked her into being Britt's partner in a farewell game of ludo. Unfortunately we did not have time to complete the game, but I'm sure that Jens and I would have won!
On we go
As we did not want to wear out Annette's and Jenss hospitality, we left the next day for a two week round trip to Saint Louis and New Orleans. When we previously traveled to Kentucky, we took a northern route through Maryland, then south through West Virginia, and so on into Kentucky. This time we would take a more southerly route, going through the southern part of West Virginia and then north through Kentucky. Jens told us that the fastest way to get out of Washington would be to take I-66 to I-81 and then go south until we met I-64, which we then had to follow into West Virginia and on through Kentucky, Indiana and Illinois until we reached St. Louis. The easiest way to get to I-66, Jens said, would be to take Dulles Toll Road until it met with U.S. Route 28 and then along this down to I-66. This would spare us most of the rush hour traffic. And he turned out to be right, but we ran into other problems.

We had no trouble finding the Toll Road.I t was only about 20 yards or so along Virginia Route 7 from the road, where Jens and Annette lived. Payment is due at the end of your tour of the road, so we rolled quietly into the road, and headed northwest. When we came to the right exit, there were large signs that told that the price for leaving the road would be 35 cents, so Dorte prepared this amount (I was a driver). At the booth there was a traffic light that is red when you approach and then turns green when you have paid. This is accomplished by throwing the coins in a pot-like container that then detects payment and ensures that the light switches. So I threw the money in, but the light did not change. We waited for a while, while the people in cars behind us began getting impatient, honking their horns. So in the end I just decided to drive through. A shrill whistle began howling and lights started flashing, but there was nothing we could do about it, so we continued. Later we discovered that Dorte had mistaken a 5 cent coin for a 25 cent coin, so we had only paid 15 cents. We decided to call Jens, when we stopped for the night, as the car was registered in his name, and if he was contacted by the authorities, we felt that it was better if he was warned. We would later drive on several toll roads on the same day, and even more later on during the trip, and payment went well every time. But when we later got back to Dulles Toll Road, we failed once more. I tell you that story in a later chapter. The road must in one way or another be cursed.

Well, we reached I-66 with no further problems, and sure enough we were spared the worst traffic, so we continued across the Blue Ridge Mountains and into the Shenandoah Valley to I-81, and followed that a few miles to the south. Then we left the interstatea gain, taking the old U.S. Highway 11, running parallel with I-81 south. The reason for this detour was, that we would see one of the last covered bridges in Virginia. Not only Jens and Annette but also my parents-in-law, Else and Carl, had visited it earlier, and now it was our turn.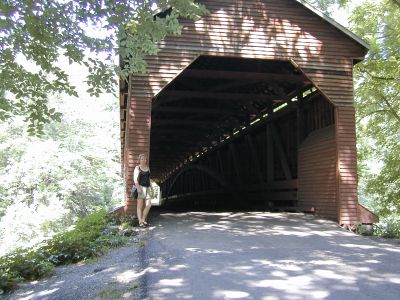 Meems Bottom Bridge or Meems Bottom Covered Bridge as it is called crosses the northern branch of the Shenandoah River in Shenandoah County. The bridge is named after a Meems family who owned the land west of the Shenandoah River when the bridge was built. The bridge is 60 m long and approx. 5 meters wide and it is listed in 1894. The bridge was originally constructed from wood, but in 1976 the bridge was arsoned, and when it was rebuild, it was reinforced with steel and concrete. There had previously been two other bridges on the spot, but one was burned in 1862 during Stonewall Jackson's campaign in the Shenandoah Valley. Another bridge was washed away during a flood in 1870. The bridge was not far from the main road and it was very nice. The bridge is dark and in Denmark we call it a "kissing bridge" because you can kiss in private under the cover. So Dorte and I crossed the bridge a couple of times and kissed a bit along the way. The bridge was also duly photographed before we drove back to the main road and then back to the highway to the south.

From there we drove south to Lexington, Virginia and there we turned west on I-64 and drove towards the West Vigirnian border. Here we visited a Welcome Center. We continued through West Virginia's forested mountains to the town of Beckley. Here the interstate turns right and leads north, even though it has an east-west route number. And the road continued in a north-northwesterly direction for the next 60 miles. Near Charleston the interstate again takes a ninety degree turn, this time to the left so that it again heads west. We continued past the hotel we had stayed at two years earlier and drove towards the city of Huntington. Here we followed the Ohio River a while before we crossed the state line and entered Kentucky.

Another welcome center was visited, and then we continued west. We had planned to stop for the night fairly soon after the state line, but as it was not so late as we had expected, and we were not as tired as we had thought we would be, we decided to go on. We therefore continued to the town of Winchester, near Lexington, Kentucky. We found a hotel, that later proved to be the cheapest hotel on the whote trip, but definately not the worst.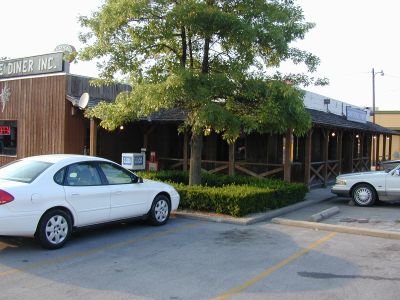 The guy at the front desk asked us if we had eaten, which we had not - at least not since lunchtime. He recommended a restaurant a few miles away along the highway, and he gave us his business card. If we showed that at the restaurant, we would get a 10% discount, he explained. He probably got some 10% in kickbacks too, but we didn't care. Before we left for dinner, we called Jens to tell about our experience on Dulles Toll Road. He could however reassure us, by telling that it had happened several times to him, and he had never heard anything of it.

We decided to try out the recommended "Cantuckee Diner" restaurant. We had a little trouble locating it, but when we finally managed, it turned out to look very nice, built entirely of wood. Dorte had a steak with coleslaw, vegetables and mashed potatoes and I got hickory smoked ham, green salad, vegetables and mash. It all tasted wonderful, and was very affordable. But hardly healthy. Like many other rural locations in the U.S. the vegetables were cooked in butter and the sauce was thick and sticky :-).
It turned out that the restaurant that was owned by two sisters, and was mainly visited by locals. When we had completed our meal and went to the cashiers desk to pay, one of the sisters acted as cashier. We showed the business card from the hotel, and was indeed awarded our 10% discount. While we waited for the credit card to be validated in Denmark, Dorte fell into conversation with a girl, probably around 10 years old, who also sat at the checkout. She wanted to know where we came from, so Dorte told her and then the girl asked Dorte whether she would have a "teeth pick". Dorte thought it was called a "tooth pick" and she and the girl had friendly argument about that while I paid, and just before we were about to leave, the girl said "OK, it maybe be tooth pick ". So Dorte won the battle.