When grandmom and granddad disappeared
This was to be our final day in the U.S. We were going back to Knoxville, and the next day our plane left for Chicago, Amsterdam and finally Copenhagen. Before leaving the hotel in Lexington, we ate the best breakfast at any hotel on the trip, and it was included in the price.
I don't remember anymore, why we were not all travelling together, but for some or another reason, we were going together with Else and Carl again. We started out continuing down I-81 to Bristol. On this part of the trip we only made a few stops. Even if Bristol is an interesting town, for more reasons, we didn't actually spent time in the town.
One of the reasons that the city is interesting is that it is actually two towns, namely Bristol, Tennessee and Bristol, Virginia. The state border runs along the town's main street dividing the town in two. Also by congressional resolution in 1998, this town was declared the official "Birthplace of Country Music". On July 31st, 1927 the Carter Family recorded the first country record ever in Bristol, and only two days later Jimmie Rodgers made his first recording. The Carter Family had come to town only to do the recording from their home in Maces Spring, Virginia to the Tennessee part of Bristol to make their recording, so actually countrymusic must have been born somewhere else, as they played country long before doing the recordings :-). Anyway Tennessee Ernie Ford was born in Bristol, so its connection to country music is quite big.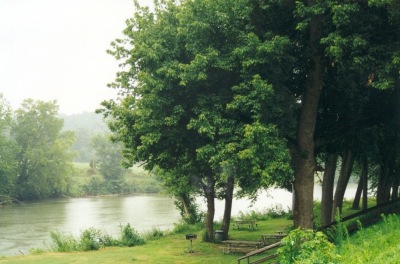 When we stopped at the Welcome Center at the border, we agreed that we would not go directly to Knoxville by the freeway, but would take a detour to see the Davy Crockett Birthplace State Park near the village of Chuckey, Tennessee. When we got to the intersection between I-81 and I-25 we turned south on I-25 to Johnson City. Just before we entered the city, it started to rain, and before we were out of town again, it had gone from bad to worse. At one time it was so bad that we could not see cars neither in front of us nor behind us, only their lights. At this time we had the lead, and Else and Carl followed right behind us. We told the kids to keep looking out the rear window, and keep an eye on their grandparents. Every time we got to a traffic light we slowed down in order for them to catch up. But even if both kids were supposed to look backwards, they could not actually see if it was the right car, that was behind us. At one traffic light we noticed though, that the car right behind us turned right in stead of going straight ahead like us, so we pulled over, to give them time to catch up with us. But after a while they still hadn't passed us, so we agreed that perhaps it was them who had turned the right by mistake, so we decided to turn back and follow in the same direction. The road proved to be a dead end street that led into a residential neighborhood with brick houses, and when the rain eased a bit we could see that Else and Carl certainly was not there in the vicinity. A little earlier on, the road we were then on, had branched out in two, and we now thought, that maybe they had taken the wrong branch so we turned back and took the other branch. After a while it led into a wooded area in the mountains south of the city, and when we had gone in that direction for half an hour, we agreed that it would probably not lead to anything. We therefore decided that we would go on to Davy Crockett Birthplace State Park and maybe they would do the same. Alternatively, we expected that they would go directly to the hotel in Knoxville. We therefore turned back, and left Johnson City again, going west on Old Tennessee Route 34.
Davy Crockett Birthplace State Park is located not far from the small town of Chuckey and we got there without problems. Initially, we waited for Else and Carl at the entrance to the park, but agreed that they ought to have gotten there long before we did, so we entered the park, and drove to the parking lot, but discovered, that they weren't there. In the meantime it had started to rain heavily again, so we stayed in the car until it eased off again. Just when we decided it was time to take a look at the replica of the cabin where Davy was born, Else and Carl drove into the parking lot. We never actually found out, what they had been doing, or where they had been, so it remains their secret.
Most people at least from my generation probably know - or have at least heard of Davy Crockett. He was the protagonist in a number of books written by Tom Hill (pseudonym of Danish writer Karen Brunes) in the 60s. And he was the protagonist in a series of Disney movies in the late 50s. It is probably the Davy Crockett character shown in these movies, that most people associate with the name. Among other things this movie gave him his famous racoon skin cap. The real Davy has never been depicted with such headwear, and he never mentions it in his autobiography. The song about Davy Crockett (Born On A Mountain Top), is also taken from the Disney movies. It was first recorded by Bill Hayes, but later became a hit for Tennessee Ernie Ford. Also the recently deceased Fess Parker, who played the part of Davy in the movies recorded it. Unfortunately the song is full of factual errors. Just in the first two lines can be detected several. The two lines read:

Born on a mountain top in Tennessee
Greenest state in the land of the free

Let me take the errors from the beginning. The location of the Davy Crockett Birthplace State Park shows the first error. Crockett was born in a small cabin on the banks of Nolichuckey River and rivers rarely flows on mountain tops. Crockett was actually born in a valley. The next error appears in the same line. Davy was born in 1786, and at that time Tennessee did not exist. Tennessee did not achieve statehood until ten years later in 1796. When Davy was born, the area was known as the Southwest Territory, and it was a part of North Carolina. The final error in last line has already been partially revealed. The place were Davy was not a state, indeed the region were Davy was born, was not even part of the United States. In 1784 the area had declared itself an independent republic, under the name "State of Franklin".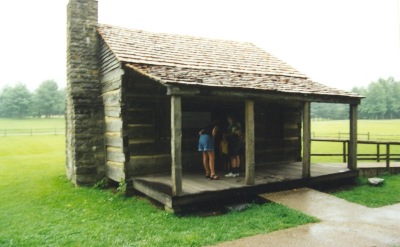 Anyway we visited the replica of the cabin. The original had been washed away during a flood in the 1920s. Where the original cabin stood a stone is now placed. When we had seen enough, we continued without further ado to Knoxville, where we met the rest of the family. The next day we returned the rented cars at the airport. We flew to Chicago, where we waited about 6 hours before our connecting plane took off. Eight hours later we were in Amsterdam where we again had to wait a few hours before we could continue to Denmark. When we got our luggage - surprise ... one piece was missing. And even more surprise ... once again it was one of Jens' and Annette's suitcases, that had disappeared. This completed our first trip to te United States of America. We returned to Denmark after two weeks and 2,000 miles of driving that brought us to seven states.
This should happen to be the first of a recurring series of vacations in the USA, and 2,000 miles would be next to nothing, compared to our later trips.
- Return to First Visit -
- Return to Travel Stories -