Yellowstone National Park in a day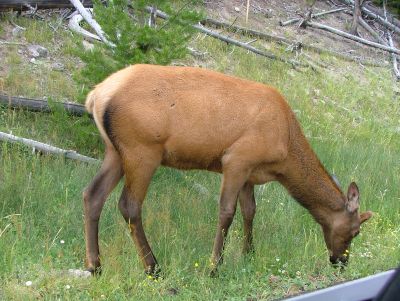 As there were a lot to see, and only a little time, we got up early and went for a quick breakfast at the Yellowstone Mine Restaurant right beside the hotel, and even before 7.30 AM we entered the park by the North Entrance. At Mammoth Hot Springs Village we took the north-eastern branch of the Grand Loop Road, opposite the branch we had come along the day before. The road leads through forests and across mountains, and there should be a good chance to see animals. There were also several places where there was a crowd of people claiming to have seen bears. No one was able to shows any though. In stead, we took some pictures of the beautiful alpine meadows. On the stretch of The Loop between Tower Junction and Canyon Village you pass the highest point on the road, Dunraven Pass at 8,850 feet. In the neighborhood you find a foot trail, leading to the top of Mount Washburn at 10,240 feet. We were not in a climbing mood though and continued in our car.

When driving in Yellowstone, you must always be prepared to stop, even if it is not allowed at that location. If anyone in a car in front of you, sees or believes to see a larger animal they just stop, and as it is almost always impossible to pass everybody has to stop. At such a random stop, we got out of the car to see what the others were looking at. It showed out to be "just" a mule deer :-). When we returned to the car Tim's shorts split right at the back seem - and it was a very visible split. We could then choose to go back to the hotel and get another pair, or continue and cross our fingers that he could find a new pair in one of the stores in Canyon Village. We chose this last option and continued toward the "village". The first shop we entered, was a general store, and here they had plenty of clothes of various kinds, but unfortunately no shorts - except for swimwear, and it was not exactly what Tim was looking for. Fortunately for him, there was also a hunting and sporting goods store, which not only had shorts. They had them in his size and they were even at a reduced prize. He paid and went into the dressing room and changed, and then we were ready to continue.

Our first visit after the "shopping trip", was the Upper Falls of the Yellowstone River. I had never been here before so it was pretty exciting to watch, not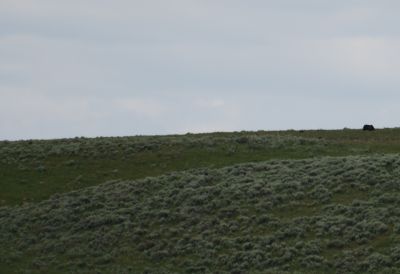 least because you can get fairly close to the falls without taking a long hike. When we had seen enough, we continued onto the other side of the gorge, "Grand Canyon of the Yellowstone", to look at the Lower Falls which are much larger than the Upper Falls. The upper falls are app. 100 feet from top to bottom, while the lower falls has a height of more thant 300 feet. We didn't hike down to the falls, but viewed them from a lookout at Artist Point.

Following this visit, we continued south along the Grand Loop's southeast branch. Here you drive through the Hayden Valley. Yellowstone River runs through the valley, and here there is abundant wildlife. We were not disappointed when we saw some bisons in the distance. The animal density at that time of day, was not as high as what we had experienced in 2006, but later we saw plenty of animals. A bit farther south when we crossed Alum Creek, a small tributary of the Yellowstone, we made a stop at a pull-out by the road, so that I could get a few pictures of some Canada geese, which "grazed" by the River. There was also some bisons relatively close by so I went for a short walk to get a better view. When I got back to the car, Tim was busy talking to a man with a big spotting scope. He told me, and Tim, who had been offered to use the scope, could confirm that up on a ridge a few miles away, was a grizzly bear mother with two cubs. I tried to take a few pictures with my 840 mm tele lens. But even with the tele, the bear just looks like a black blob. If I strongly magnifies the image though, you spot both mother and offspring through the "gritty pixels of the picture".

Next stop was the Sulphur Caldron, but along the way, I got a photo of a bison bull which lay at the roadside. Sulphur Caldron is a hot sulfur spring, and it was noticeable from the smell. Despite an acidity of 1.2 (like battery acid) and a high temperature (approximately 195°), living microbes are found in the spring. When our sense of smell had almost left us, we walked over to the other side of the road where there are some more springs. Here we went for a relatively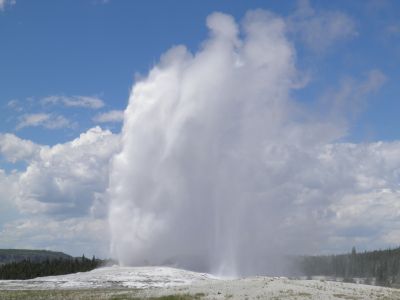 short walk and looked at Mud Volcano, which is not a volcano and Dragons Mouth, which does not belong to a dragon! Then we went back to the car and drove further south. Here we drove for awhile along Yellowstone Lake down to the village of West Thumb. En route we stopped a few times to take pictures. After visiting the lake we turned west to our next goal, the national park's most famous geyser, Old Faithful. On the way we passed, what was left after a recent fire. Not a big one like the one in 1989 that wiped out almost half the park's trees, but a fire anyway. In the Yellowstone NP fires are considered as part of the natural order, and if they occur, they are allowed to burn out naturally. The ash then forms the foundation for new growth.


At Old Faithful, we were really confirmed in our opinion that it was a bad idea to be in Yellowstone on a weekend in July. There were so many cars at the big parking lot that we had to drive a few rounds before we found a place to park our hired car. When we had parked the car, we walked to the Visitor Center to see when the eruption of the Old Faithful was predicted. When we got there, we could see that the next eruption was predicted to erupt at 2.40 PM and as it was only 1.30, we decided to visit the local general store. Here we bought some water and I bought a sandwich and some fruit, and then we walked over to the geyser, where there are benches set up most of the way around. We found a good spot and there we sat, looked and waited for the show to commence, while I ate my sandwich and read in a brochure on the Old Faithful area.

While we were wating a park ranger, were entertaining us with a lot of information abut geysers in general and Old Faithful in particular. Eventually more and more spectators found seats or standing room behind the benches. Exactly at 2.45, just 5 minutes later than predicted, Old Faithful started his show, and the geyser did well. Lots of steam and lots of water, which unfortunately was hard to photograph because at the angle we were sitting, white clouds in the same color as the steam were visible just behind the geyser. The show lasted for five minutes, then it all was over, and in just as much time, almost every spectator had left the area.
Tim and I decided to take a walk on Geyser Hill, a hill with several springs and geysers on the other side of the Firehole River at Old Faithful. Here there were two paths, so we split up and each went his way and took pictures of the geysers. Later we and the paths met again so we could go together back to Old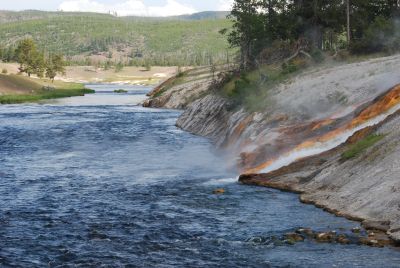 Faithful. On our way we passed springs and geysers like Anemone Geyser, Tea Kettle Spring, Pump Geyser, Doublet Pool Lion Geyser Group, Castle Geyser and many others. Eventually we went back to the car and continued our way.

From Old Faithful, located in what is called the Upper Geyser Basin, we went to Black Sand Basin, which is part of the same basin. The name comes from the black, volcanic sand, which is found in most of the area. Again we went for a walk and looked at the various geysers, but I will not list them all up here. When we had seen everything in the relatively small basin, we drove up to Midway Geyser Basin, where Dorte and I happened to meet her brother and sister in law four years earlier, but that's another story. Again we went for a walk and viewed among other Grand Prismatic Spring, and I took the picture of the effluent from Excelsior Geyser to Firehole River, which I missed in 2006. At this time Tim was getting a little tired of geysers and thought they eventually began to look much the same, so we went back to the car.

We agreed that we would go back to the hotel for dinner and then drive back to the park to see if there were any animals to be seen at sunset. The shortest route was along the north branch of the Grand Loop Road, which we had taken the day before so we drove toward Madison Junction. Here we ran into the same roadworks as the day before, and this time we had to wait 30 minutes before we were allowed to pass, so when we got through the roadworks and up to Norris, it was already at 5.45 PM. We therefore agreed to skip the hotel. Instead, we would drive back to Canyon Village and find a place to eat. We tried the restaurant but it was fully booked. By contrast, there was ample room at the cafeteria next door. Here you could choose between buffet! The price depended on the size of the plate you chose, so I got myself a medium. The selection on the buffet was OK, but nothing more. I had a salad and some kind of meat balls. When we approached the cashiers desk, I noticed a very green, clear jelly as dessert. It cost extra, but I simply had to taste. It was too weird looking to be skipped. It proved to be completely and utterly tasteless, and not harmful in any way.

After dinner, it was around 7 PM and the sunset would come around 20.30, so we slowly drove back north towards Tower Junction, At one time the traffic stopped completely and we wondered whether there had been an accident, because earlier in the day, there had certainly not been roadworks on this part of the loop. Only after half an hour the traffic started moving again. It appeared that someone had seen a black bear just off the roadside, and as already mentioned, there is nothing like animals to get traffic to a halt in Yellowstone. As we approached the spot where the bear was, we could see that people got out of their cars with cameras, while a park ranger tried to explain to them that they should go back to the cars again. The park's rules say you must not come closer than 100 meters to a bear, but nobody cared. As we got closer, the bear was about to leave. I wanted Tim, who was driving at that time to slow down, but he refused due to his drivers genes. As a professionel driver, he would not bother those who came behind us. He's been driving vans for the Danish Postal Service, DHL and UPS for years and he wasn't going to stop the traffic, as he himself hated to be stopped. This unfortunately meant that I only got a very blurred picture of the bear that was walking away.

When we finally reached Tower Junction it was 7.45, but we continued east on the road to the northeast entrance. This road leads through the Lamar Valley, which together with Hayden Valley are called North America's Serengeti because of its rich wildlife. Here, if you're lucky, you can spot elks, bison herds, mule deers (with their very long ears), black bears and grizzlies, and if you are very, very lucky also wolves. In addition, of course, to the more common animals such as coyotes, squirrels, chipmunks, hares, etc. And you can sometimes see pronghorns This antelope is the fastest landliving animal on the two American continents. It can run at speeds over 50 mph and is considered the second fastest mammal on earth surpassed only by the cheetah. It keep its speed much longer than a cheetah though. If any were present in the valley, they were so fast, that we didn't see them.

Well, this is all theory. In practice, we drove through the mountains to the Lamar Valley without seeing a single animal except for a few birds. This changed however when we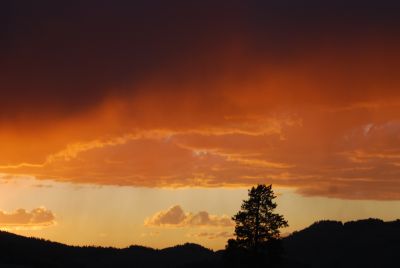 approached the valley, because suddenly the car in front of us almost came to a halt, so we had to slow down to walking pace. This was caused by a bison bull, taking an evening stroll. He just walked in the middle of the road, basically following the yellow center stripe, and he couldn't care less about the cars behind him, or the ones coming from the opposite direction. He was surely aware that he had "right of way" so it lasted around 10 minutes before he left the road and went into a meadow, where he met with a few more of his own kind. Maybe he was just making a social call on the family. Later we saw larger herds of bison in the valley on the other side of Lamar River and also a few deer,and we actually saw a bear in a forest about 2-3 miles away, but with the distance and the fading light, it was impossible to get any pictures.
As we approached the end of the valley, we parked at a pull-out and waited for the bears and wolves to come out to play, and we even enticed them by leaving the car, which we should not have done. The only animals that were lured to us were mosquitoes, which came in even larger numbers than the night before. And I must be particularly attractive to mosquitos, because they attacked me and was about to carry me away if Tim hadn't caught me and pulled me into the car. We then decided to turn around and drive back to the hotel. On the way, we saw another bear on a hillside in the distance, but once again it was impossible to get a picture, so in stead, we took some sunset pictures, who came out allright even though the sun at this time was hidden behind clouds.

When we got back to Mammoth Hot Springs we turned north, heading for our hotel in Gardiner. Along the road we followed the Gardner River, a tributary of the Yellowstone, for a while, and here we saw a lot of people who were out for an evening swim. Maybe they were not attacked by mosquitos, but I found them quite brave, to go around in swimming gear next to water at that time of year and day :-)