Rain, tailbacking times two and more rain
As mentioned in the previous article, Tim had booked a room in a hotel meant for 'long-term storage', cheap and without any service whatsoever, therefore there was of course no possibility of having breakfast at the hotel, but there are many other places, where breakfast is available. However, I chose to skip the meal altogether, so, after saying goodbye to Tim, and carrying my suitcase down to the car, I headed for I-75, on which I should stay for the next about 175 miles. Tim and I would not meet again until towards the end of the vacation, so from now on there will be two separate stories, my own and Tim's, about his experiences in Kentucky and Ohio, The Carolinas and Florida, where he probably didn't experience much other than to sit indoors talking or maybe dipping in the pool at Lexie's parent's place.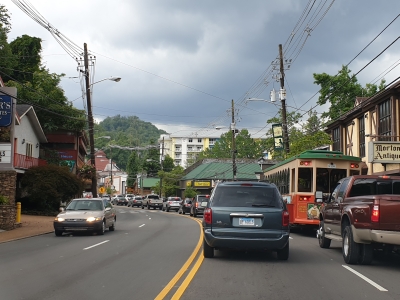 Driving through Gatlinburg took a while
There is not much to say about the drive on the interstate except soon after I had left Lexington it started to rain with thunder and lightning all the way through the mountains and it didn't stop until I reached Knoxville, Tennessee, or rather circumvented Knoxville on I-40 (no vacation in USA without I-40). This meant that the journey south took a little longer than expected, as the speed often had to be considerably reduced. Shortly after reaching I-40, I left it again, to make my first stop of the day - at a gas station. Partly to relieve myself of some fluid, and partly to get something inside in the form of coffee and a sandwich. The first intake of food of the day - I had water in the car so I didn't suffer from dehydration. In Cherokee, which was the goal of the day, I never had any cell connection, although the locals have, so I used the stop to also call home, send text messages etc. By the way, it turned out that when I got to Cherokee, I actially had cell connection for the first time - not much and only when I was at my hotel or the restaurant right next door, but I didn't know that at the time, so I took my precautions, as I didn't want the familiy back home to belive that I succumbed to a traffic accident or things like that. After the break I returned to the interstate, but not for long.
Just north of Sevierville, Dolly Parton's birthplace, where Tim and I spent a night a few years ago (see Long Day's Journey into Tennessee from 2014), I switched to US Route 441 which would take me south through the Great Smoky Mountains National Park. First, though, I was passing through the extreme tourist magnets constituted by the towns of Pigeon Forge and Gatlinburg. Not least the former is almost one big amusement park and Dollywood is just outside town, but also in Gatlinburg there are many exciting things to see and try for tourists who want entertainment. And there were many who did want entertainment that day. Just seven miles separate Sevierville from Pigeon Forge and from this town to Gatlinburg there are another 7 miles. These 14 miles on a four-lane highway took me about two hours or not much less than I had spent on the first 180 miles; there was that much traffic. On the other hand, it gave me time to take some photos out of the car window when I was stopped, waiting for traffic to continue.
Gradually, however, I got through both towns, of which Gatlinburg was particularly bad. Still, it was only around 2.30 pm when I left Gatlinburg in a southerly direction, so when I reached the Great Smoky Mountains National Park, I decided that as I was in no hurry, I would visit Cades Cove which is probably the most interesting area in the Tennessee section of the park. From the main road there are approximately 25 miles to the area by a narrow and winding road that in many places parrallels the Little River. It was here at Little River that in 2000 we almost lost my father-in-law to the river, when he wanted to admire some butterflies on the rocks at the river bank. This story can be read in the article Getting there and away from that year. It took a while to get to Cades Cove as there was a 35 mph speed limit all the way, except for a few places where it was reduced due to road work, but eventually I got there. The road ended at a car park from where you could continue on an 11 mile loop through the area which (as loops do) ended back at the car park. So I decided to go for it it, but it turned out to be a mistake.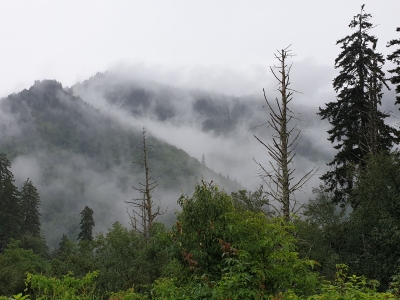 Rain and low clouds over Great Smoky Mountains along US Route 441 from Gatlinburg to Cherokee
As soon as we got out on the very narrow one-way road of the loop, traffic came to an almost stop, and I and all the others formed a slow and very close autocade all the way around the loop. Only when we got all the way back to the parking lot, where many of the cars in front of me (or maybe rather the drivers) choose to to pause, I discovered that it was some "skvaddermås" who obviously wanted enjoy the scenery at 5 miles an hour, driving at the front. Sorry for the Danish esxpression I used, but I couldn't think of anything suitable in English though the hind part of donkey comes close. On top of that, he had come to a complete stop several times along the way, although signs kindly asked everyone to avoid exactly that. Along the way we passed several parking lots at various attractions, where you could get out and enjoy nature and the attraction, but neither I nor anyone else in the convoy dared to leave the road for fear of not being able to re-enter. Again however, I did get some photos whenever we came to a complete stop which we often did. Photos of animals like wild turkeys and wapitis, but also some of the area's buildings and the countryside in general, which is actually very beautiful - if you like that kind of thing. It took me three hours (and that was without leaving my car even once to see something) to drive the 11-mile loop, so when I completed the drive at the parking lot, it was 5.15 pm - and there were still 25 slow miles back to the highway. Also, I noticed that on the 11 miles I had used the same amount of gas, that I usually used for 40 miles because of all the many stops along the way.
On the way back to 441, it started to rain again, and when I reached the national park's Visitor Center (one of them at least), which is where the small road I was driving (also known as Fighting Creek Gap Road), intersects with the highway, it was raining cats and dogs. However, I made a much needed stop here and although I only walked about 150 feet to the restroom, I was soaked by the time I got back to the car. Fortunately, it was a nice hot day so my clothes quickly dried again. Before continuing through the park I returned to Gatlinburg to refuel, as my experience is that it is not a smart idea to run out of gas in the middle of the mountains in rainy weather. I then continued my journey through the national park, but where it is otherwise a very nice trip, with a lot of nice views of the mountains and valleys of the Smokies, this time all views where distorted by the rain. But I got some nice photos of rain on the windshield and low-hanging clouds.
Around 7 pm and 35 miles further on, I reached Cherokee and checked in at my "usual" hotel, in which I, alone or with Tim, have now stayed six times under two different names (ie, the hotel has had two different names, not me). On my first two visits to Cherokee in 2000 and 2002, we stayed at another hotel, a little further away from 'downtown'. I got my room on the 2nd floor, carried my things to the room, and as I was going to stay at B & B's the rest of the vacation (except for three nights in a house in the countryside in a very rural area far from any towns), I took the opportunity to do my laundry. Later I decided that I didn't want to go far for dinner, so I went to have something to eat at the restaurant located right next to the hotel, Newfound Lodge Restaurant, but as it was a bit late (8.30 and the kitchen closed at 9), I couldn't order from the menu but had to choose their buffet. It was not the most exciting buffet I have ever tried, but the salad bar was good, so I could quell my hunger (all I had that day so far was the sandwich at the gas station). And the buffet had something that I had never seen before (in the US - at home I have seen and eaten it often). 'Stegt flæsk'! (No English name for that except from 'Stegt flæsk'.) It is pan-fried slices of pork with fat and it proved to be good even if I missed the boiled potatoes and parsley sauce that traditionallyt accompanies the meat in this, the Danish National Dish. It is hardly healthy but tastes wonderful (to a Dane)

After dinner I went back to my room, where I discovered that I had cell connection, even if not too good is was far better than nothing. 328 miles was the total distance of the day, but I have previously driven much farther on my own, like in 2018, so it was not bad.