Stinky Minke
Another road trip began on June 29th 2013, this time with both Tim and Tina as participants in the trip. We flew from Copenhagen to Seattle via Reykjavik in Iceland (flying Icelandair). From Seattle we drove north to Anacortes for our first night in the USA, as Tim and I had done last year. Tina also would like to see whales, and we had booked a whale watch cruise the day after our arrival. On our way north we stopped at a Walmart to buy an air mattress and a blanket - to make sleeping three in one room a bit more comfortable - not having to share a bed. Also we bought the usual cool box, to keep water cool during the trip.

The next day we were at the ticket offiice around 9 am and checked in without any problems. Of course there is also a souvenir shop, at the check-in - can you even imagine the opposite? Tina, who had forgotten to bring a hat on the trip used the opportunity to buy a baseball cap so she wouldn't get sunstroke along the way. Tim and I were well equipped, so we didn't buy anything. After having breakfast at a nearby restaurant, we drove up to the promontory called Cape Sante, located outside the harbor from where you have a good view of Anacortes as well as some of the San Juan Islands.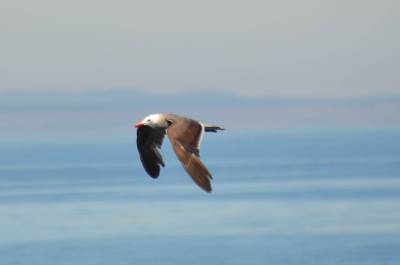 When we had seen all there was to see, including a few turkey vultures circling above the promontory, we drove down to the harbor and found a place to park our rented car. At ten the tour boat, Island Excplorer III opened for boarding. It was the same boat as Tim and I had been on last year, and it turned out that both the naturalist and the engineer were the same as well, while we hadn't met the captain before. At eleven o'clock we left the harbor after having been given the necessary safety instructions. We sailed westward and after coming off the Fidalgo Island headed south in the Salish Sea. We passed two small islands that are connected by a low isthmus, Smith Island and Minor Island. Here we saw seals sunning themselves on the rocks, seals swimming in the sea, sea birds, who were sitting on the beach and floating on the surface, and there were also a couple of young bald eagles on some driftwood on Minor Island. Earlier in the trip we had seen other seabirds as well as porpoises and more seals. We hadn't seen any whales though. But about that time, the captain did get a message on the radio that whale tour boats from Port Townsend had observed minke whales.

We therefore turned west and when we got there, there were many boats in the area, both from Port Townsend and Port Angeles in the U.S, but also from Victoria and Vancouver in Canada. Here there were indeed minke whales. Actually there were two of them, which apparently swam together, which is rare for minke whales, which are typically loners, unles it's a mother and her calf. If that was the case here, it was a hefty young one. Subsequently we saw several more minke whales, and also smelled more of them than we would have wanted to! Minke whales have a pretty bad breath because of all the fish remains, sitting in their baleen plates. Their breath can be so bad that whale people often call them "Stinky Minke" and sometimes you smell them before you spot them. Minke whales are not quite as exciting as the killer whales, that we had seen in 2012 because they do not breech above the surface or stick their head up. What you most see is their backs and dorsal fins, which are neither large nor impressive.
Tina was a little disappointed not to have seen any killer whales, and I had also been looking forward to a little show like the one we saw last year. The captain could on the way home inform us that none of the other boats in the area, had observed orcas, so they probably Sunday had taken the day off. That's what you get for trusting in nature :-). On the way back to port we met in turn a very large minke whale, so we had the opportunity to some more pictures of a whale back.

- Return to Three on tour -
- Return to Travel Stories -