Who killed Laura Foster?
© Jan Kronsell, 2020
Published by BoD, Copenhagen, Denmark
ISBN: 9788743014676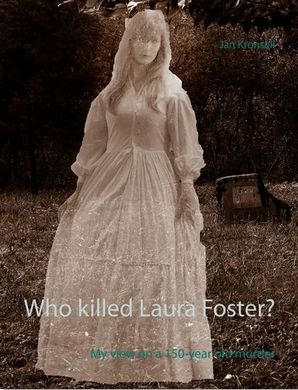 In 1866 a young girl, Laura Foster, was killed in Elkville in Wilkes County, a rural part of Western North Carolina. Her one time lover, Thomas C. Dula was arrested and convicted for the murder and on May 1st 1868 he was hanged for the crime in Statesville in neighboring Iredell County. This lead to several songs being written and later recorded about the cASE; most famous is probably the Kingston Trio's hit, Tom Dooley from 1958, but that is just one of many versions.
Ever since, the murder has been the source of many legends and both in fiction and non-fiction it has inspired many authors. Many people in the area in which the events took place, believe (even to this day) that Thomas Dula (Tom Dooley) was innocent, and that the real culprit was his married lover, Ann Melton.

In this book I go through some of the surviving records from the time and tell the story based on these facts, before I try to give my own explanations of what actually may have happened in Elkville, North Carolina in the difficult times following the American Civil War and I hint at a few other possible perpetrators. I don't claim to have discovered the truth, which will probably never be known, bujt I give a couple of suggestions, founded in the known facts, and then I leave it up to my readers to decide for themselves, what they believe. I can add though, that it is the research I now disclose in this book that is the base of my novella, The Doctor's Secret from 2019.
---
I 1866 blev en ung pige, Laura Foster, dræbt i Elkville i Wilkes County, i et afsides område i det vestlige North Carolina. Hendes tidligere elsker, Thomas C. Dula, blev arresteret og dømt for mordet, og den 1. maj 1868 blev han hængt for forbrydelsen i Statesville i naboamtet Iredell County. Efter henrettelsen blev der skrevet og senere indspillet flere sange om sagen; mest berømt er sandsynligvis Kingston Trioens hit, Tom Dooley fra 1958, men det er bare en af ​​mange versioner. På dansk er den indspillet af Four Jacks, Preben Uglebjerg med flere.
Lige siden Toms henrettelse har mordet været kilde til mange sagn, og både inden for fiktion og ikke-fiktion har sagen inspireret mange forfattere. Mange mennesker i det område, hvor begivenhederne fandt sted, tror (selv i dag), at Thomas Dula (Tom Dooley) var uskyldig, og at den virkelige skyldige var hans gifte elskerinde, Ann Melton.

I denne bog gennemgår jeg noget af det materiale, der har overlevet fra tiden og fortæller historien baseret på disse kendsgerninger, før jeg prøver at give mine egne forslag til en forklaring på, hvad der faktisk kan være sket i Elkville, North Carolina i de vanskelige tider efter den amerikanske borgerkrig. Jeg hævder ikke, at jeg har afsløret sandheden, som sandsynligvis aldrig vil blive kendt, men jeg giver et par forslag, der er baseret på min fortolkning af kendsgerningerne, og derefter overlader jeg det til mine læsere at afgøre med sig selv, hvad de tror. Jeg kan tilføje, at det er den research, som jeg her fortæller om, der har dannet grundlagt for min kortroman, The Doctor's Secret, fra 2019.
The book is available online from/bogen kan købes online fra
BoD Bogshop
Saxo
Amazon UK og Amazon US
and other online bookstores or can be ordered from your local bookstore/og andre online boghandleret eller kan bestilles via din boghandel.