Boat trip in Moab
Going south was once more a drive through exciting and an very varied landscapes. From Salt Lake City and south towards southeastern Utah the landscape changes a lot, which I have already written about in the article Rocks in many shapes and colors from 2006.

We left Salt Lake City and headed south on Interstate Highway 15, and after about 60 miles, we turned southeast on U.S. Route 6, which leads through the Uintah Mountains, the only major mountain range in the United States running east to west. Route 6 meets with Interstate 70 near the town of Green River, but we didn't go that far. Route 6 passes through Utah's main coal mining area, and unlike out last visit in 2010, we actually passed a number of very long trains, with open wagons, empty or filled with coal. At Price, approx. 50 miles from the interstate, we switched to Utah Road 10, which heads south, but in a more westerly direction than US 6. Ut 10 passes through towns like Huntingdon, Clawson, Castle Dale and Ferron and in the latter we stopped to change drivers.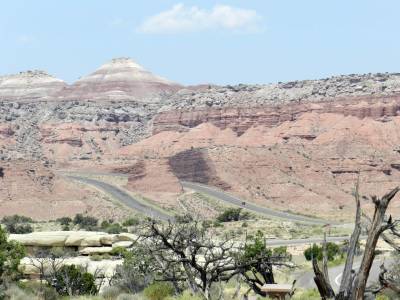 South of the town of Emery we met with I-70, about 100 miles west of the place we would have if we had stayed on US 6. The reason for this detour was that I wanted to drive on I-70 through the San Raphael Swell, a rather special rock formation. Three years ago we did the same, but in the opposite direction, and now I would so like to try once more. This stretch of interstate, has been named America's most beautiful freeway by some people, and it is also quite beautiful. We stopped along the way at a rest are to enjoy the view. After the break we continued east on the interstate until we met U.S. Highway 191, which leads south to Moab (and beyond). When we reached Moab it was still early, so we drove to the headquarters of Moab Adventure Center to confirm our participation in the sunset Hummer-tour that we had booked from home, and that was planned for the next day. Along the way, we also became aware of an evening boat tour on the Colorado River, with dinner and light show, so we bought tickets for that same evening.

After visiting the office we drove to Arches National Park, located 3 miles north of Moab. Tim and I had been here before, and so had Dorte and I in 2006, so Tina was allowed to decide what she wanted to see. The park is known for its over 2,000 arches, which have given it it's name, but there are also many other rock formations to admire. Tina wasn't particularly interested in the latter, as we had already seen various rock formations several other places, and were going to see more the next day, so we concentrated on the arches, but however made a brief photo stop at the rock formation called "The three gossips". We headed for the first arches at the so-called " Windows- area" where you can see the North Window, South Window, Turret Arch, Double Arch, etc. Tina and I had a short walk in the area, while Tim took a longer walk in the afternoon heat.

From there we drove to the end of the park's main road, and along the way we enjoyed Broken Arch and Skyline Arch in addition to the view of the labyrinthine area called the Fiery Furnace, which can only be accessed with a guide. On the way back we took a detour to the park's most famous arch, Delicate Arch, which has become a symbol of Utah and is depicted on the state's license plates. If you do not have the energy to walk two to three hours each way to the Arch and back, there are two view points from which to look at it. As it was 4 pm, and the temperature above 95, and there was no shade on the way up there, we chose to see and take pictures from the lower of the two view points which actually gives a better view than the upper view point. After the visit to Delicate Arch we left the park and headed for out hotel, The Red Cliffs Lodge, 14 miles east of town on Utah Road 28. When we got there, we got our room, a "suite " with a single king-size bed, that Tim and I shared while Tina had to sleep on a sofa bed in the adjacent combined living room and kitchen. The room had a private terrace right next to the river, which we knew from our last visit, with a splendid view of the green river and the red rocks. At check-in Tina also confirmed her participation for the horseback riding, she had booked for the next day.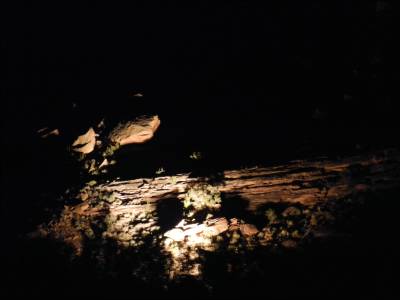 We had to be at the boat departure point just outside Moab at 7 pm and even with construction work being done on Route 28, we arrived in good time. In the combined box office/souvenir shop we switched our reservation with three tickets, and there was also enough time to look at the different souvenirs on sale, but we didn't buy anything. At 7:30 a cowboy dinner was served in a large dining room. It was different dishes, such as beef, chicken, turkey, pork, vegetables, corn and potatoes, all cooked in Dutch Ovens", At each "oven " was a "cowboy/cowgirl" serving his or her special dish. It was "eat-al-you-can ", but I only managed to take one trip. Tim managed twice and Tina twice visited the salad bar. Moreover, there were drinks in the form of soft drinks, sparkling water and tap water ad libitum, while you had to pay if you wanted beer, wine or liquor. Before and while we ate, an older "cowboy" told us about the food and later about the trip.

There were many people in the dining hall and we wondered how many boats they would use , but they managed to get us all on board one boat. The cowboy who had told about the food and trip, happened to be our guide and four of the cowboys who had served the food, were running the light show, that we were going to see. When darkness was falling, we sailed up river (towards our hotel). We passed a couple of bridges at dusk and were told about them, and we heard the story of "the cable car to nowhere", a cable car right on the river which begins at the foot of a cliff and leads up to absolutely nothing. Originally it should have led up to a restaurant, but the man who built it, was not allowed to build the restaurant but he refused to remove the cable car. It now stands as a testament to tenacity, and it has never been used. As we got further up the river, it got completely dark and then the light show began. Two trucks with big spotlights drove on the road along the river and lit up the rocks, creating patterns of light and shadows, and at the same time we were told stories about the area, both purely factual geological and other stories, but also myths from the Indians, who had previously lived in the area, and the first whites who came there. All in all a good experience and the stories was very interesting.

The show lasted until around 10:15 pm and fifteen minutes later we were back at the berth where we stepped ashore again and passed the mandatory tip. We found our car, and at 11 we were back at the hotel.

- Return to Three on tour -
- Return to Travel Stories -