Almost ready
In little over a month I will take off to the United States once more. With more than a month go to it may seem a bit early to start this year's travel diary, but I don't care. I feel for it, therefore I'll do it J. Like my two trips to Western North Carolina in the fall of 2013 and 2015, I'll be travelling alone, as my son will be visiting friends in Arizona, so our next trip together will probably be in 2018. As you may gather from the time of year of my travel, the purpose this time is not to admire the fall colors! No this time I am (hopefully) going to meet old acquaintances and probably get to know a few new ones. Of course I will also revisit some places, and with a little luck a lot of places, that I have never been before.
The trip is a bit longer than the two previous trips to the area. I have planned for 17 days from leaving Denmark until I'm back on my native soil again. As on previous occasions I will fly to Washington Dulles via London - and hopefully with no delay this time, se the article Delayed departure on the 2015 page. I will arrive in Dulles rather late in the evening, so instead of heading south at once, I will stay at a motel close to the airport. The next morning I will head out, and take Interstate highways 66, 81 and 77 down to North Carolina. Then US 421 to Wilkesboro and North Carolina Route 18 to my first goal in Lenoir. Here I have booked a room at the Irish Rose B&B; same place I stayed in 2015. Unfortunately, Rose, the owner of the place is going on a vacation in Europe, so I will only stay here for three nights, but I will still have time to do som excursions in the area to see things I have missed or places that I like to see again. I will get back to that below. I'm not quite sure. but maybe I will meet with author Charlotte Barnes (The Tom Dooley Files) and her husband Bill, while I'm in Lenoir.
My two next stops will actually be outside the area defined as Western North Carolina, but not by much. Stop number two is in Winston-Salem. I have booked a room at Augustus T. Zevely Inn in Old Salem. I have never visited Winston-Salem before, and I'm really looking forward to it, especially the Old Salem part of town. While I'm there I hope to rendevouz with another mail friend of mine, Charlotte Frye, who I have missed meeting in 2015 and 2016. Maybe we will manage this time. Also there are a few places in the vicinity of Winston-Salem, that I will like to visit. I will stay in Winston-Salem for two days, before going on to Charlotte, which with a number of inhabitants exceeding 800.000 is the largest town in North Carolina. This is the only place, where I have not already booked a place to stay, as I'm still not certain if I'll be staying with Charlotte and Bill in their home in Matthews, south of Charlotte. But Charlotte is a large city and it should be rather easy to get room in a motel somewhere even if I haven't booked in advance. One of the days there I will be joining Charlotte and Bill for some kind of arrangement in Statesville. Two nights in Charlotte and then on I go.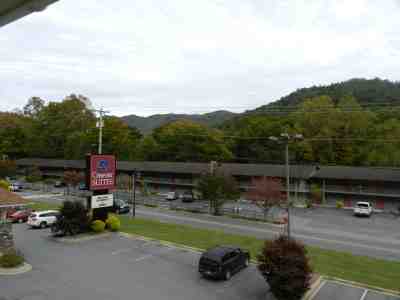 View from my balcony in Cherokee ind 2013.
The next goal is Cherokee where I will be spending 3 nights in Comfort Inn and Suites on Tsali Boulevard, where I have stayed a couple of times with Tim. A visit to Oconaluftee Indian Village is a must while there, and maybe this time I can get to see the open air play Unto these Hills. Finally I will go to Wilkesboro where I will spent 4 nights in a Days Inn motel. I have used Days Inn on several occasions out west, but this is a first, so I hope the motel is OK. After all I only have to sleep there, not spend the days. And while there I will most definitely once more have dinner at Dooley's Tavern and Grill downtown Wilkesboro.
I have already planned a lot of things to see and places to visit including places to eat! Of course this plan is not going to last, but will be changed along the way as always, but then I will see other places and eat in other restaurants. Following are a number of the things I have planned, though not necessarily in this order.
A visit to Emerald Hollow Mine in Hiddenite and maybe a few other similar gem mines near Franklin. A visit to a few parks like Stone Mountain State Park, Pilot Mountain, Hanging Rock State Park and Looking Glass Rock. I will visit a lot of small towns and villages like Sparta, Saluda and Edneyville a.o. I plan take a drive on Devil's Whip (NC 80) and Tail of the Dragon (NC 143) and I will see if I can spot any white squirrels in or near Brevard while visisting Brevard College. University of Western North Carolina in Cullowhee and Mars Hill University are also on my plan. Cheoah Dam near Robbinsville and Tellico Beach in Tennessee are also in the plans. And maybe I'll find time to go to Mountain City in Tennessee as well. Why this town is interesting you can find out by reading the article The body that moved itself on the Historic Stories page. And of course I will visit Great Smoky Mountains National Park while in Cherokee. My last visit was during the park shut down in 2015, and I never got see Clingmans Dome or any other spot in the park.
So everything is ready for take off. Passport and ESTA is done, plane ticket is booked and the same goes for a rental car. All I need to do is pack my bag, but that is still a bit early though.
- Return to Summer in Western North Carolina -
- Return to Travel page -