Museums and winding roads
The day after my arrival in Spruce Pine I was supposed to have met a friend, who lives there, but unfortunately our schedules collided and I couldn't get in touch with her, so instead I had a full day to spent as I wanted. And as the weather was really good and I was in a fantastic beautiful area with lots to see, what better way to spent it than to go sightseeing. So I did and thus this was the second day of sightseeing during my stay in WNC and more was to come later.
Maggie, the hostess of my B&B, had told me about a mineral museum located just south of town, at one of the "entrances" to the Blue Ridge Parkway, so I decided to go there. However, I took a detour to the north before I headed south. The area around Spruce Pine is famous for the many minerals (and gems) found in the mountains, and one of these minerals is very high quality quartz, which is used in virtually all microchips produced in the United States. Most of this quartz is mined from surface mines that make some huge and very visible "scars" in the mountainsides, and such a mine was just north of town, so I wanted to get a picture of it. You can't get into the mine, as it is a running mining operation, but I got some nice pictures from a distance. Then I headed south to the museum, called the Museum of North Carolina Minerals and run by the National Park Service. It wasn't big, but quite interesting, and I saw a lot of minerals and read (on posters) about mining in the area in the old days. One could also listen to recordings of former miners telling stories about "the good old days".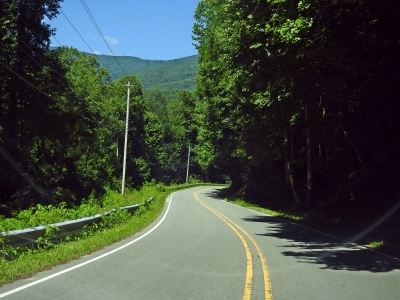 NC 80 is almost straight here.
As the museum was right next to the Blue Ridge Parkway, it was natural for me to take a short drive on this very scenic road. However, it was only a few miles to the north before I left the road again. When it crossed North Carolina Highway 80, I took the latter northeast. This road is very winding on the stretch south of the entrance where I reached it, but later in the day I actually drove that winding stretch as well. The road is, however, certainly not drawn with a ruler heading north, and I passed a notorious turn, called Dead Man's Curve, because at least one fatal accident happens every single year, often more. But not to me, maybe because I adhered to the speed limit of 15 miles around the turn. My goal was the little settlement Kona that I had visited in 2015. This was where the famous or maybe rather infamous Frankie Silver killed her husband with an axe, chopped the body to pieces and burned some in the fireplace, while other pieces were buried. Gruesome? Yes, but it was back in 1831, so it didn't happen recently. You can read more about the story on my Danish history page (if you can read Danish) and I will probably translate that article in the near future, as I think the story deserves to be told, because it may not be as straightforward as it sounds – and it definitely is an exciting story.
From Kona I continued north to Bakersville, a town that I had never visited before. Bakersville is the county seat of Mitchell County, and here I got some photos of some buildings among others the county courthouse. Bakersville is a relatively small county seat. Only 400 people live in the town. From Bakersville, I took a bit bigger, but still quite small road, NC 226 back to Spruce Pine and continued further south to Marion, where I switched to a US Highway (No. 70), which took me west to the neighboring town of Old Fort. This is a small town named after an old fort that once was located here. Where the fort, which was supposed to protect the white settlers against hostile Cherokee Indians, once stood, a ten feet arrowhead of granite has been erected, and of course that also became a photographic target. I also looked at the rest of the town but it was quickly overlooked. From home I had read that north of the city, an artificial geyser was established in connection with the celebration of the railway being established, and of course I had to see it. I had a little trouble finding the place, but eventually I succeeded. And what a disappointment! It was a fountain basin without water, and OK, there was a small "cone" in the middle of the basin, reminiscent of the geyser cones you see in Yellowstone National Park, but that was it. I later learned that the geyser had not worked for several years, even though it had been repeatedly repaired, most recently about 10 years ago.
From the geyser there was only one way back, the same that I had arrived on, but instead of driving all the way back to Old Fort, I took the road to Marion, a town that I had previously only driven through, but never really seen. Along the way I passed a church that I had to stop by and photograph because it reminded me more of a warehouse than a religious building. When I reached Marion, county seat of McDowell County, I saw both the courthouse, the police station and a bank! This bank is characteristic from the fact that on the roof of the building is a small cupola, which is actually used as a symbol of the town on posters. When it is not the court house that symbolizes the town as it is in many small county seats in Western North Carolina, I think this is because this building is rather dull looking. A large square block with some interesting details, but not very eye-catching. When I had seen enough, I headed west again out of town. I wanted to visit Carson House, a former inn which was now a museum, and where celebrities such as Andrew Jackson, Sam Houston and Davy Crockett had stayed, but unfortunately it was closed on Mondays, so I had to give it up. Instead, I drove north and once more on NC 80, and it was on this occasion that I drove on the very winding part called Devil's Whip and not least on the last part of this stretch you have to take it easy. This part is called "The Longest Three Miles" and one of the reasons why you should take it easy is that the road is an Eldorado for motorcyclists, so every moment you can meet a fast-moving motorcycle that comes around a turn. But this time I didn't run into problems. I have a video from The longest three miles from a previous trip in 2017 on my YouTube channel.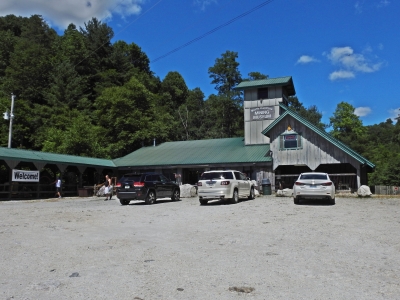 North Carolina Mining Museum outside Little Switzerland
When I came to another one of the places where the NC 80 crosses the Blue Ridge Parkway (just after the winding part) I took this for the second time that day and headed north through the small settlement, Little Switzerland, which has that name because many of the houses is built in alpine style with wooden balconies etc. Here there are several hotels and inns, but slightly outside the village, there is also a museum, the North Carolina Mining Museum, which I had decided to visit. As with all decent museums in USA, there are of course also souvenir shops etc. In the museum building itself you can buy stones of different kinds, and I bought a few polished agates, which I brought home as gifts for my mother and mother-in-law respectively. One could, for a modest amount, get down into the mine under the museum, but it had gotten quite late, so I gave up on that idea and left it for another time. There are still a number of mines in the area, where various gemstones are excavated, such as sapphires and rubies, and also emeralds, although most are found further east in the area. In fact, diamonds have also been found here, but not on this side of the year 1900, so it is a few days ago.
After the visit to both the museum and the souvenir shop (where I just browsed but didn't buy anything), I turned my nose towards Spruce Pine and my B&B. After about an hour iof relaxing, I once more chose to walk down to the center of town to have dinner. Today it was Monday, so there were many more people in the streets than the day before, and several restaurants were now open. The previous day I had noticed a place called The Tropical Grill, which I knew a bit about from the internet. The restaurant serves food from the US, of course, but not least from Columbia, Cuba and Jamaica. Now it was open so I went inside. I forgot what I had for starters if any, but for the main course I ordered a Jamaican Jerk Chicken Salad. For those who don't know, jerk is a hot spicy sauce that they make in Jamaica, and which I once got from a good friend when he returned home after a few years of living on the island, so I knew its qualities. When I had ordered with the young lady who served, an older lady from whom I suppose was the owner or the cook (or maybe both), came down to my table, explaining that the chicken was very "hot" and recommended that I take a mouthful of chicken and then two or three mouthful of salad. Of course I thanked her for the recommendation, and then I ate it as I felt like and I survived without any problems. But it was hot I have to admit – but also very good – if you like spicy food.

After dinner, I returned the Richmond Inn, where I just had to pack a few things, so I was ready to leave the hotel the next morning. At this time, the sun was still shining as it had been all day from an almost cloudless sky. The temperature had again reached more than 95, but fortunately the air was not as humid as it sometimes can be in this area - but that would change a few days later. My little sightseeing trip added only 170 miles to my driving total in total, but then I also had many stops to see things and visit places.
- Return to Friendly trip tour -
- Return to Travel page -