Heading
east
After our visit to Gilbert, we continued east to Bonham, Texas, where we were going to visit another couple of Tim's friends. However, it is a relatively long trip, so we split it over a couple of days. On the first stage we drove to Las Cruces in New Mexico, which we had just passed through in 2014 and the on the next stage we drove to Abilene - not the famous cattle town in Kansas, but the somewhat less famous city in Texas between Las Cruces and Dallas.

Most of the first stage was just driving on the freeway. From Gilbert we headed for Interstate Highway 10, which was our "main" road on all of this year's vacation. Although the gps led us along smaller roads through suburbs of Phoenix, it was an easy drive, and we reached the interstate south of town, and continued south to Tucson. Along the way, we passed through well-known landscapes, as we have driven this route twice before - at least the southern part of it. The first stretch from Phoenix to I-10 intersects with I-8 near the town of Casa Grande, however, we had only driven once before. On the southern stretch we passed a very characteristic mountain range called Picacho Peak, which actually looks most interesting from a distance and becomes more ordinary as you get closer. In addition, we also passed an area with many saguaro cacti, but then the western part of Saguaro National Park is located in the mountains, not far from the highway if you can find it. We had a bit of problems doing that on our first visit to the area, but in the end we managed to get there. Finally, we passed a boneyard for planes at the town of Marano, and Tim tried to get some pictures as I was doing the driving at that time. The "yard" was some way from the highway, so all you can see in the pictures are silhouettes of planes in the distance. We passed Tucson without any problems, as it was late morning, not rush hour, unlike last time we passed the city on I-10.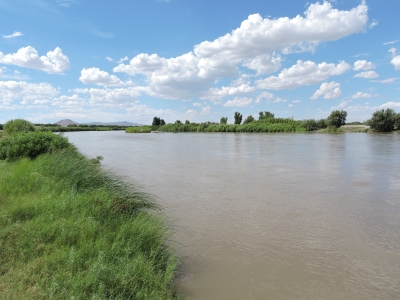 Rio Grande in Las Cruces, New Mexico
After having passed Tucson, the highway leads north for a short distance before heading east once more. When we reached the eastern part of Saguaro National Park, we left the highway, but we didn't go all the way to the national park, instead stopping and taking pictures of cacti and other desert plants that we saw along the way. The first longer stop we made at a gas station; we had already filled up the car before we left Gilbert, so now I just had to get myself some coffee. Tim doesn't drink coffee, so he just had some water from the cool box. Then we proceeded to New Mexico and at the small settlement Separ we left the highway again for a short stop. Here you pass the Continental Divide and here you find a historic trading post that we just had to visit. Bowlin's Continental Divide Historic Trading Post, it was an impressive name, and the store was fun enough, but nothing they offered was interesting enough for us to buy, so we left empty-handed. Separ itself is considered a ghost town, but we didn't know that at the time, so we didn't explore it further. However, next to the store there were some obviously abandoned buildings, which we looked at, and perhaps that was all that is left of this city, where two outlaws were shot in 1905 and where Black Jack Christian and his High Five Gang robbed the general store way back in 1896. After our break here, we continued to Las Cruces without further stops.
In Las Cruces we easily located the hotel we had booked from home, and after getting a room and using the internet to investigate what sites to see, we decided to visit a park with the beautiful name Mesilla Valley Bosque State Park, located on the Rio Grande River. According to the homepage, the park was open until 5 pm and it was only a little after three when we left the hotel. However, when we got there we discovered that on that particular day the park closed already at 4, as the park ranger had to go somewhere. Therefore, we just walked around the garden outside the visitor center and looked at some of the local plants and skipped a walk on the path along the river. Instead, we stopped on our way back to town at a bridge where the road crossed the river and took some photos there. After the unsuccessful park visit, we headed back to a church that we had passed on our way from the interstate to the hotel. For some reason we thought it looked interesting and it turned out that it was an episcopal church. I do not know about all the different Christian denominations, so what the epsiscopal denomination stands for, I do not know - but the church was nice. After visiting the church, we drove back to the hotel, but on the way we made a stop at yet another Walmart. This time, the visit was due to my bad memory. Before leaving Denmark, I had put my two adapter plugs on my table, so I wouldn't forget them, and I found them in exactly the same spot, when I returned, so they didn't do me any good. So far, I had made do with the ones Tim had brought, but as we had to split up at some point, I had to have at least one myself. So I got a package of adapters of which I only needed and could use one. When we got back to the hotel, I wanted to get it out of the plastic wrapping, but like so many other appliances, it was impossible go get out of the package, so I had to go down to the front desk (which was on the other side of the parking lot) to borrow a pair of scissors so that I could cut my way into the d..... thing. As a thank I let them keep all the adapters that I didn't need.
In the room was a folder containing information about the hotel, nearby sights and eateries in the area. A couple of dining places looked interesting, so we examined those more closely online. Las Cruces modestly names itself "The Chili Capital of the World", and there are many places where you can taste chilies, both in restaurants, but also on chili farms. Actually you can follow "The Chili Trail". However, we ended up choosing a restaurant with the inspiring name, Cattle Baron, that boasted of Steak & Seafood. It was about 3 miles from the hotel on top of a hill with a nice view of the town. As the name suggests especially steaks and fish were on the menu, but also other items. We both chose a steak, which proved to be excellent, and as a side, I chose the salad bar, which was equally good. After dinner, we drove back to the hotel and relaxed after a relatively long drive, although we would experience longer drives later on the trip. 410 miles from Gilbert to Las Cruces including detours and local driving, and the temperature hadn't risen above 105 all day. Cold, in comparison with the days we spent in Arizona.
On to Texas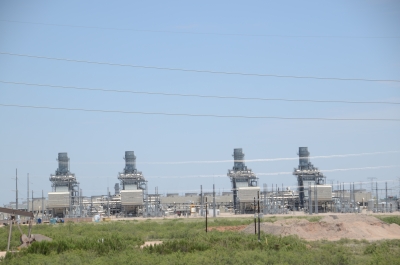 Petrochemical company outside Odessa, Texas.
On this year's vacation we spent as much time in Texas as on all previous visits to that state put together, as Texas has usually only been state that we had passed through (or at least part of it). This first day of the state, we were just driving from Las Cruces to Abilene, and this time we only made the usual stops to buy coffee, visit rest rooms, switch drivers and so on. Initially, I-10 leads south from Las Cruces, and only about 25 miles (40 km) south of that town, you pass the Texas state line. Soon after that, the interstate leads through the outskirts of the famous border town, El Paso, known from several movies and novels, especially westerns. Across the border is the Mexican city of Ciudad Juarez, unfortunately known as the most criminal city in Mexico - so we did not visit – and we hadn't the time anyway. But we left the interstate and drove through part of El Paso, just to be able to claim that we had been there. Among other things, we saw one of the city's cathedrals and a few other interesting buildings before returning to I-10. East of El Paso, I-10 runs south to southeast (actually more south than east) parallel to Rio Grande and in several places there was quite a nice view of Mexico on the other side of the river. Around the small settlement of Esperanza the highway parts from the river and heads in a more easterly direction, so we did too! About 10 miles after the town of Kent, the interstate splits in two. The I-10 continues to east, while I-20 turns northeast to Fort Worth and Dallas and thus to Abilene, which you reach first. From the start of I-20 we had about 300 miles to go to our goal of the day. On this stretch, the landscape changes dramatically from being mountains and hills, to being completely flat prairie. Nothing much was happening on I-20, except we continued our truck counting game. Around the city of Odessa there are apparently lots of oil in the underground; at least we saw some oil pumps, but not least lots of oil and petrochemical industries. Just before town there is a relatively small meteor crater (560 feet in diameter), but we chose to skip that. We had already seen the large crater in Arizona back in 2010.
Also in Abilene we had booked a hotel from home, and just like in Las Cruces we found it without any problems. This time the hotel was a La Quinta Inn & Suites, a hotel chain I had never tried before but it turned out to be very nice. Not luxury, but it was also just a place to sleep. After checking in, we drove down to what we thought had to be the central part of the historic downtown, and there were also some interesting buildings there, like an apartment building, an old cinema and some churches. But otherwise there was not much to see in the area, which seemed completely abandoned on this late Sunday afternoon. At least there were no people in the streets except for a single car. We met a few more people and cars as we got back to the area around the hotel but still not many. we had dinner on the first Denny's of the vacation, a chain that we have used quite a lot on previous trips.

The weather had been fine all day and the temperature for the second day in a row, had been on the lower side of 105, although it did not matter as we only left the car to enter gas stations and such, and for our short walk in downtown Abilene. Today's trip was 506 miles, the longest on this trip so far, but we would exceed that a few times later on. But now we were not that far from our primary goal in Texas, Bonham, north of Dallas and near the Oklahoma border.
- Return to Friendly trip tour -
- Return to Travel page -