Sightseeing on the way to Cherokee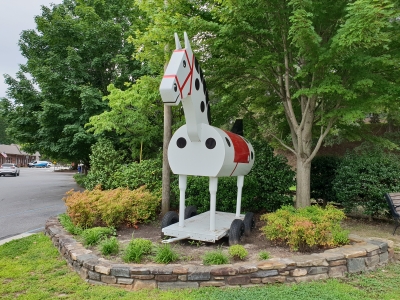 The toy horse Morris is a symbol of the town of Tryon. It is an enlarged version of a real toy horse
The goal of this Saturday was Cherokee. I had booked a room in advance, mostly because I had to be in neighboring Bryson City the next day, and here the accommodation possibilities are fewer than in Cherokee. Also, Cherokee is interesting town to visit. I had booked a room at the same hotel, in which I have stayed on five of my seven previous visits to the town and apart from it no longer being a Comfort Suites as it used to be but had become a Super 8, everything was just as it usual. But first of all, and because of my long stint the previous day, I was only about one hour's drive from Cherokee, and therefore I had plenty of time to spend as I couldn't get my room until 3 pm. I therefore decided to use the day for sightseeing in the area, where, despite many previous visits, there were still things I had not seen and places I had not visited (and there still is).
Instead of going north, I headed south to Tryon, the town where I chose not to stay the night before, due to the lack of a Walmart. However, I would like to see the town, that is known as a equestrian center. Already at 9 am I was in Tryon, where I found a place to park my car without difficulty; there were actually not that many people in town, at least not at that time, so after having parked the car I went for a walk on what I think is the main street. In any case, Trade Street is a central street, with beautiful houses and small shops - and horses. Figures of horses, that is, not live ones. On the other hand, the Tryon Equestrian Center with real living horses is located just outside town, but I did not visit it. One of the horse figures I passed was Morris! Morris is an oversized toy horse, and it is actually the symbol of Tryon. It is an enlarged copy of a toy horse produced by a toy manufacturer in town. The first Morris was put up in 1928, as a symbol of the local riding and hunting club, and the current, which is the fifth of its kind, is from 2012. Even if it may sound incredible, Tryon (or at least an ice cream shop in town) is featured in a poem by famous writer, F. Scott Fitzgerald. The ice cream shop and the building where it once was is now replaced by a bank, but it was called Misseldine's and Scott Fitzgerald wrote:
Oh Misseldine's, dear Misseldine's,
A dive we'll ne'er forget,
The taste of its banana splits
Is on our tonsils yet.
Its chocolate fudge makes livers budge,
It's really too divine,
And as we reel, we'll give one squeal
For dear old Misseldine's.
When I thought I had seen enough of Tryon, including their local history museum (from outside as it didn't open until later in the day), I went back to the car and headed for my next goal, the even smaller city of Saluda, which is only 8 miles (13 km) west of Tryon. Here I wanted to see the railway tracks. No trains use the tracks today, but it is known as the steepest railroad line in the United States with a standard gauge. There are some narrow-gauge railways in the mountains of western USA, which are steeper, but no-one with the standard gauge. In fact, this is the reason that the tracks are no longer in use, as it is simply considered to be too dangerous. Saluda is by the way, despite its only approx. 700 inhabitants, classified as a "city", while far larger cities are classified as "towns" or even as "unincorporated communities". Why that is so, I could tell a long story about, but I will spare any readerss this rather boring story. So I headed for this "big city", but when I got to Saluda I could not enter the town center. All roads to the center of town were blocked, and police and sheriff's cars with lights flashing blocked the two entrance roads to the city. On my way to Saluda, I had passed a bike race, so I figured it had something to do with that - and that proved to be at least partly correct. Traffic signs led me around the "town center", and along the way I passed several parking lots, but they were all occupied, and eager police officers waved me on. Finally, I gave up on the visit and chose a new goal instead. Saluda has to wait for my next visit to the area, which may come in July 2019. I later found out (when I got back to Denmark) that they celebrated "Coon Dog Day Festival" on the day of my visit, where they celebrate some dog. The Coon Dog is a scent dog related to the bloodhound, and this is celebrated in Saluda each year with all kinds of festivities such as food, drinks, booths, parades, live music, dancing in the street and a bicycle race. However, why the festival is held, I have not been able to figure it out.
So instead of a visit to Saluda I decided to go on to Brevard, which is the county seat of Transylvania County. The name of the county may sound Romanian and a bit creepy (Dracula, you know) but it is not the case. The name, Transylvania, simply means "the land on the other side of the forest". Brevard is located about 30 miles west of Saluda on a somewhat winding road (but it would get worse later in the day). The ride took me about an hour, because one certainly does not speed here. But the road was quite beautiful as it led through wooded mountains. There were two reasons I wanted to visit Brevard. First of all, to see the town that I have only driven through on my earlier visits and partly to see if I could spot one of the white squirrels for which the town is famous. After a little driving and walking around without seeing any squirrels at all, neither white nor any other color, I visited the local Visitor Center. Here I was told that you should be lucky to see a white squirrel, as there is no particular place they hang out, so on the other hand you might see them anywhere. So I gave up on the idea of locating such an animal, and instead headed for the local university and took a look at that. It proved to be the beginning of a series of visits to various universities, as I've all mentioned in my book, Land of Friendliness and Beauty (buy it if you want to know more - see the front page). The university buildings were nice and I took some pictures. The university is quite small and only has about 700 students.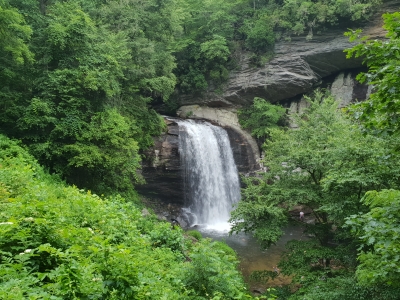 Looking Glass Fallss north of Brevard in Transylvania County next to US Highway 276.
When there was nothing more I wanted to see at the university, I left Brevard again. North of the city, in the Pisgah National Forest, there are some waterfalls, and I would like to look at them, at least the two located close to the road, Looking Glass Falls and Sliding Rock Falls. I therefore headed northwards on US Highway 276, which proved to be one of the most winding US highways I have ever driven. However, I still haven't tried the stretch of US Highway 129 in Tennessee, which is called Tail of the Dragon, with its 360 turns in less than 20 miles (32 km). When I reached Looking Glass Falls, there were quite a few cars parked along the side of the road, but I managed to find a place where I could park my car, and then I walked down to watch the waterfall, which was very nice. In the small pond at the bottom, typical of most waterfalls, there were many children and young people, who took a dip, and people in swimwear, especially children, went back and forth between waterfall and cars. I spent about 20 minutes admiring the fall and taking pictures and then I walked back to the car and continued toward Sliding Rock Falls. This waterfall has its name because people can use the slippery rocks in the waterfall as a slide, and that is supposed to be a lot of fun. But when I got there, there were two police cars that prevented entrance to the parking lot and the officers waved me on (not just me of course but everyone else as well). I later discovered that there had been a landslide and the area had been closed. If anyone had been injured by the landslide, I cannot say, but there were no ambulances or the like when I arrived.
I therefore continued on the still winding US 276 to the town of Waynesville, where the last gunshots of the American Civil War east of the Mississippi was fired in May 1865, one month after General Lee's surrender at Appomattox Courthouse. I did not stop in Waynesville, but switched to the somewhat less winding US 74 heading southwest. This road led me through the town of Sylva, where last year I took a picture of the beautiful courthouse, located on top of a hill. I just drove through Sylva though, as the sky was getting more and more cloudy and I would like to visit yet another university. Along the way between Waynesville and Sylva, I stopped at a gas station to refill both the car and myself (with coffee). The university I wanted to visit was Western Carolina University, and it is quite large with approx. 11,000 students. It is located in a relatively small town, Cullowhee. Here too I took some pictures, but while I was walking around taking pictures, it started to rain so I did not stay long. It was now around 2 pm, so I decided to head for Cherokee. To get there from Cullowhee, I once more passed through Sylva, and when I reached this town, it was raining cats and dogs.
When I reached Cherokee, however, the sun shone through the clouds and it had stopped raining, so before driving to my hotel, I parked at Oconaluftee Island Park and went for a walk to watch the many people who enjoyed themselves by and in the river. While I was standing on a footbridge over the river, a drama happened below me. A little boy, maybe 6-7 years old, had lost his footing and had been taken by the current, and every time he tried to stand up (the river is quite shallow), he lost his balance and was washed further down the river. A man, his grandfather I think, tried to catch him without luck as he was too far behind, but luckily a 13 or 14-year-old girl was resolute and ran into the river and grabbed the boy and pulled him ashore. As I was up on the bridge I had no chance of getting down there in time. But the girl did well and the unfortunate boy was united with grandfather. After this experience I continued to the hotel and got my room; actually three small rooms en-suite and a balcony overlooking part of the town, mostly other hotels, motels and restaurants. For the rest of my vacation until I would be united with Tim down in Florida, I was going to stay at bed & breakfasts, so this was my last chance to use a guest laundry, so after unpacking, I washed the clothes I had gathered since my last time doing laundry, which wasn't that much as less than a week had passed since last time Tim and I had done our laundry. With laundry done, I decided to go foran exercise walk so I went up to the room with the now clean and dry clothes, and then I went outside. That is, I only got to the hotel entrance, because when I got there, I discovered that it had started to rain heavily again. I therefore went back to the room and switched to some thin running shorts, which dry quickly and found my poncho (of plastic) and then I took off again. I walked up to the northern end of the town, crossed the river and headed south past the hotel we had stayed in both 2000 and 2002 until I was back at the Island Park. Along the way it changed between rain no rain several times, and when it rained, it was raining heavily, but the poncho did what it supposed to and prevented me from getting soaked by the rain. I bought it in Louisiana in 2016, but it was the first time I ever used it. But as the temperature was well above 30 ° celsius (86 F) and the humidity was high, I had been perspiring quite a lot underneath the poncho, so when I got back to the hotel, my clothes were just as soaked as they would have been without the poncho.
I took a refreshing shower and when I had done that, I wanted something to eat. I could see that the rain had stopped once more, the clouds were almost gone and the sun shining through what was left of clouds, so I walked to Paul's Family Restaurant (Indian Owned, as it says on the sign outside), which is close to the hotel, where the food is good, and where I have eaten several times earlier, both with Tim and by myself. And it was also good this time, although it took some time to get the food, as there were a lot of people and the staff was very busy, but I was in no hurry, as I was on vacation. Of course some people got impatient and even if the server told them, that there would be some waiting time, a family of five chose to sit down at the table next to mine. Unfortunately they didn't have much patience. After waiting for about five or six minutes they got up and left, while talking to each other about the poor service at the place. The "indian owned" part is interesting – at least to me. For those who have not read my previous articles from my visits to Cherokee or otherwise gained knowledge about this, I better explain that Cherokee is the main town in the area called Qualla Boundary, which is home to the Eastern Band of Cherokee Indians. When I got back to the hotel, I relaxed with a tablet and a book. That is tablet as in computer, not tablet as in pill :-). I had to get up early the next day to drive to Bryson City, as mentioned in the introduction. My sightseeing trip meant that although it is not very far from Hendersonville to Cherokee, I drove 188 miles or 303 km.