Green as in Spring
For the first time ever, I had the opportunity to travel to the United States in the springtime in 2019. It was the first time that I could spend two weeks of vacation around Easter. The three days before Easter (in Denmark both Maundy Thursday and Good Friday are holidays already), the school is now closed, so there is no teaching, and since I able go get the week after Easter off, I decided to make good use of it and go to USA once more. Since I wanted to have some time at home after the trip, I decided to leave already Saturday before Easter and then return to Denmark the following Thursday. As you might expect when you know my interests, I decided that the destination would once again be Western North Carolina.
As I wanted to meet as many of the people I know in the area as possible, I planned to stay five nights in Lenoir and five in Statesville, and head out from there. In Lenoir, I booked for the fifth time a room at The Irish Rose Bed and Breakfast, my favorite place to stay in town. In Statesville, for the second time, the Clichy Inn Bed and Breakfast, my favorite in that town. (In fact, I have already booked rooms the same two places for my next trip, which takes place in July). The first night I had to stay somewhere between Washington DC and Lenoir, which was the first real goal of the trip.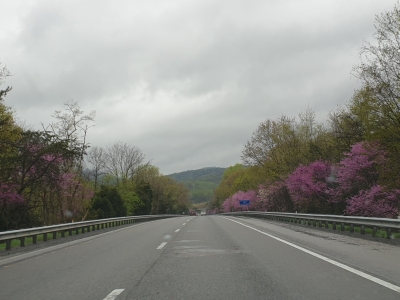 Heading west on Interstate Highway 66
The flight ticket was booked, I booked a car, and then I contacted the people in the area, that I wanted to visit and announced my arrival, and apparently it did not scare too many, as they all agreed (some even looking forward to my visit) to meet me again. In the end, I managed to meet everyone I had planned to meet except for two. One had let me know in advance that she was going for a family visit in Virginia at the same time as I was in North Carolina, and unfortunately, one was not at home the only day I had the opportunity to visit him. In addition to looking forward to meeting all these exciting and extremely friendly and welcoming people again, I was also looking forward to experiencing spring in the area, which I had never seen before. Since western North Carolina is on par with North Africa and thus about 1,400 miles south of my hometown of Brøndby, spring should be somewhat further ahead than back home. And it should also turn out that it was at least to some extent the case; more about it in future articles.
The last day of work was Friday and after work I just went home to do my packing, as I would be picked up by a taxi at 4.30 am Saturday. It arrived promptly, and without morning traffic it only took approximately 12 minutes to drive to the airport, so I was there way ahead of schedule. With fast track through security, it didn't take long either, so I had plenty of time to have breakfast in the lounge. The flight departed on time and arrived in London a little early, so here too I had plenty of time in the lounge before my flight to Dulles were leaving. There's nothing to tell about flight from London to Dulles. It was as boring as plane rides are most, but I managed to get af few hours sleep along the way. Getting through Immigration was relatively quick so I could grab my luggage that had already been taken off the baggage carousel when I got there. Getting through customs was easy - I didn't even have to hand in the statement you always fill out before arrival. The bus down to the Avis office came after only five minutes of waiting, and when I got there, nobody was standing in line in front of me, so in less than 15 minutes I was on my way.
I took Virginia Road 28 to I-66. When I reached the interstate, there was a lot of traffic as it was around 4 pm and many were on their way home from work or what they had been doing in Washington on a Saturday, but as I got further west, most rush hour traffic had gone and when I changed to I-81 South traffic was like any other Saturday afternoon. As I got further south I began thinking about where to stop for the night, but quickly decided that it was going to be around Lexington, Virginia, where I often spent the night heading south. When I reached this town, I left the interstate at an exit where there were strangely no motels right at the exit, but a little closer to town there were plenty as I knew from previous visits. I settled on a Wingate by Wyndham, mostly because there was a restaurant next to the hotel's parking lot, which would mean that I did not have to drive to get dinner. I got a nice room and immediately went down to dine, so the first US meal of the trip I had on a Ruby Tuesday, which I like because of their salad bar. All tables were occupied and there was about one hour of waiting, but if I wanted to sit at the bar I could get a seat right away - and I didn't have to drink alcohol. I thanked for the offer and immediately bought a margarita. A little later a couple who obviously would not wait either arrived and sat down at the bar next to me, and while we were waiting for the food, we of course got to talk. After dinner I said goodbye to the couple and went up to my room to get some sleep. At that time, I had been awake for about 28 hours, and I had to drive again the next morning.