Final installment
On my last day before I was going to return to Denmark, I hadn't planned anything special, but maybe I should have, as most of what I ended up doing, proved to be in vain.
Everything was closed
I started the last day by driving to Beaver Creek near Ferguson to see if Zelotese Walsh, who had shown me "the hidden cemetery" on my last visit, was home, but even though a car was parked outside the house, nobody opened when I knocked on the door. I therefore proceeded west on NC 268 to Fort Defiance, General Lenoir's old home, to visit the museum here, but it turned out that the place was only open on Thursday through Sunday and this was a Tuesday, but I did get another photo of the house from the outside. So I headed east once more, and when I passed Beaver Creek I tried one more time at Zelotese's but still nobody was there. I decided to drive back to Statesville, but for some reason, I stopped at the Northwestern North Carolina Visitor Center outside North Wilkesboro. Here I chatted with a gentleman who was on duty and he told me about "moonshine", that is - the legal part of the production. Real old fashioned moonshine is most likely still made in the area, but nobody wants to talk about that. It turned out that there are two official distilleries in Wilkesboro and North Wilkesboro, but I did not visit any of them. I don't remember exactly how we got to talk about it, but somehow we ended up talking about Ferguson, and it turned out he was actually from there. Then I told of my visit to Zelotese Walsh, whom he had heard of but did not know persoally. But he invited me into the back room where two ladies were having lunch. They immediately offered me to join them, but I turn down the offer. The man told them about my visit to Zelotese, and they could tell that not only did they know him, but they had attended his 95th birthday the previous week. They promised to give him my greetings when they saw him next.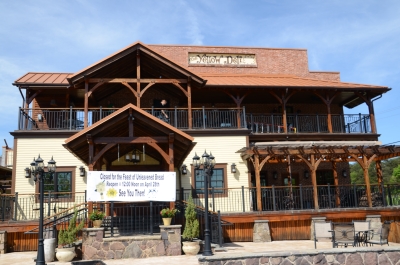 The Yellow Deli in Hiddenite
When we had finished talking, I returned to Statesville to see if Steve Hill would happen to be at his exhibition but he wasn't. Then I headed back to the Clichy Inn, and chatted for a while with Lori, and she could tell me, among other things, that Steve was not in town at all that day and that his normal replacement was on vacation, so the Historical Collection wasn't open at all. Lori is on the board of the organization Preservation Statesville, which supports Steve's collection. After talking to Lori, I then drove to Hiddenite. Here I planned to have lunch at a cafe, The Yellow Deli, which Lori had told me had almost become a cult place. There are several branches in this chain, including one in Chattanooga in Tennessee, one in Boulder in Colorado and of course the one in Hiddenite in North Carolina as well as several other locations. However, it turned out that I once again had to settle for photos from the outside. The place was closed all week Monday through Saturday because of a Jewish holiday, The Feast of Unleavened Bread, the Jewish Passover. Instead, I decided to drive to Taylorsville, the county seat of Alexander County. Not because there was anything specific I wanted to see, but in the past I had only driven through town, and now I wanted to take a closer look. I walked up and down Main Street and got a few pictures of that, of the courthouse and the combined police station and jail, but otherwise there wasn't much to see.
I drove back to Statesville and chatted for an hour or so with Lori until it was around 5.15. Then I went for a walk, not that long though, and ended up at Risto's Place, where I had my last dinner of this, my first trip to USA in the springtime, the 19th in all. On my way home from dinner, I continued my walk a few miles down an area I had not previously visited, down to the railroad and the large mill located there. It turned out to be a largely "colored" neighborhood, but everyone waved and smiled kindly at me as I walked past their houses, most of them sitting out on the porches enjoying the warm evening. When I came back to the B&B and told Lori about it, she explained that it was an area known as "Southside", which sounded very logical as it was actually in the southern part of town.

When I returned to the inn it was around 7.45 pm, so I sat down on the porch and enjoyed a soda and chatted with Lori while she was setting up a raccoon trap. Raccoons are considered pests in urban areas, and at that time she had caught 8 so far this year. The raccoons come primarily to steal bird eggs from small birds' nests, of which there are many in the garden, and to eat the fish that she has in her fishing pond, which she is not so excited about. She also stated that her garden was plagued by groundhogs, who eat the roots of her plants, which she does not like anymore than the recoons eating the eggs. She told me that she has seen coyotes in the garden a few times, and I have heard from several people that the "coyotes are moving further and further into urban areas, which is also considered a problem, and shooting coyotes is actually allowed all year. While I was sitting on the terrace, new guests arrived and I chatted with them for a bit until they went out for dinner. Then I went up to the room and packed the last of my stuff. Some I had already packed in the afternoon when I was back in between all the visits I had tried for in vain.
Heading north and flying home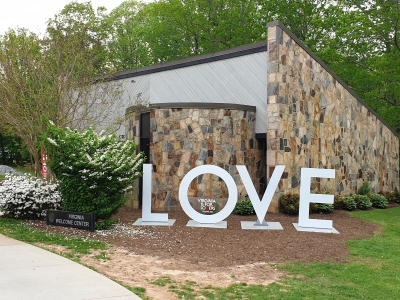 Virginia Welcome Center on Interstate Highway 77
The next day (my last on this vacation) I had to return my rented car in Dulles before 4 pm. At 8 am I left Lori after one last breakfast. Before I left I settled my score and then was off. I took I-77 north from Statesville and I had my first stop at the Virginia Welcome Center just across the state line. The next stop I made after having changed interstate to I-81, on which I had to stay for well over 200 miles. At this stop on a gas station,I just had a fresh bottle of cold water and a cup of coffee. The last (or rather penultimate) stop before the airport I made about an hour and a half before I my destination. Here I had lunch at an Applebee's and then I continued - rather slow, because I could see that I was making very good time (too good time actually). I made a single stop just before the airport to get some gas for the car, as I had to return it with a full tank. I was at the Avis office at the airport before 2.30, and although I had to take the bus from Avis to the terminal, I was already there at 3, and had to wait a while for the check-in counter to open. Fortunately, a British Airways flight was scheduled to depart at around 6 pm, so check-in opened at 4, otherwise I would have had to wait several hours to check in, as my flight would not depart until 10.15 pm, but as was, I could check in and go to the lounge, where I could spend the time until departure. Not too funny but more comfortable than the benches outside check-in.
The flight home was boring as usual, but I got to sleep for a few hours underway, so I was a least a bit rested when we landed in London. Here I spent a few hours in the lounge before the last part of the trip to Denmark, and when I got to Copenhagen Airport both my suitcases arrived with me for once, so I jumped in a cab that took my to my home, and that was the end of my first spring break in USA,
Since it was not an real road trip, I did not make the usual registrations of how many miles I had been driving each day, but only the final score. In total, I had driven 2,353 miles (3,786 kilometers), so even though it was not a road trip and the two longest signle stints were to and from the airport, it resulted in my total driving distance in USA have now reached almost 125,000 kilometers (77,000 miles). Neither did I keep a detailed account of the money that I spent, but all inclusive, airline tickets, lodging, food, car rental, gasoline, etc. it was about 35-36,000 DKK ($ 5,500). Expensive, yes, but great and well worth the money, and then I got the chance to meet many of my friends in the area, and that in itself is worth a lot.

Even if mileage and money wise is not precise on a day by day basis, I kept a very accurate account of the trucking companies, that Tim and I count as pastime on our trips, so let this be the end of mystoryfor this time. Quite a few of the trucks I met on the last stint up the interstate. The final score was 75 Schneider, 62 J. B. Hunt, 41 Swift, 31 Werner, 18 Estes, 17 Knight and 14 C. R. England. Not as many as on an ordinary road trip, but ok; and this was the first time that the company that started it all, J. B. Hunt ,got so high on the list.