Weather and wine
Sunday had arrived and I was continuing my journey from Lexington and down to North Carolina, to Lenoir, where I had booked the room for the next five nights, to be more precise. However, I had to get there first, so after having had breakfast at the hotel, I headed south, continuing on Interstate Highway 81, which I followed for just over 100 miles to the intersection with I-77. Even though the sun was shining when I left Lexington, it became more and more cloudy and as I got further south, it started to rain, and eventually it rained more and more, so when I changed to I-77, it rained quite heavily.
On my way south on the I-77, the rain took off a bit, but only to be replaced by dense fog on my way across the mountains. In fact, the fog was so dense, traffic were warned on signs that we were in a "fog area", and to drive very carefullyn and the speed limit was reduced to 15 miles per hour. Lucky that I wasn't in a hurry. In fact, the fog became so dense that I couldn't see the cars in front of me, only their taillights. When I came down from the mountains again, the fog disappeared slowly, but on the other hand the rain returned and it continued for most of the day. Excellent way to start your spring vacation!
Along the way, I discovered that I would come to Lenoir very early. As it was a Sunday, and I knew that my favorite winery is open Wednesday to Sunday, and I had already planned to visit the place sometime along the way - and as the place is not that far from i-77 ... To make a short story long, I decided to visit the place on my way to Lenoir. However, when I reached the place where I was to leave I-77 to change to US Highway 421, it was still too early as the tasting room at Laurel Gray Vineyards didnít open until 1 pm on Sundays, and it was only noon. So I decided to visit the Shiloh General Store, located in the same town (Hamptonville) as the winery, albeit in a different corner of the town if you can call it a town. Hamptonville is spread over quite a large area in the countryside with few houses gathered here and there, and both places that I wanted to visit are located well west of "downtown" but northwest and southwest respectively. Now it may sound like itís a good long way between the two places, but actually there are only 4 miles between them, which is an approximately 5 minute drive. When I arrived at the Shiloh General Store I discovered that it was closed on Sundays, which I should have been able to figure out, since the store is run by members of the local Amish community, and Sunday is the day of rest.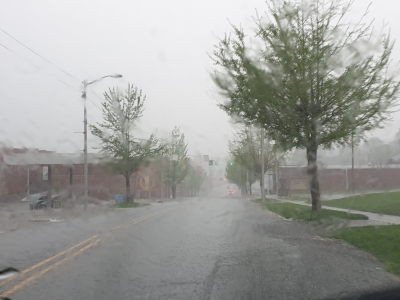 Rain on the windshield (and elsewhere)
Therefore, I decided just to drive around the area while I occasionally stopped to take pictures when the rain from time to time died down for a minute or two. Along the way I passed the restaurant that I have talked about in several articles from previous years, which have been open and closed on and off; using names such as Gaby's Diner, Korner Kitchen, Family Kitchen and others. On this occasion it was closed, but whether it was only because it was Sunday and whether it is still open on other days and under what name, I did not find out. The building was certainly not empty, and there was still a vending machine outside. As the time gradually approached 1 pm, I headed back to Laurel Gray, where the tasting room had just opened, when I got there. As usual, I got a tasting which, however, had changed since my last visit, so you now have to choose a group of wines that you would like to taste instead of going through the entire range of wines. After the tasting I bought a few bottles; a viognier that Tim, had ordered, a pinot gris for myself and a couple of bottles of "family select reserve" red wine, one for myself and one as a gift.
When I left the tasting room the rain had almost stopped, but it didn't last long. When I arrived in Lenoir, it was pouring down again. When I got to the B&B, I was received as the prodigal son by the landlady, Rose (it was my fifth stay there - and the sixth is coming in a month). After chatting with Rose in the kitchen for an hour or so, I accepted that it would not stop raining for the time being, so I chose to defy the rain and carry my luggage from the car to my room. And I didn't get any more wet than I soon got dry again. As my dad used to say when I was a kid: ďDonít worry about getting wet. Your skin is water proof.Ē
Later it completely stopped raining, and there were actually holes in the clouds, so when I wanted to get some dinner, I decided to walk down to the center of town where there are a few restaurants. Rose warned me though, that most places were closed on Sundays. However, there would be at least one place open if I would "settle for" pub food. Well, I would, so I left off. It was not because I was overworked by the walk as the distance was less than a mile. The place that was open, Side Street Pour House, proved to be excellent and the pub food I ended up eating was a well-prepared burger and I also enjoyed a local red ale. After dinner, I walked back to The Irish Rose where I filled out my breakfast order and a chatted a little with Rose over a cup of coffee before returning to my room; this time for the night.