Lunch, dinner and music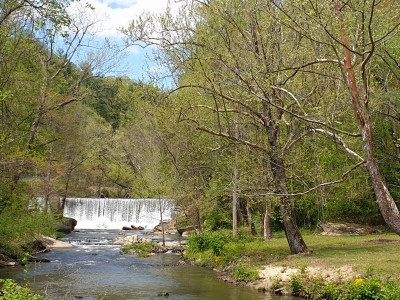 A small waterfall on Yadkin River in Patterson, North Carolina.
I started Thursday with breakfast at The Irish Rose which is probably no surprise as it is a Bed and Breakfast after all. This time another guest was present, a lady who had come to town to attend a funeral; not the most happy purpose, but even so we had a nice chat and Rose also joined us along the way. After breakfast I went up to my room and started to pack my suitcases, as I was leaving the place rather early the next day, and didn't know when I would return in the evening.
I left The Rose around 9.45 and started by visiting a Walgrens, where I bought some pills for one of Tim's colleagues and some blister preventing patches for Dorte for her hike in Greenland this summer. When that was done I returned to the historic museum - for the third day in a row. The lady with whom I had spoken the day before, had found the things she had promised. I read everything I wanted about Grandin, which was what interested me this time. Grandin was once a thriving timber town with its own railway, school, post office etc., but today there is only one building left. Where it was, I was not quite aware, but I found out later in the day.
Around 11.45 I said goodbye and thank you to the director for the museum and drove to the restaurant where I had arranged to have lunch with John Hawkins, the former director of the museum, and he arrived exactly the same time as I did. While we ate, I told him about my visit to the museum and my interest in Grandin, and it turned out - I almost said "naturally" - that he had a cousin born and raised in Grandin who had written a book about the settlement. He wanted to introduce me to him when I got back to Lenoir on a future vist, but John knew and told me where the "surviving" building from the town was to be found. We had a nice lunch, and when we were about to leave, he met a lady he knew, and I was introduced to her. It turned out that she too was a descendant of one of Tom Dooley's relatives. There are a lot of them in western North Carolina, as many families stay in the local area for generations.
After lunch I drove for the umpteenth time back to "Dooley country"; I really love that part of the state, and as I now knew what to look for, I also found the surviving building from the Grandin heyday, that used to be a boarding house, but which is now a private residence. I drove a little more around the area and got some photos of the area dressed in spring colors, which I had never had the opportunity to do before. After about an hour I headed for Davidson, where I had arranged to meet with Charlotte and Bill Barnes at 5 pm so we could have dinner together before we went to a concert. I did not take the fastest route, but drove on smaller roads to Statesville and then took the interstate from there south to Davidson, where I arrived around 4 pm. I found a place to park the car opposite the cafe where the concert was to take place, and then I went for a walk on Main Street, where I visited Davidson College, or at least the campus, not the actual buildings, but it was the first time I was in the US at a time when there was actually activity at one of the many universities, I have visited. It was, of course, after school hours, but it had been terrific weather with between 85 and 90 degrees F, so a lot of students enjoyed themselves on the lawns outside the buildings.
A man named Daniel Harvey Hill, had been teaching at the university right after the American Civil War, and when it appeared that he was buried in a cemetery across Main Street, I also visited his grave site. Now it's not his career as a teacher, that had made him known to me, but because he was a general in the Confederate Army during the civil war, and he was married to a daughter of the president of Davidson College, making him brother-in-law of Thomas "Stonewall" Jackson, my "hero" from the period who was married to another daughter of the president. I have to mention that Davidson College as the university is very prestigious in the United States and has "produced" no less than 23 Rhodes Scholars.
Songwriter's Showcase at Summit Coffee Co. in Davison North Carolina. From left: The host, Rob McHale and guests, Johanna Saint-Pierre and Valorie Miller.
When it was almost 5 pm I walked back to the cafe where I had agreed with Charlotte and Bill that we should meet and I hadn't waited many minutes before they arrived. They had booked a table at a Mexican restaurant a little further down the street, so we walked there and had an excellent meal. After dinner we went back to the cafe, Summit Coffee Co., where Rob McHale hosts the oldest so-called Songwriter's Showcase in The Carolinas. We went up to the first floor where the event had taken place the last time Charlotte and Bill had been there. We were in good time, and there were lots of students reading or using the internet, but nothing that indicated a concert of any kind. When it was 7.15 (it should have started at 7 pm) Bill went downstairs to ask if it was canceled, but was told that it had been moved outdoors because of the good weather (when the concert was over around 11.45, it was still 77 degrees and no wind at all). We then moved outside and found that the concert had not started yet because of some technical difficulties, so we had not missed anything. We said hello to Rob and then found a place at a table where there were already some people, but there was still room for us. Rob's guests on this occasion were French Johanna Saint-Pierre and a local folk artist from Asheville, Valorie Miller. They alternated singing their songs, and some of them they sang together. The style of the three of them was very different, so it was great musical evening. Along the way, Rob introduced Charlotte, Bill and I to the audience as both Tom Dooley experts and writers, and one of the ladies at our table asked who Tom Dooley was? Alas and alack, youngsters of today; how little do they know! Well, she is forgiven as she was only 43, while her mother, who was also sitting at the table, knew the story, and that was what initiated a nice chat about this and that.
When the concert was over I bought a couple of CDs with Valorie Miller (I already have all Rob's albums and the French singer was not exactly my style so I skipped buying one of hers). Then I said good-bye and thank you for this time to Charlotte and Bill, who I will see again in July. I headed back to Lenoir using the fastest route, but it still took about an hour and a half, so I wasn't back at my B&B until around 0.30 - and at that time I was glad I packed most of my stuff in the morning.