Visits and tornado warning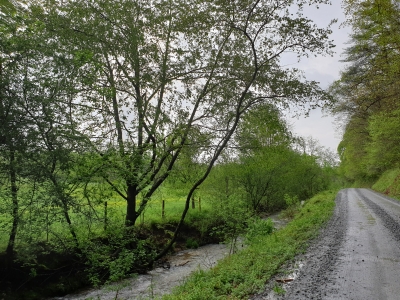 Zacks Ford Road in the rain
This Friday morning, I had to say goodbye to Rose and leave Lenoir to move to Statesville, where I would spend the rest of my vacation. First, though, I drove to Walmart, to get some of the things that people back home had asked me to buy for them. Then I followed Zacks Ford Road to the east. This road begins in Lenoir, not that far from Walmart, and ends at Grandin Road - still in Lenoir, but now all the way out in Dooley land. The purpose of taking this route was partly to see something new, and partly to visit Margaret and Dick Martine, whom I had had dinner with a few days earlier. It was raining pretty much all the way, and while I was there, and so was the case, when I visited the Martines in 2018, so maybe my visits annoy some supreme power for some unknown reason. I stayed with Margaret and Dick for an hour or so and then continued east along the small gravel road on which they live.
The next stop was Wilkesboro - or rather North Wilkesboro, which I have never actually seen much of before, but it turned out to be quite interesting, although there was not quite as much to see as in Wilkesboro itself. Despite the fact that the two towns are de facto merged and just have a river between them, there are actually two independent towns, each with its own mayor, town council, etc. After visiting the two Wilkesboro's, I continued east on NC 268 until I reached Interstate Highway 77. I then headed north to visit Mount Airy, which, despite its name, is not a mountain but a town. In fact, the largest town in Surry County and it is known for its historic main street. I never got that far, however. Heading north on I-77, I got a message on my phone and it turned out to be a tornado warning for the area, so all drivers were advised to take shelter. Since I didn't exactly have a place to do that, I decided to turn around and head straight for Statesville, where there was no tornado warnings, but "only" a storm warning.

On my way back south to Statesville, the thunderstorm arrived and when I reached the Clichy Inn, it was still raining. I got my room where I chose to stay until dinner time. By that time the wind had subsided and it had stopped raining, so I opted to walk to downtown to eat. I did that at Groucho's Deli, where I had never eaten before.
Mount Airy and Whippoorwill Academy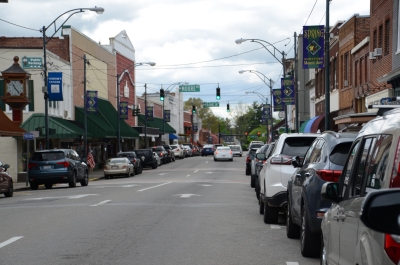 Main Street, Mount Airy
The next day the weather was much better, so I decided to give Mount Airy another try. And this time I reached the town, without being bothered by neither tornadoes nor other weather phenomena. However, I should probably add that a couple of tornadoes had actually hit the area the day before, but further west than where I was, and fortunately they passed though uninhabited areas, so that neither humans, livestock, nor any other property was damaged. When I reached Mount Airy, I found a place to park my car, and then I went for a walk on Main Street, which I had heard was supposed to be like being send back to the '50s, and it was not completely wrong. I took some photos and avoided being "assaulted" by some people of some religious belief who stood on several street corners, trying to convince the passers-by that converting to their particular denomination was needed to achieve salvation.
From Mount Airy I again headed south, though not by the interstate but by minor roads to Dobson, the county seat of Surry County. In this town with only approx. 1,500 people (compared to 10,000 in Mount Airy), there wasn't much to see, but I did get a picture of the city's (modern) courthouse. In, or rather just outside town, I could have visited North Carolina's largest winery, Shelton Vineyards, but I chose not to. Surry County, by the way, has a somewhat special history when it comes to county seats. When the county was established back in 1771, the town of Richmond (not to be confused with the state capital of Virginia) was chosen as county seat. In 1789 Stokes County was created from the eastern parts of Surry County. As Richmond was in the new Stokes County, Surry County had to find a new county seat, and they chose the town of Rockford, which was further to the west. Later, Forsyth County was formed from parts of Stokes County and then it was this countyís turn to choose a new county seat as Richmond was now in Forsyth. Richmond was never a county seat of that county, however, as Winston-Salem (or just Salem at the time) was already the center of the area, and therefore was chosen. Back to Surry: In 1850, Yadkin County was created from the southern part of the county, south of the Yadkin River. For some reason, on that occasion, the county seat of Surry was moved to Dobson, although Rockford was still located in Surry County albeit just on the county line north of the river. The new Yadkin County also had to choose a county seat, and here they chose the Wilson settlement, which at that time had only one house (can it even be called a settlement then?). Later, the town was renamed to present-day Yadkinville because there was already another town in North Carolina called Wilson. Before leaving this introduction to American county history and naming practices, I would just like to mention that Dansbury, in Stokes County, was founded after the separation of Forsyth County in 1850 solely to establish a new county seat. Today Dansbury is the smallest county seat in all of North Carolina, with only about 185 residents.
It was now past noon, so I headed west toward Wilkes County more precisely to Ferguson. As it was the third Saturday of the month, it was opening day at Whippoorwill Academy and Village, and I didn't want to miss that. The weather wasn't the best at the time; it was not raining, but it was cold and windy so there were not too many guests. However, I was received overwhelmingly by Margaret and Dick and Margaret's cousin Renee. Besides me, there was only one young couple from Michigan who wanted to see the place because the female part of the couple was doing a podcast about the murder of Laura Foster. She had contacted Charlotte Barnes to ask her if she could come to the museum, but Charlotte did not have the time. She had told the young lady though that I would probably be there, and as the aforementioned (to use Dooley trial language) lady already knew my website, she seemed to be satisfied by that. We talked a bit and she told me that she was a member of a girl band, who was about to make an album of songs about real murders, and that's what had created her interest in Laura Foster - and thus Tom Dooley.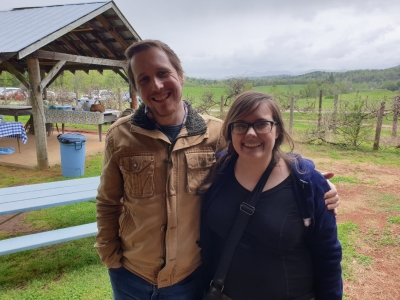 Dooley interested couple from Michigan visiting Whippoorwill Academy and Village
When the young couple left, Margaret drove me back to her place so I could see how far they had come with the dental clinic (the oldest in North Carolina) that she had had moved to her property many years ago, and which they were now restoring to make it ready for Airbnb rentals. It had been impossible so see the small house the day before because of the heavy rain. And I could see, that they had come a long way in the restoration process, and have later started renting out the small building. Among others, Charlotte and Bill Barnes have stayed there. Along the way, she also showed me the area's oldest brick house from 1809, known as Howard House, after the original proprietor. Her own house, Hagler House, dates from about 1830 and is very beautiful if you like old houses made from handmade bricks. Incidentally, the same architect had designed both houses and three more, all of which were erected in the first third of the 19th century. Margaret also showed me the only remaining house that anyone involved in the Dooley case had lived in, namely the house that belonged to the witness, Rufus D. Horton. Margaret, incidentally, could tell a story about the house from a little later time. At one time, a hole was drilled in the wall on the upper floor so that the young people could look out for the ministerís daughters. If they were approaching, they could stop playing music and dancing in time to seem not so "wild and wanton" as to be enjoying themselves. Yes, times were different then!
When we returned to the museum some more guests had arrived for a guided tour, and I tagged along. Along the way, Margaret's daughter, Maggie, who is a photographer, came with a young couple that she was supposed to photograph, but it did not go well as it was simply so cold that they could not be without their outer garments for a long time at a time, and I later heard that they had to give up the session, and repeat it later, on a day when it was warmer not as windy. Before I left, I had the opportunity to say hello to Margaret's sister Sharon, and then I headed back toward Statesville and the Clichy Inn. It was around 6.30 pm when I was back, so pretty much right away, I walked downtown to eat, and this time I chose Twisted Oak, where I've eaten several times before. Back at the Clichy inn, I relaxed for the rest of the evening.