Cowboys and state parks
The previous day, my hostess at the Clichy Inn, Lori, had asked me if I had ever visited Love Valley, to which I had to give a negative answer. The place was supposed to be especially exciting for people with horse interest, and although I don't mind horses, I don't belong in that category, but I decided for a visit anyway.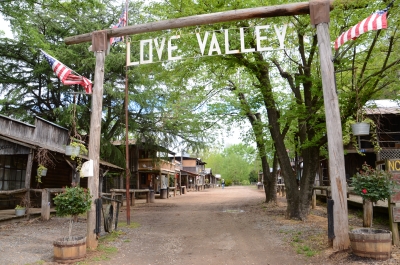 "Main Street", Love Valley
Love Valley, located approximately 16 miles north of Statesville, calls itself North Carolina's Cowboy Capital, and it turned out to be quite cowboy-like when I got there, after driving north on NC Road 115 and continuing on smaller, but paved roads. Love Valley, an incorporated town in spite of it's small population, is located in a quite remote valley in the Brushy Mountains and the town has just under 100 residents, all of whom are apparently in some way dealing with horses. Most people, who visit the rown (except me) come to ride on the many miles of riding trails in the area or to see rodeos and other events. Some bring their own horse or they rent horses in town. But I had mostly come to see the town, which is kept in true western style with fake facades and raised sidewalks. It was actually rather interesting, and I took some pictures of the "main street" (which was the only street in town) and of some people on horseback. Cars are not allowed within city limits, but there are parking lots right outside town.
When I had seen all there was to see in Love Valley (and it didn't take long) I continued to Rockford (mentioned in the previous article), which was once the county seat in Surry County, but which is not even incorporated as a town today. The old court house from the county seat days still exists, but that was not why I drove there, as it is today serving as a private home. No, the reason was that I wanted to visit the Rockford General Store, which today is mostly a tourist attraction. Just outside before I reached "town" I crossed the Yadkin River, and here I stopped to enjoy the sight of the many swallows that lived under the bridge and which were busy catching insects in the air. Shortly thereafter, I passed some other birds, two turkey vultures and a single black vulture, which sat in the middle of the road and made good on some "road kill". However, they flew as I approached, but no farther than to the nearest trees.
The Rockford General Store was actually rather interesting, at least if you like old fashioned stores like I do. I'm sure not much have been changed since it opened around 1890. Since that time, the store has actually only had five owners, which is not much in 130 years. The wooden floors are uneven and bulky, so you have to step carefully, and almost all the space is filled with various stuff, today most is tourist souvenirs, and perhaps of specific interest to children, there was a large section of old-fashioned candy and sweets. I ended up buying a few things to take home as gifts, and before I left the place, I had a good chat with the staff (there were three of them when I was there, one of which was apparently the manager).
My next goal was Pilot Mountain State Park, which I also visited in 2017. The mountain is very distinctive when you approach, and once there you get the best views from neighboring Little Pinnacle, and that's where the road leads up to. The Saura Indians called the mountain "Jomeokee", meaning "great guide", and it plays a significant role in the fantasy novel "Born to Soar" by Bill Barnes, which I will definitely reccomend if you like fantasy novels. However, on this occasion it took me quite a while to get from the main road to the top by the small road that leads up to summit. It was Easter Sunday, good weather and there were a lot of people who also wanted to see the mountain. The parking lot was therefore completely occupied and the park rangers only let in cars, when someone else left. That meant it took me about an hour to get up there, but in the end I got up, parked the car, and walked the 1,000 feet path leading to the viewing point. From here I could then enjoy both Pilot Mountain itself and the surroundings dressed in spring colors. When I finished enjoying the views of the mountain and the Yadkin Valley below, I headed down the mountain again, and I could see that the line of cars waiting to go up the mountain had not become shorter while I was at the top.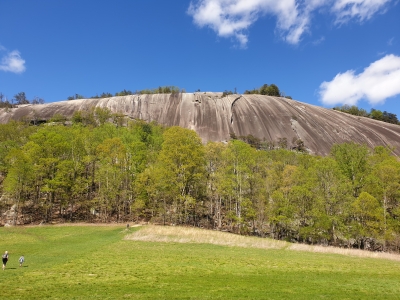 Stone Mountain
Back in 2017, I also paid a visit to Stone Mountain State Park north of Wilkesboro. Unfortunately, I never got to see the mountain that gives the park its name, as I never got out of my car because of a heavy thunderstorm. I waited in the car in the parking lot for approximately half an hour for it to pass before I gave up the experiment and returned to Lenoir, where I stayed on that occasion. But now that the weather was fine, I decided to give it another try. Between the two state parks there are about 50 miles and it took me around one hour to cover the distance. It meant that it was past 3 pm when I arrived, but as the weather was good I gave the mountain a chance. You cannot see the mountain from the parking lot, so you have to go on a shorter hike. From the parking lot I had chosen (there are more to choose between), several hiking trails started, and I took the one called the Stone Mountain Loop Trail. It is about 4.5 miles long and listed as "strenous", but I didn't know at the time, and I must have been in better shape than in 2017, when an "easy" route of only 1.5 miles almost killed me, for though it was a little hard at times, I survived without even having to rest along the way - except when I enjoyed the view of the 600 feet granite lump that makes up Stone Mountain. However, I should probably add that the temperature was almost 40 degrees lower than in 2017 - that may have had played a part.
When I got back to the car, I returned to Statesville, where I arrived about 6 pm, so I decided to go for a walk around town right away, and then have dinner somwehere before returning to my B&B. I did walk a few miles around town, but it turned out that none of the downtown restaurants was open as it was Sunday (and Easter Sunday at that), so I had to go back to the Clichy Inn, get the car and drive out to one of the many chain restaurants, located near the interstates, which are open almost every day of the year. After dinner I returned to my B&B and relaxed in the room for the rest of the evening, my thigh muscles being just a little bit sore.