Lunch and rehearsal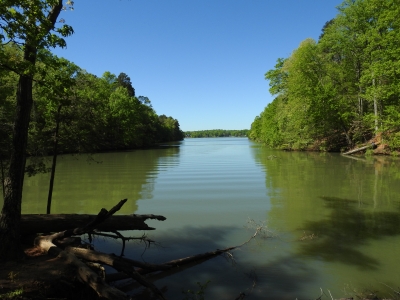 Somewhere in Lake Norman State Park
Another day where at least my first activity was suggested by Lori at the Clichy Inn. She had asked me if I had ever visited Lake Norman State Park near the small town of Troutman, a little south of Statesville. As I hadn't, I decided to change that. From Statesville there are about 6 miles to Troutman and another 4 miles to the park; so after finishing breakfast at the inn, I headed in that direction. Lake Norman is an artificial lake from the early sixties when a dam was constructed on the Catawba River (there are many such dams on the river) to provide more hydropower. It is, in fact, the largest artificial lake in North Carolina with a surface area of 50 square miles, and the lake, which is 34 miles long and up to 9 miles wide, holds 1.3 billion cubic meters of water.
I found both the park and the parking lot without any problems, and as there were various hiking trails, I decided to take a walk on one of these to get some exercise. You can actually walk around the whole lake, but as the coastline is more than 500 miles, it was a bit too much. Instead, I chose a trail that led around a smaller peninsula near the parking lot and which in several places was right next to the shore. This trail was around 5 miles, and it was more doable. I wouldn't get that far however, at least not on that occasion. On my way to the lake there was absolutely no cell coverage, but along the walk, I must have entered an area of ​​coverage, because suddenly some messages pinged in on the phone. One was a message from Carl White from the television show Life in the Carolinas, whom I had visited with Charlotte and Bill Barnes the previous year. On that occasion, we made a podcast for his series - in fact, the first podcast of the first season of these, not of the TV shows. If you want to listen to this podcast which was about Tom Dooley - what else, just click the link and play the podcast which lasts a bit over half an hour. I had previously written to Carl asking if we could get together during my visit, and now he asked if I would be anywhere near North Wilkesboro, where he has an office and a studio. I replied that I could be there in an hour or so and that was fine with him. So I canceled my walk that only mounted to a total of 2 miles, and returned to the car. The part of the walk I managed to complete was beautiful, overlooking the lake and with the sound of birds singing.
I headed for North Wilkesboro and as I had expected it took me about an hour. When I got to the studio, I was greeted by Carl's sound technician as Carl himself was out to buy lunch. When he returned, we all had lunch together - everyone was Carl and me, the sound engineer, her daughter and another employee. The menu was Eggplant Parmigiana and baby spinach. It was the first time ever that I have really enjoyed eggplant that I otherwise eat, but usually do not enjoy too much, but this was good! While we were eating we were chatting about this and that, not least the 11-year-old daughter was very curious about me being from another country. I may have been the first foreigner she met as that part of USA is not a place where tourists flock in large numbers. All in all a very pleasant visit. I gave Carl a copy of my Tom Dooley novella and I got one of Carl's books. After that we took some photos before I said goodbye to Carl and the others, and headed back to Statesville.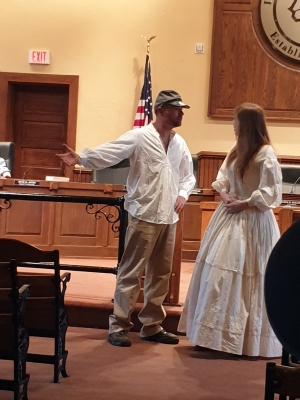 Tom Dooley and Laura Foster from the rehearsals for The Tom Dooley Project
I was back in town about half past four hoping to catch Steve Hill before the Statesville Historical Collection closed, but when I got there, it was already closed for the day. The place is run by volunteers, and although they do have formal opening hours, it only works if at least one of the volunteers has time to be there. On the other hand, it is also often open before and after the advertised opening hours if someone is present. Instead, I went back to my B&B to relax a bit before going out for dinner. While in my room I messaged Cathy Cash and David Hamm, both working at the local radio station (Cathy as manager, David as host), to find out if any of them would be at the station the next day, because then I would just come by and say hello. I had met all tese nice people as well as many others, through Charlotte and Bill the year before. See also the article Surprise Interview from 2018. David answered that he would not be in until a few days later, when I had left town, but Cathy wrote back asking if I was interested in attending the rehearsals for The Tom Dooley Project, which was to be played in the old courthouse from May 2 to May 6, and since I haven't seen that version of the play before, I immediately accepted. I could choose whether I would come the same night or the next, so I answered back that I would like to come the same night. Not least because the next night was my last in town before my return trip to Denmark, so I expected that I would be busy packing.
The rehearsals were set to start at 7pm, so I decided on an early dinner, and for the first time ever I tried Broad Street Burgers - and it happened to be only the second burger of the trip, this first was in Lenoir a week and a half before this. And it proved to be excellent. After dinner I walked to the old court house, where the reheasals were to take place and "parked myself" on a bench outside, where I enjoyed the amazing weather. In fact, it was the best weather of the entire trip, except for the Thursday before Easter, where we sat and listened to live music in the open in Davidson until 10.30 pm. Even when I later walked home after the rehearsals, around 10 pm, it was still 77 degrees. When someone that I knew arrived, I just tagged along and went inside. The play itself is performed in the old courtroom, which is quite logical as it is based on the courtroom part of Karen Reynold's, Tom Dooley - A Wilkes County Legend. Cathy Cash was the director and David Hamm played one of the roles, but I also got to talk to several of the other actors, including Mary Dula (I don't actually know what they are called in civilian life), Dr. Carter, Cecilia Scott, and not least Laura Foster, who only has a very short but important role as she is murdered in the very beginning of the play - but she made a very compelling cry, when she was killed (backstage). And it wasn't just me that had fun. The actors and the rest of the staff were also amused. All in all, a very entertaining and inspiring evening, where I also handed out a few copies of my novella before returning to Clichy Inn for the night.