Florida: Lazy
fun
in sun and water.
My last article from this vacation, telling the story of my last 3½ days in Florida and the trip back up to North Carolina to meet my father again.
Day 1: Visitors in the pool.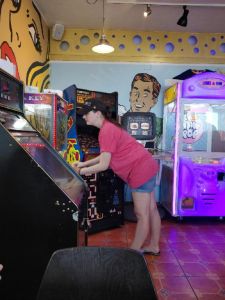 Lexie tries to catch a stuffed animal
Today, the only plan we had was a visit from Allie, a mutual friend of Lexie and I, who would drive up from Orlando, where she lives, so I allowed myself the luxury of sleeping in and did not get out of bed until around 9 am. Lexie has always had an irregular day rhythm and was still asleep as I had expected. So instead, I took advantage of her parents standing invitation to use their pool for a refreshing morning swim.
Since Allie was supposed to arrive in the early afternoon, I spend some time chatting with Lexie's parents until I felt it was time for me to wake her up. I performed this task with all the tact, diplomacy and decorum that long years have taught me, and when she was done calling me names that cannot be mentioned in polite company, I talked with her until Allie arrived.
Last time I visited Lexie, in 2018, we had visited SeaWorld in Orlando with Allie, but while Lexie had seen her a few times since then, obviously I had not, so I was happy for the reunion. Back then she was a teacher for children in the early grades, but she had since then started studying to become a mortician. So, when she got there, we obviously talked a bit about that and she was loving her new field. (Since last summer she has finished her education and gotten her first job.)
After that we decided to all get into the pool, Lexie though first after a bit of convincing. She claimed she wasn't in the mood for swimming, but with a good amount of solid bullying we got her in a bathing suit and into the water and then we spent about 2 hours swimming and chatting about everything and nothing.
After all that activity we had gotten hungry, so we went down to the tourist area of Flagler Beach and got something to eat at Whaamburger, a very colorful local burger joint that we like a lot and which have a great view of the beach. When we had eaten, we went back to the house and hung out until Allie had to go back home again. After that I took Lexie shopping so I could stock up on supplies and she could get some tanks for her e-Cig. While there, I was introduced to the gas station attendant friend she always bought from and whome I had heard mentioned quite often. He was very nice.
Then once more back to the house and just relaxing with videos and talking to the plushies (We ARE adults I swear) until my bedtime. With Lexie's sleep patterns she would only be able to drift off later in the night.
Day 2+3: Long live laziness
.
There isn't a terrible lot to say about these two days. On Sunday, Lexie's parents went to church while I started the day in the pool again, but otherwise we definitely kept the day of rest holy. Lexie and I can easily spend a day just watching YouTube, talk and just relax and play with the plushies (we ARE adults, I swear), and that was basically what we did with a few interruptions like family breakfast after the parents returned from church, and a bit more swimming later in the day. We had some stuff planned, but Lexie have a bad leg due to nerve damage and it was acting up, so the only thing we got around to was a quick trip to the neighboring town for dinner. We chose to go to "that place with the roof". More specifically the sports bar and grill called Houligans in Ormond Beach, that my dad and I have visited on a few previous occasions, when we have been in the area.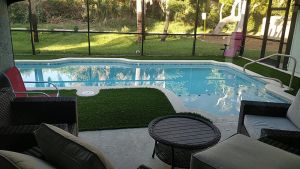 The pool at Lexie's parents place
Last year, when I had to take Lexie to a doctor's appointment one day, we happened to pass the place on the highway and I tried to point out the restaurant to her. Unfortunately since I was driving the car I was a bit limited in how much I could point and gesticulate, so instead I tried to let her know which it was, based on the building's architecture which is a bit different from the other buildings around it. Sadly my explanation came out as: "It's right there. That building. The one with the roof there." An explanation she has never let me forget, but this time she was going to be exposed to both the roof and what went on under it.
The food was pretty good as always and after we had eaten, it was straight back so she could rest her leg.
The reason for her leg issues showed itself very clearly the next day. It was the last full day I was going to spend in Florida and my customary morning swim in the pool got cancelled by a classic Florida rainstorm where heaven and earth was rained away. As so many others with nerve issues, Lexie's leg can often predict meteorological changes and especially before the weather gets worse it can cause problems. This is, of course, a bad thing in a state that only rarely does not have a decent amount of precipitation nearly every afternoon, but luckily it's usually only REALLY bad when there is a significant weather change.
The heavy rain meant that this day was also spent mostly indoors with the same activities as the day before, as it was mid-afternoon before the sky cleared.
In the evening, Lexie's parents had invited me to join them and Lexie for dinner at the Funky Pelican, the town's most prominent restaurant placed on the entertainment pier that is the center for the tourist area. I had naturally accepted the invitation, but I also gave the evening my own personal spin. Lexie's father and I have for years had a feud about whether Vikings had horns on their helmets. He stubbornly maintains that they did, and I, as a historian, of course equally steadfast claims that it is a silly myth. Ok, I say feud. That MIGHT be to push the word further than it can go, but despite him knowing better, he insists on ruffling my feathers on this subject with his attitude… so now it was time for REVENGE!
I had brought a horned Viking helmet from home, and when we got to the restaurant I put it on. As a Viking I had to be appropriately dressed right? I mean he couldn't complain since he had been the one to be stubborn about this! Unfortunately my revenge went a bit awry since he took the helmet as an admission that he was right all along. I swear that one day I shall convince him even if it demands a holmgang! GRRR!
The food at the Funky Pelican was pretty good, but for the price, which is quite high on account of it being a tourist area, I'm pretty sure we could have eaten as well or better for less money elsewhere, but I wasn't paying and the view out over the sea as the sun set was great, so I hardly complained.
After dinner it was back home and relax until I said goodnight to Lexie and the plushies (We are adults I swear). It had been two days where I only rarely have done and seen so little on a trip to the US, and where my car had practically not moved, but it was good days in the company of my best friend and I suppose there should be room for that. Even on a roadtrip.
Day 4+5: The father, the son and North Carolina.
It had now become Tuesday and I had to make a decision. I was to meet with my father in Winston-Salem in North Carolina on Wednesday, but it would be a 7-8 hour drive there, so either I was to leave really early Wednesday, so I could get there before 3 PM when my rental car was due to be handed back in, or stick to my original plan and leave Flagler Tuesday afternoon and then cut the trip in two.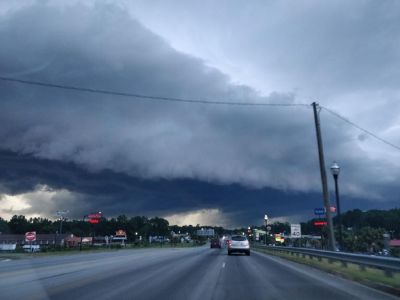 Dramatic sky over Hardeeville
Tempted as I was to get another full day, I decided, after considering such elements as roadwork and traffic etc, to follow my original plan and leave before dinner that Tuesday; so taking my customary "waiting for Lexie to wake up" morning swim, I figured out my plan. I knew if I drove up to around Savannah I would get through most of the heavy traffic and nearly cut the overall route in half, so I would have no time difficulties on Wednesday, so I decided to book a room at the hotel in Hardeeville, SC just north of the Georgia border, that I had seen the amusing highway billboard for 4 days earlier driving south from Florence.
When my swimming and planning was done, I woke up Lexie so we could have as much time as possible before I had to leave around 4 PM. We talked and tried to plan another meeting, but so far we have had no luck. Hopefully we will make something work before another year passes.
Around 3 PM I packed up my suitcases and after a (this time ACTUALLY) teary-eyed goodbye to Lexie and the family and the plushies who, after all, would also have to leave their friends, (Ok, maybe we aren't ENTIRELY adult) I left Flagler and drove north on the I-95. I really didn't have needed to worry about the time, because despite getting to Jacksonville during rush-hour, it took no more than the expected 3 hours to drive the 220 miles to Hardeeville.
On the other hand, the sky had begun to look very dramatic as I got northwards, so I decided not to look too long for a place to eat. I checked into the motel (that turned out to be the cheapest in both price and quality on the entire trip, but hey? Only one night and it did go fine) and drive to the nearest Subway that I had seen close to the highway exit, so I could get my usual meatball marinara subs, and then almost raced back to the motel, where I arrived in the very nick of time. Just after I had gotten into my room the worst thunderstorm I experienced this year and possibly the worst I have een since the one that caused massive flooding in Denmark back in 2011. For 2½ hours the rain was pouring down and it looked almost like daylight with the amount of lightning. Fortunately I was indoors, so I ate my subs while looking at the storm, checked if the world was still standing (it was, barely), and communicated with my father about where and when we were to meet the next day, and then went to sleep.
The next morning it was sun and clear skies, so as soon as I had gotten dressed I got back in the car and on the road. Shortly before Santee, SC where we have stayed a few times in the past I switched to the I-26 northbound and followed that to Columbia, where I then got on the I-77. After a short rest room break and doing some nature photography at the rest area, I moved on to Charlotte, NC and changed to the I-85 where I stayed for the rest of the trip, except for a single stop, just outside Winston-Salem, to fill up the car so I could hand it in with a full tank of gas.
I set my GPS to find the fairly small airport in the city, where I was to return the car and arrived there just around noon, finding that my dad was there already for a tearful (Not really) re-union. After 11 days alone we were now back together.